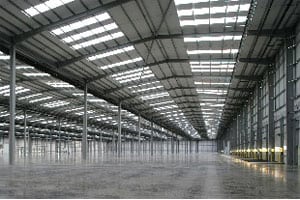 When we start a consulting assignment to select a new distribution center, I can't tell you how many times the client starts with, "Let's start looking at buildings. What will new space cost? How quickly can we move in?" For sure these are important questions. However in today's direct-to-customer marketplace it's important to start with the strategic issues first and the facility requirements afterward.
Amazon's same-day orders and shipping within four hours are forcing other DTC companies to follow suit with multi-DC strategies. And as small parcel shipping costs have skyrocketed, this approach is the best way to rein them in.
Still, many companies are not prepared to expand in this way. Among other things it requires considerably more inventory, an expansion of the fulfillment organization outside the current market, and changes in ERP and OMS systems to plan assortment and manage customer order fulfillment by DC.
First, decide on the strategy and then the specific site location(s) and new building specifications. As you begin to implement your new facilities plan, here is a 13 point checklist to consider:
Identify and answer strategic questions 
Strategically, what are the issues the new facility should be part of addressing. Here are a few:
1). Time to Customer: What pressures from customers and competition do you need to address? How will this continue to change overtime? Are you losing sales because the shipping time is too long, based on small parcel service levels (e.g. ground in 1 or 2 days, overnight, etc.)? If your business has retail replenishment or wholesale, what are the standards for distance, delivery schedule and service level? Analyze your customer base and get future growth projections.
2). Same-Day Shipment: Location to your carrier's induction points for small parcel hubs is key, as well as staffing and having efficient processes. For example, a Virginia-based DTC business can pick, pack and ship up to 5:30 p.m. all year, but to ratchet up competition, they ship 100% of all orders daily. Another client in the Midwest has a cheap labor market and building but has to cut off same-day shipping at 2 p.m.
3). Reducing Shipping Costs: Analyze your shipping history and costs for the current DC network. How does theoretical placement of one or more DCs in concert with time-to-customer objectives reduce costs? An East Coast/West Coast strategy yields some major benefits, but may require four or five regional DCs to maximize savings and benefits.
4). Labor Quality, Cost and Availability: If you're considering changing labor markets, or adding locations, analyze labor quality, cost and availability. Many key distribution cities have very low unemployment and higher labor rates.
5). Changing Locations, Changing Costs: Analyze how a new location changes the total occupancy costs (i.e. lease, utilities, taxes, etc.), management and labor costs and inbound/outbound shipping costs.
These are some of the strategic questions that should be addressed first.
Develop facility requirements 
The following are some of key questions on requirements as you plan for and begin to compare existing buildings:
6). Facility Access: What is the optimal facility location for truck traffic, including local roads and interstates?
7). Facility Requirements:
Current and future growth space projections: Take into account number of active and inactive SKUs, assortment growth plans, auxiliary functions (e.g. kitting, personalization), and the need for increased department space (e.g. docks, returns processing). This is where many mistakes are made which leads to under-sizing facilities.
Clear span of the facility to include the cubic storage available
Will the building's shape and footprint give you improved workflow?
How many inbound and outbound dock doors do you need?
Special use functions, like returns processing and refurbishing for fashion apparel (20% to 30% or more) will have a much different square footage requirement than hard goods (1% to 5%)
Truck yard requirements for trailer storage and on site traffic
Floors condition: Single level or multi-level? Sealed or unsealed?
Should column uprights be at standard distances, or will the footprint and column placement make the racking and layout inefficient?
Working environment, including temperature control
Parking places sufficient for shift size
Space for employee lockers, bathrooms and lunchrooms

 
Develop your specific requirements so you can check off how well each facility that you review meets your needs.
Analyze the overall strategy and facility impact
8). Weigh and compare the specific site options and existing buildings including total occupancy cost, the impact on inbound and outbound transportation and labor availability and cost. Recognize that build to suit is at least a two-year process from completion of analysis and management green light.
9). What organizational changes are required? The expansion to multi-DC means new management and staff. For a local move, at what distance will you lose management and workers?
10). Are there other options like third-party fulfillment (3PL) to consider?
11). Take state and county incentives into account if available. However be sure the location and facility is right for your distribution strategy, including the labor market.
12). Develop a five-year financial summary taking into account one-time costs like moving existing inventory, as well as capital budget and ongoing operational costs.
13). Perform a risk analysis for the various options. Risks could include slower than expected facility startup, potential turnover of new staff and management, more inventory required and system changes.
Future MCM blogs will explore these issues in more detail.
Opening new facilities and implementing new fulfillment strategies is exciting, but they're also major long-term investments in your company's infrastructure and customer service. Both strategic objectives and specific facility requirements need to be considered in order to make the right decision.
Curt Barry is Founder and President of F. Curtis Barry & Company