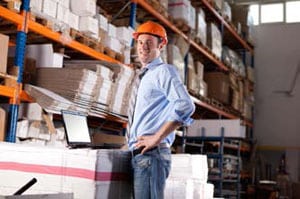 Emerging ecommerce brands are often still in the early stages of establishing valuable long-term relationships with customers. Out of fear of putting these fragile relationships at risk, it can be very tempting to make poor business decisions. For instance, new brands may resist discounting merchandise after pursuing overly aggressive purchasing strategies.
In situations like these, brand image and a reputation for high-quality and on-time delivery are at stake. Therefore, companies must develop strategies that offer an exceptional customer experience while also maintaining healthy finances. To do so, they must master inventory management, the most crucial responsibility for any emerging company.
Despite the importance of properly managing inventory, it is estimated that nearly half of small businesses fail to track it. Tracking, measuring and forecasting inventory should be the number one priority for any business that sells goods, above even customer service. After all, it is very challenging to fulfill orders on time if your inventory is disorganized or difficult to track.
When inventory management practices are sound and available inventory is visible across an entire organization, brick-and-mortar stores remain well stocked and online customers receive consistent ecommerce fulfillment. Both enjoy a positive and productive relationship with your brand.
So what does proper inventory management look like? Here are three guiding principles to successful inventory management:
Never rely on outdated inventory data
Inventory data is only as good as it is recent. And timeliness becomes all the more important – and challenging – as the number of product SKUs grows.
A growing brand must understand:
Which products are available in which inventory locations
How quickly each product can be packed and shipped
How delivery routes and fulfillment operations get products in the hands of customers

 
When this data is up to date and accessible, clear communication and sound decisions follow. Finding new fulfillment partners and vendors is easier when management can draw upon reliable inventory numbers to demonstrate the business value of a partnership. Without clear, up-to-date inventory data, business growth can easily stagnate and eventually decline.
Know the velocity of your goods
Inventory velocity or "turn" is a fundamental indicator of brand health and is determined by the time it takes to sell each individual item in stock. When you have a clear picture of velocity across all product lines, you can make informed inventory decisions. For example, if a particular product tends to sit in inventory for weeks before a sale, you could do a cost/benefit analysis to decide whether the margins of that sale are worth the incurred warehouse costs over time. With product velocity in mind, your decisions to liquidate a product line can be made quickly and confidently. Without it, inventory can languish in storage.
Keeping an eye on inventory velocity also allows you to make forward-looking decisions for your business. Highly sought-after products often have greater velocities, so you can use previous velocity metrics based on real-world sales information to inform future ordering decisions, such as a new overseas shipment. This type of data-driven purchasing can help you better ensure that high-demand products are always in stock and available for purchase, earning you more business and happy shoppers now and in the future.
Understand industry standards
Whether your business operates in health and beauty, luxury apparel or home goods, you must compare your inventory management metrics with relevant industry benchmarks. If your inventory performance is falling short of the competition, it is likely time to map out your processes, evaluate partners and bring in key stakeholders to agree on a new strategy for improvement. The financial performance of your company depends on decisive action, and the impact of those operational decisions will trickle down to your customer's experience with your brand.
When you're a growing ecommerce brand, inventory management can easily escape your list of priorities. To ensure that your team is consistently aware of real-time inventory metrics and how they stack up within the industry, you might considering partnering with an ecommerce fulfillment company that can provide inventory management tools as well as other logistics and fulfillment expertise.
Inventory management is without question the one responsibility your growing business cannot afford to ignore. To learn more about tips and strategies to master additional key areas of brand building as told by other successful ecommerce brands, download "Emerging in ecommerce: A 360° View From The Inside,"here.
Maria Haggerty is CEO of Dotcom Distribution