As much as we all love lists, it's important to remember that innovations and business challenges are not bound by calendar years. They are ongoing and incessant evolutions. Yet companies rightly think in terms of calendar or financial years – it's an uncomplicated and effective way to measure progress.
But the key in 2017 is not so much to think of what will happen over the next year, but how developments before and after 2017 will manifest themselves for the retail supply chain.
So with that broader dynamic in mind, let's examine a few key trends we see heavily impacting freight transportation and logistics. Here are my predictions for how 2017 will play out from a retail tech perspective: 
Combating Amazon Effect requires technology, collaboration
If there's one overarching dynamic, it's this: There are a couple massive ecommerce entities driving the way all supply chains are structured, from sourcing to selling to logistics. The Amazon and Alibaba effect is probably more pronounced than most companies realize. Amazon, for instance, isn't merely trying to replace the existing logistics industry – it aims to completely restructure it.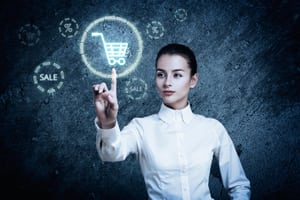 And that leaves everyone else with but one option: Build real-time, data-driven, cloud-based automation networks to effectively compete. Those networks will likely comprise multiple outside technology partners, all coalescing to provide retailers, manufacturers, 3PLs, brokers and carriers with the collective tools to combat the innovation reservoir that Amazon has built.
Not one of those entities can individually compete with Amazon from an innovation perspective.
2017 will be the year of the API
I recently told CIO Magazine that 2017 would be the year of the API. We'll see APIs begin to take hold in retail just as we've seen them revolutionize other industries – from transportation (think: Uber) to music (think: Pandora).
More retail leaders will realize the impact APIs have on things like inventory management and supply chain operations. This will empower them to better compete in today's always-on retail environment by enabling the delivery of items in the short timeframes consumers demand with a level of operational efficiency and transparency never seen before.
In an earlier post for Multichannel Merchant I delve into how APIs are sparking a technological shift amongst retailers as the critical connectivity mechanism of today's on-demand world.
Funding will continue to flow
Let's face it – the age of logistics startups is well underway. This is no longer a new phenomenon. But what will become clear in 2017 is just how large this wave will be. The telling sign of will be the amount of venture capital and private equity funding poised to enter the market.
According to this article from CB Insights, an estimated $5 billion was invested across 315 deals in 2016 alone. There are eight primary supply chain and logistics categories that are garnering attention, including several tied closely to retail:
ecommerce logistics
Freight and supply chain visibility
Sensors/asset tagging
Last-mile delivery
ERP
Inventory management
Trucking
Warehousing
Investment in supply chain and logistics technology businesses will continue to climb in 2017, which will impact the retail industry in myriad ways. More connected retail means a more connected supply chain, driving better visibility and transparency.
These investments, along with continued innovation and digitization, will make 2017 a year of great strides for retail. A technology-first approach will enable businesses to better meet consumer demand while growing margins and increasing productivity. In this closely-watched industry, retailers will continue to push the envelope in new and exciting ways. So who will be the emerging frontrunners this year? Who will become obsolete, and what long-time players will seek to reinvent themselves? Look forward to a mid-year industry update, and we'll see how these predictions are playing out.
How to win in 2017
Looking back at the trends that shaped retail in 2016, it's no surprise the industry continued to shift toward a more digitized model.
Foot traffic declined as retailers reconsidered storefront size in favor of productivity, with a focus on technology driving better use of space[1]. The importance of managing a well-blended digital and physical presence gave retailers with a technological edge a leg up, not only as ecommerce grew, but with the emergence of more advanced use of in-store technology.
Retail in 2017 will be similar in its continued evolution toward more and greater digitization. This will require a close eye toward all things supply chain, as the demands of always-on shoppers will require a new level logistical orchestration.
Jett McCandless is CEO of project44