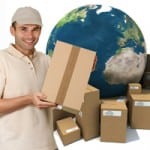 It's becoming easier for companies to generate more revenue by expanding into new international markets – especially through online channels. Global B2C ecommerce is poised to hit $2.3 trillion in 2018, according to new figures from eMarketer. Most of that incredible growth is occurring in emerging international markets.
To achieve growth in new markets, international ecommerce sites should be published in local languages. Indeed, nearly 60% of global consumers spend more time on sites in their own language than they do in English – or boycott English-language websites altogether.
But companies should recognize several other key challenges when eyeing international expansion opportunities. Here are four to consider, and some suggestions to eliminate them, so your company can do what it does best: engage with customers and sell them world-class products.
1. Technical Infrastructure
Launching sites in international markets doesn't always mean servers in those markets should host those sites. In many cases, that isn't possible due to local infrastructure limitations. Also, latency issues are usually uncommon when using robust solutions that smartly distribute server loads across larger regions (such as Europe).
However, the need for local hosting, or geo-based server load balancing, can be quite high in other international markets. Content Delivery Networks and geo-load balanced servers are often used to improve a company's primary-market (English) site's speed or reliability when delivering content to core customers. However, in international markets like China, CDNs have the added benefit of making it easy to "play nice" with a country's laws.
Finding a solution or turn-key vendor that provides dedicated IT resources and geo-load balancing, when appropriate, is imperative. Geo-load balancing directs "a client request to the service node that is [geographically] closest to the client, or to the node with the most capacity," writes Rackspace. "Choosing the closest service node is done using a variety of techniques including proactive probing and connection monitoring."
The result? The system functions at optimum speed. But there's also an ongoing component to this: observation over time can help identify optimizations to ensure load time is decreased and site functionality remains intact.
2. Logistics / Geopolitical Status
The Internet and ecommerce have ushered in an era of untold changes in cross-border conversation, culture and consumption. According to Bongo International, savvy companies that ship overseas can increase their revenue by an average of 17%.
Yet in the end, governments and bureaucracies have the final say in the flow of most cross-border commerce.
Your company must accommodate international markets' import regulations, tariffs, taxes and other nuances. (This includes shipping prohibited and restricted items, which vary by country.) Your organization must also abide by export laws; some governments simply won't permit companies to legally ship to specific countries.
Further, some markets are infamous for local corruption, supporting terrorism, or are in a region that's prone to natural disasters. These things, and more, can threaten reliable ecommerce transactions and delivery.
There are a few key ways to mitigate these risks. First, align your product or industry with the potential threats of an area and have solutions for those problems. For instance, some shipping providers have issues shipping packages to countries like Pakistan. Others don't. Choose fulfillment options that can accommodate your international expansion needs.
You can also partner with a vendor already fluent in these marketplaces and experienced on the unique challenges of conducting business in those areas. They can educate your company on best practices in these markets, viable fulfillment and marketing options – or in some cases, advise you to engage other markets poised to deliver greater returns at less risk.
3. In-Market Customer Support
Companies keen to expand into international markets shouldn't forget about the customer support needs these markets will inevitably have. If your organization provides customer service via e-mail, inbound phone calls or "contact us" forms, it should deploy localized versions of these experiences for new consumers, too.
While a localized website with a customer service FAQ (translated into the local market's language) will dramatically reduce customer service requests through self-service, your company will still field calls and e-mails. This often means translating e-mail content and providing local phone numbers for customer service representatives.
4. Relevant Payment Methods
Without using an all-in-one fulfillment partner, most payment providers by market allow for simple adoption into CMS/CRM platforms. Look for partners who can identify the proper payment methods for each market. Reputable vendors use tracking alarms and QA teams to ensure these payment methods are working correctly at all times.
Indeed, U.S. retailers are very familiar with credit cards and PayPal, but most don't understand that those payment types aren't actually ubiquitous beyond U.S. borders. If these customers don't see their preferred payment options, they won't transact.
Research absolutely supports this. One of our clients launched an ecommerce site in an international market and accepted only credit card payments for the first few months. After integrating local payment options, revenue skyrocketed. Within weeks, a full third of its revenue hailed from these local options transactions. Orders were up, too.
Another client also saw amazing lifts when adopting local payment platforms. Its conversion rate grew by 217%, the quantity per transaction increased by 33%, and revenue grew 210%.
Wrapping Up
The takeaway is clear: international online retail is where the action is – and where it'll stay. Companies that partner with world-class vendors who have a thorough understanding of the markets' cultures, politics and customer expectations can win big, year after year.
Charles Whiteman is senior vice president of client services at MotionPoint Corporation.