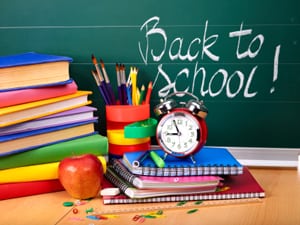 It's no secret that the back-to-school season is one of the busiest (and most profitable) times of the year for retailers, second only to the winter holiday season. In fact, according to the National Retail Federation's annual consumer survey, total spending for back-to-school and college is expected to reach $68 billion in 2015.
What's more, back-to-school online shopping has grown 15.6% in the past five years, seeing faster growth than its brick-and-mortar counterparts.
So, who's doing the majority of the spending this back-to-school season? College students.
At $43.1 billion, college shoppers bring in the most business for retailers out of all back-to-school consumers (vs. $24.9 billion for K-12). The average college student is willing to shell out around $899 on items like clothing, shoes, food, school supplies, personal care items and — here's the big one — dorm/apartment furnishings.
Online sellers — what's the key to winning over these millennial shoppers? Check out the following quick tips to find out.
Create an omnichannel experience
The National Retail Federation asked shoppers whether they intend to take advantage of omnichannel offerings. Of those planning to shop online, a whopping 48.4% say they plan to use one of the following options: buy online, pick up in-store or ship-to-store. 17.3% of online shoppers will look for expedited shipping offers.
And millennials are much more likely to use these services. Two-thirds of 18-24- and 25-34-year-olds plan to buy online, pick up items in-store and/or ship items to the store and 15.4% of 25-34-year-olds will use a reserve online option.
Offering the choice to reserve items online and pick up products in-store at their convenience is a great way to appeal to a busy college shopper.
Go mobile
Everyone's on mobile — especially millennials. So it's no surprise that 41% of college shoppers plan to use a smartphone to research products and compare prices, and 46% plan to use a tablet to shop for back-to-school items.
Now is a great time to make sure your site is mobile-friendly. That means your website should have a responsive design that adapts to whichever screen it's being displayed on, whether it's a smartphone, tablet or desktop. You can test out your website here to see if it would be considered mobile-friendly.
Consider free shipping
When shopping online, nine in 10 back-to-college shoppers said they plan to take advantage of free shipping promotions. Whether it's offering free shipping with no limits or free shipping with a purchase threshold, tossing in that extra incentive is a great way to convince shoppers to click the "buy" button. More often than not, online shoppers are willing to throw in a few extra items to their shopping carts, just to qualify for free shipping.
You'll want to take a hard look at your shipping mix to make sure it's optimized for your business. Be sure to compare costs so that you can get the best bang for your buck. That way, if you opt for a free shipping promotion, you can select the most cost-effective shipping option each time. Remember, the U.S. Postal Service is a great choice for small, lightweight packages.
Stock up on products ahead of the rush
There's nothing worse than the anticipation of buying an item you've had your eye on, and then discovering that it's out of stock. 37% of back-to-school shoppers will start their shopping sprees three weeks to one month before school starts this year, so make sure you have plenty of your best-selling products in your inventory during that time period.
As the second biggest retail event of the year, the back-to-school season is an opportunity that small online businesses don't want to miss. By providing omnichannel delivery services, optimizing your website for mobile, considering free shipping options, and making sure your product inventory is ready to go, you'll be more than set to handle the back-to-school rush and win over those millennial shoppers.
Amine Khechfé is the co-founder and general manager at Endicia