What started in an innocent work-related question to my Facebook followers quickly evolved into the biggest gambling sensation among my friends: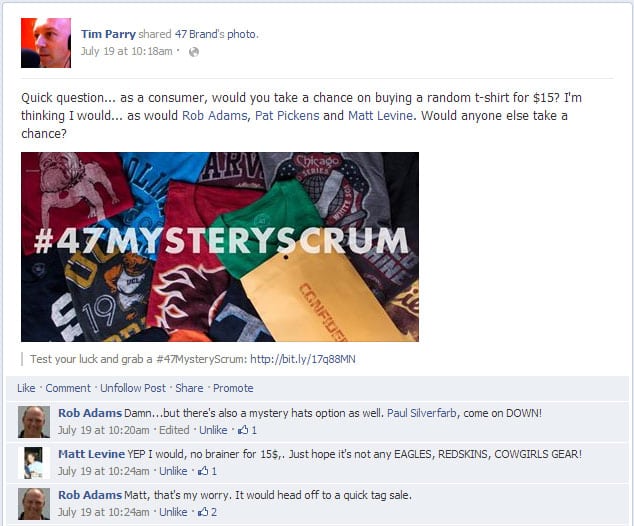 Little did I know a bunch of friends – and friends of friends – would head over to 47 Brand and take a chance on ordering a random $38 t-shirt (for $15) or a $30 hat (for $12), and hope they wouldn't get stuck with apparel that would be relegated to the back of the closet, or a Goodwill bin.
After all, if you're a die-hard New York Yankees fan, how would you feel if you blindly ordered a t-shirt, based on your shirt size, opened the package from 47 Brand, and saw a Boston Red Sox shirt? You'd be better off flushing your credit card down the toilet!
My friend Rob Adams, a life-long Yankees fan, was so thrilled with what he received in the mail that he blogged about it (although, since Rob is a New York Rangers fan, his friends passed the Franchise cap off as a New Haven Senators cap, to tie in with a former local minor league team, instead of the NHL's Ottawa Senators) :
#47mysteryscrum YES! A #Yankees shirt! #OttawaSenators pic.twitter.com/Lzu1cFUmg9

— Rob Adams (@double5) July 29, 2013
Rob even kicked it up a notch. He sent an email to 47 Brands and asked if someone would come on his weekly radio show, The Press Box, to talk about the promotion. Dan Cohen, 47 Brands' assistant marketing manager, graciously went on the air to talk about #47mysteryscrum… and its sister promotions #47mysteryfranchise and #47mysterysnapback.
Here's the clip, courtesy of Rob Adams and WGCH-AM 1490: (Click here for the audio)
47 Brand definitely look a chance with this promotion, and as Cohen points out in the interview, the reward is worth the risk. 47 Brand transitioned from purely being a wholesale licensed apparel company last July and needed a way to boost its B2C ecommerce presence.
Since 47 Brand's audience skews younger, and it considers itself to be a "lifestyle brand," Cohen said he felt a social media promotion would work. Simply, 47 Brand wants consumers to take a chance on a blind order, then post a photo of what they received to a social media channel using the #47mysteryscrum hashtag.
And it has worked – Cohen said in the WGCH-AM interview that #47mysteryscrum is the top-selling item on 47 Brands' ecommerce site. And the company enjoys seeing customers – like Rob – post their new-found treasures.
The promotion, of course, works twofold for 47 Brand. In addition to increasing its social presence, 47 Brand has a creative way to clear out excess merchandise.
What do you think? Are your customers willing to take a chance on a blind purchase of an item?
Podcast: Play in new window | Download
Subscribe: Apple Podcasts | Android | RSS