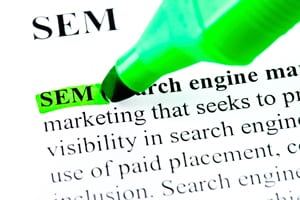 In our digital world, trends come and go just about as quickly as we're able to wrap our heads around them. These constant revolutions require marketers to adopt the most modern best practices, and ditch what's irrelevant. This is why 2016 marketing budgets are set to increase to 11% of company revenue, according to Gartner's 2015 CMO report.
We've been pushing mobile responsive websites for years and now, according to Gartner, mobile traffic in 2016 is expected to increase 59% from 2015. Paid search will also be a high priority because Yahoo can now show Google's paid and organic search results. And while Google is still the leading search engine, be careful not to ignore Bing, the default search engine for Windows 10.
As for outbound practices, we couldn't be happier to anticipate the demise of single-page websites. Google+ pages will also no longer be utilized as a social media platform, surprising no one.
Staying up to date on this constantly evolving industry will provide significant competitive advantages. Here is a comprehensive guide to what you can expect from the digital marketing landscape in 2016.
Mobile domination: In May, Google confirmed that more searches are conducted on mobile devices than desktops in 10 countries, including the U.S. As mobile use continues to dominate, so too does consumers' demand for a seamless mobile experience. It is now more important than ever for your website to have a responsive design.
Google also released the "Mobilegeddon" algorithm update this year to severely penalize sites not optimized for mobile. If you haven't already, we recommend investing in a new, responsive website to maximize your return in the long run.
Paid search opportunity: In October, Yahoo announced its new partnership with Google. This news came after Yahoo and Microsoft renewed a search deal, in which Yahoo agreed that Bing's ads would appear on 51% of desktop searches that Yahoo delivers. They agreed that the other 49% could be "powered" by Yahoo or from any third party (read: Google). So, how does this affect paid search? The partnership gets Google AdWords back into Yahoo results, giving your business more opportunity to be found.
Increase in Bing search: Since Windows 10 launched in July, Bing advertisers have been expecting to see a lot of opportunity for more search volume, because Bing is its default search engine. Windows 10 users will instinctively search with Bing because it's built in to the user experience. Instead of launching an app or browser, users can easily access an "ask me anything" box which appears at the bottom of the screen at all times, and Cortana (a virtual assistant similar to Apple's Siri) defaults to Bing search results.
Additionally, Microsoft's Edge browser (which has replaced Internet Explorer) allows users to highlight text in the browser and right click for Cortana to bring up Bing results in a sidebar. It also just launched Bing Native Ads, which can appear across MSN.com (the default Windows 10 start page) and are managed within the Bing Ads interface. As long as Windows 10 remains relevant, we predict a continued increase in Bing search in 2016.
Death of single-page websites: We have always advised clients against adopting this trend. It's no secret that SEO is much more challenging for single-page sites. Since the content is saturated on one page, search engines will only index that page for keywords. This means you're missing opportunities to have multiple pages indexed for a variety of associated keywords.
A multi-page site gives you more chances to be known for all the things your company does, and it gives consumers multiple site entry points. We foresee the single page trend going away in 2016 as marketers realize their sites are being penalized for this design, and they're losing out on valuable leads.
Goodbye Google+: After launching four years ago in hopes of becoming a major rival to Facebook and LinkedIn, Google+ has decided to throw in the towel as a social networking service. It is uncertain, though, what exactly this will mean for local businesses pages, which are hosted on Google+. As mobile search grows, your Google+ business page becomes even more important. This is because in order to be easily found by consumers searching from mobile devices, your business needs to be displayed in the local section of the search results.
That is exactly what your Google+ business page does for you. It is the most efficient way for prospective customers to locate your business via Google, click to call, see hours of service, and even access your website. It will be interesting to see the ramifications of the death of Google+ for SEO. In the meantime, we recommend keeping your Google+ business page live and updated with the most current information.
These certainly won't be the only trends to emerge next year, and there's no guarantee exactly how they will evolve. We can promise, however, that it's worth considering each of them when creating your marketing plan for 2016. The earlier you begin implementing new digital practices—and culling the old—the more time you'll have to fine-tune and leverage the benefits of your informed, overall strategy.
Kaysha Kalkofen is a co-founder of tSunela