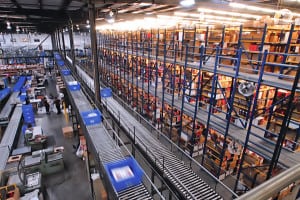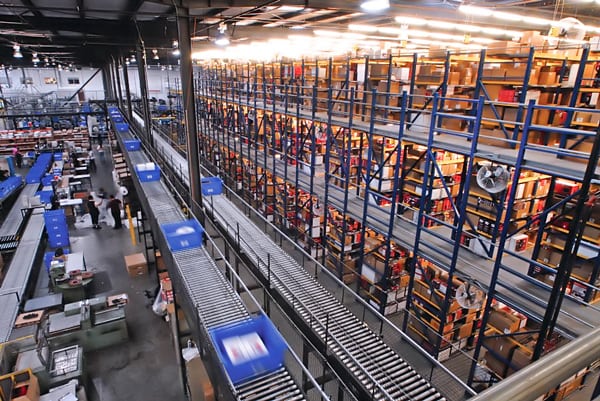 Today's distribution center is different than it was 15 or even just five years ago. Driven by the surge in ecommerce, companies are adapting to meet new challenges in order fulfillment and inventory management. This has forced many of them to think differently about how they organize and structure their distribution center operations.
The next-generation distribution center introduces new elements that embrace the unique requirements presented by ecommerce fulfillment demands, while also enhancing the customer experience and simultaneously being purpose-built for speed.
There are five essential practices for the digital economy that, when remembered and executed, can help ensure a successful ecommerce distribution center operation. These operating principles in fulfillment, operations and labor management will help mitigate the risks created by expanding ecommerce and omnichannel business.
The OMS Drives Inventory Visibility
Order management systems (OMS) play a key role in fulfillment as the front end intelligence layer, matching supply and demand resourcefully. They integrate with many systems including web storefronts, warehouse management systems (WMS), enterprise resource planning (ERP) solutions and store systems. With the OMS, fulfillment directives are intelligently sent based on knowledge of all inventory positions, labor availability and transportation costs.
Especially for today's multichannel businesses, order management plays a key role in providing insight into enterprise inventory availability, including stores, increasing customer confidence and improving conversion rates. The OMS should also provide flexible fulfillment policy automation to maximize margin. It also needs to properly route the order by tapping a fulfillment location based on enterprise strategies, customer expectations and real-time network conditions.
Mobility for Managers
DC managers are often the longest-tenured employees and are given a lot of responsibility based on years of trust. They managing employees and inventory while also taking care of customers. It's become increasingly important to get them away from the desk and onto the DC floor for deeper engagement with associates.
Distribution Management (DM) mobile solutions play a strategic role in helping managers see the work in action, while helping employees feel supported and relevant. A connected tablet asset, with proper software, is an effective tool that allows managers to untether from a desktop computer without having to sacrifice benefits such as visibility, alerting and real-time execution.
True mobility increases face time, promoting higher levels of employee engagement, increased productivity and fewer errors.
Order Streaming in the WMS
Working through the lifecycle of orders, execution shifts from the OMS to the WMS.
In ecommerce, order fulfillment has less to do with batching or wave-based strategies and more do to with fluidity, i.e. dynamically assembling and executing work in real time. This requires constant evaluation of pool orders, automatically selecting inventory, and ensuring that orders are always actionable. Proactive replenishment of forward picking locations ensures product is available when associates are asked to pick it. A key part of order streaming is dynamically creating pick tasks.
Regardless of when orders arrive, order streaming allows for flexible and automatic task creation. It involves analyzing the possibilities in order to increase pick density and reduce the travel path. Order streaming results in overall improvement in utilization of labor and assets such as forklifts and unit sorters.
Batch Pick to Cart
Getting a significant pick density and reducing the travel path across a number of orders is important. Math, science and algorithms all help increase order efficiency, reduce labor and increase pick accuracy. A small team can be intelligently assigned with a pick path and get a lot done with fewer resources when utilizing batch pick methodologies.
Some common batch strategies deployed by modern distribution centers include multi-order pick-to-tote. Many leading operations leverage a zone pick-and-pass strategy to keep associates as productive as possible, and picking execution can be accomplished by leveraging multiple technologies. Replacing paper and label-based systems, mobile picking apps are becoming the preferred method for executing batch picking.
Power Combo: Put Wall and Pack Station
Once all orders and inventory have been picked in aggregate, there are now large carts full of totes with inventory for multiple orders. Inventory now has to be pulled and put into discrete locations for each order – known as system-guided isolation of order-specific inventory. In laymen's terms, it means getting the right things into specific locations for packing and shipping.
Recently, distribution centers have leveraged put walls, which offer a low-cost and flexible way to scale up ecommerce fulfillment, especially during peak seasons. Pack stations are a great way to ensure associates have the right order, documentation and packaging to complete the customer experience. It's worth noting that real-time WMS integration exists throughout this entire process to ensure complete, end-to-end visibility and data capture from the subsystems, including printers, scales and parcel manifesting systems.
Distribution center complexities will never simplify. In an era when distribution channels are constantly expanding, consumer expectations are always increasing. By keeping these five essential practices in mind while adhering to wise business practices, enterprises can better mitigate the risks brought on by ever-growing ecommerce complexities.
Eric Lamphier is Senior Director of Product Management for Manhattan Associates