In the past couple weeks we had two really disappointing shopping experiences. I am shouting at the top of my voice: Does anybody shop their own website and call their own contact center?
You expend big sums of money to launch websites, acquire customers, put contact centers and fulfillment in place, but how do you actually monitor customer service performance? Do you ever secretly shop your call center and website to see how well your processes and systems work? If you're not doing this on a regular basis, maybe your customer service is less timely and elegant than you think. Let me give you a couple real-life examples.
#1: Valentine's Day Present from a Food Gift Company
They have very tasty products – if you can get them. I placed an order for Valentine's Day on Jan. 29, more than two weeks ahead of time. At first we used the ecommerce order site but had to abandon it because they did not have a "bill to address" function independent of the three "ship to" addresses. We didn't want to send an order to ourselves in order to pay for it. That necessitated placing the order with the call center which took seven minutes.
With the holiday looming we requested a receipt date of Feb. 10 so our three orders would not get caught in the holiday traffic or the weekend before Valentine's Day. When the orders didn't arrive on the promised date, we tried online tracking but the website icon didn't work, prompting another call to the company. The orders arrived a day late but in good condition, via the U.S. Postal Service's final mile service.
#2: Rugs from a Drop Ship Vendor
Beautiful products! Poor service. We ordered a 5×7 rug online. The order date was Jan. 17 with no delivery date indicated on the confirmation. There is no website-based order tracking. We called the call center and were told their original committed ship date was Feb. 10 and it would arrive on Feb. 11. When it didn't arrive on Feb. 12 we called back, got put us on hold, and called the drop ship vendor who said it was shipping that day. As of Feb 14 it still hadn't shipped.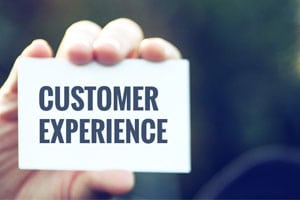 These two companies broke their word and our trust. I submit that these processes and systems aren't what a smart direct-to-customer merchant wants to happen.  Every time an agent answers the phone and deals with an issue the website should've addressed, what does it cost you? Our experience is $1.50 to $2.50 per call, including fully loaded costs for management, labor, benefits, facility costs and telecom.
To avoid these kinds of issues that can cause even loyal shoppers to vote with their feet, here are 5 ways to improve your customer service:
Shop your business regularly: I am a big believer in this. I can't add much more. Make someone in the organization the advocate for the customer and improving service.
Maintain accurate purchase order dates via merchandising or inventory control: This has been an age old problem in direct marketing, catalog and ecommerce. The customer will walk away from buying from you site and call center if you can't give them accurate item availability and delivery dates.
Listen to calls: One of our clients set up a monthly lunch and learn, bringing together merchants, marketing, customer service and fulfillment together to listen to recorded calls. It revealed holes in product descriptions, website support of ecommerce customers, pricing errors, rep training needs and new products customers were looking for. Great results!
Create a vendor drop ship program: We are big believers in the value of drop shipping and expanded product assortment you can offer without inventory purchases. But it is far from working well in most companies. Shop yours. Get together with customer service, the vendors and IT to set up standards for service and vendor scorecards. And get the required systems in place as well as renewed commitments from suppliers.
Improve your reporting: What customer service and fulfillment reporting do you have in place? Are there key exceptions reports from the call center that alert management to critical misses in promise dates, billing errors and other complaints? How many errors do you have by type (e.g. damages, mis-picks) and for what reasons? As we always say, you can't improve something you haven't measured.
Great marketing and merchandising are all for naught if the mechanics and fundamentals of providing customer service are not in place to deliver orders and exceed expectations.
Curt Barry Founder & President of F. Curtis Barry & Company