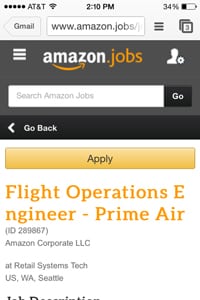 Delivery by drones keeps getting more real… Amazon is now looking to hire test pilots for its UAS (uninhabited aircraft systems) program. And it posted the job listing on its jobs site.
What is Amazon looking for? Per the job listing:
"We're looking for aerospace, systems, or other engineers with extensive UAS flight experience, and preferably experience in working with authorities on UAS certification. Aviation safety experience is a definite plus, as is a current fixed-wing or rotorcraft pilot certificate. Success will require attention to detail, a safety-oriented attitude, flexibility, and creative problem solving to obtain the data we need as we iterate our vehicle and sensor technologies."
Amazon gained a lot of attention last Cyber Monday Eve with its announcement on CBS's 60 Minutes that it was testing drones for same-day delivery. And in July, it petitioned the FAA to conduct these tests outdoors, on U.S. soil.
Over the summer, Google started piloting its own delivery-by-drone program, as reported here by The Atlantic.
So, the race is on, and as far as we can tell, Amazon is in the lead.
What would make this even more intriguing, especially with November being a big month for Veteran's awareness, is if Amazon, Google, etc. would hire a few good men who served in the U.S. armed forces. Love the military's drone policy or hate it, there are certainly thousands of veterans trained to pilot drones who could use a helping hand when they retire from the service.