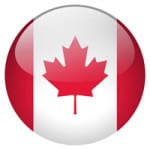 As ecommerce shopping booms, Canadians are making their way to online stores and many of them are choosing outside merchants. At least 70% of Canadians' purchases in 2015 were from merchants based outside the country because these online retailers often have better prices or provide goods not available in Canada.
With a household income averaging $76,000 and a majority of the population having disposable income, shopping abroad is a way for Canadian's to get the goods they desire. The downside can be the cost of shipping which can turn away customers who are not made aware of the potential additional fees involved in shipping from the U.S. to Canada.
In 2015, online retail sales in Canada reached $29.6 billion and that number is expected to double within the next three to four years. With certain shipping methods, unnecessary high costs including customs and brokerage fees are a deterrent. Although over 41% of Canadians are considered 'occasional' online shoppers (buying up to 4 times a year on-line), they can easily become dissuaded if they end up paying more than double the cost of what is shown on the merchant's website. However, data shows 21% of Canadians who were first-time or one-time buyers turned into frequent shoppers in 2015, proving that the number of online Canadian shoppers is growing each day. As our northern neighbors continue to increase cross-border spending, ecommerce companies need to provide cheaper, more streamlined order and delivery processes to get their share of this booming market.
To do so, there are different methods for getting products to your Canadian customers. As a U.S. business, it might seem logical to ship via the United States Postal Service. This shipping method is known as a DDU Service, or delivery duties unpaid, since taxes are not charged to the consumer in the retailers shopping cart. This method unfortunately costs your customer additional service fees upon delivery, including the cost of customs, brokerage fees, duties and sales taxes required for products entering Canada. The two more cost-effective and efficient methods are Direct Entry and In-Country Fulfillment. Direct Entry means the cost of shipping reflects the destination country's price including all applicable duties, taxes and customs clearance; it is also known as DDP shipping, or delivery duties paid. In-Country Fulfillment is when products are warehoused in a Canadian fulfillment center and orders are filled directly from there.
With both of these methods, your customer is charged the additional costs upfront resulting in a better ecommerce shopping experience overall. By shipping with a DDP method, customers know the full cost before they finalize the purchase and therefore do not pay additional fees when the product arrives at their door. This makes for a better customer experience and a customer more inclined to continue purchasing from your ecommerce site in the future. Because 35% of shoppers say they abandon their cart due to shipping costs being miscalculated or not shown at checkout, it is crucial for the website to reflect the Canadian cost for shipping, duties and taxes, rather than just the cost of goods.
For many small to medium sized businesses, working with an in-country fulfillment partner makes the process even simpler because there are no additional customs or duties to worry about and it guarantees the best available in-country delivery rates. A well established in-country partner typically offers both Direct Entry and In-Country Fulfillment, as well as an easy returns process which is an essential element of any ecommerce strategy. Exchanges and easy returns are considered 'high importance' to at least 69% of Canadian shoppers and that number will continue to grow if ecommerce sites fail to make the shift to a more streamlined shipping and returns method.
When shipping globally, it is always efficient to work with a partner in the destination country. Canadian customers will recognize the ease of ordering and will appreciate the transparency when you provide the real cost of the product and shipping. Remember, Canadian consumers are increasingly purchasing online and global commerce is quickly shifting their expectations. Your convenient shipping and delivery processes will be the determining factor between you and other international ecommerce retailers competing for new Canadian customers.
Lee Finkelstein is VP Business Development at Stalco.