As your business grows, you're going to experience more unpredictable situations. For that reason it's a good idea to have a clearly outlined shipping and returns policy on your website that will help set expectations for customers and also guide your customer service team. Shipping and returns policies set customer expectations, protect your business from unreasonable customer requests, and can also be the difference between a profitable sale and a loss on an order. You don't need to write up a contract page of legalese for your shipping, delivery and refund policies. These can all be addressed in an FAQ, written in plain English. By proactively stating your policies for various situations, you signal to your customers that you're a business that pays attention to details and will also set their expectations properly. So what sort of information should you include in your shipping and return policy FAQ? Here are some simple ideas:
Shipping Lead Time
Make sure to explicitly state how long the shipment preparation takes before items are actually shipping. Unless you explicitly outline your shipment lead time, most consumers will assume same or next-day shipment. When calculating shipment times, remember to account for weekends, holidays and seasonal spikes.
Undeliverable Packages
Despite your best efforts to verify addresses, on occasion packages can be returned as undeliverable. Carriers may deem a package undeliverable for a number of reasons including an ambiguous or incomplete address, an APO or FPO address (military installations outside the continental U.S.) entered as an international address, or if it's refused by the recipient.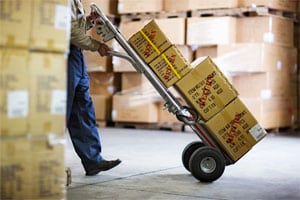 You do not want to be on the hook for re-shipping and eating the cost to get the order to the correct address. Sometimes the item will be returned to the warehouse, while in other instances the carrier will perform address correction and then bill you for it. You should always try to verify addresses during checkout, but clearly outline what happens if a wrong or incomplete address slips through the cracks. And if this situation does arise, here are some suggested approaches to dealing with it:
Issue a full refund for the product and shipping charges
Issue a refund for product only
Get an updated address from customer and re-ship at your cost
Consider adding a rule that you won't re-ship orders to the same address as the previously undeliverable package. You will also want to explain that it takes time to process packages that are returned so customers are aware there is a process that must take place – and that it may delay shipment beyond the initial timeframe expected.
Military Addresses
Typically you'll need to use the U.S. Postal Service to ship to military destinations since not all carriers deliver to them and shipments require customs forms. Additionally, the military has restrictions on the types of items allowed, so it's up to you to know if any of your merchandise will be rejected. When it comes to shipping to military destinations, it's a good idea to clearly outline the following information in your FAQ:
If you ship to military destinations
Which items are eligible for military delivery
Which carrier will be used for shipment
Late Packages
A very common customer support inquiry is "My package was late – can I get my shipping fees refunded?" It's up to you how to handle these situations and/or if you want to have a stated policy for this. Even if you don't publicly discuss your policy it's a good idea to educate your support reps on it so they know how to handle or escalate the call if an issue arises.
Address Changes
Some customers will write in to ask to change the address after an order has been placed. The best policy for this situation is to clearly state your options:
If the order has not yet been prepared, the customer can cancel and a place a new one
If the has been prepared for shipment or in transit, no changes can be made.
Unfortunately address changes are also one of the most commonly used tactics for shipping fraud and chargebacks. While we all hope that every package gets to its recipient when expected and in great condition, it's best to have a plan and a policy for the inevitable exceptions. Publishing a shipping and returns policy where visitors can reference it before purchasing helps to keep customers. It also gives your team a place to go for consistent, thought-out answers. Laura Behrens Wu is a co-founder and CEO of Shippo