For many marketers, these first few sizzling summer days are spent planning for the busy blizzard of the holiday rush that is only a few months away. Luckily, these long days give marketers plenty of time to develop their best marketing strategies, promotional concepts and creative designs that will help them to capture the cheerful consumer's attention and "sleigh" the competition.
This is the time of year when all of the best and brightest strategies and sales are launched. Distinguishing your brand from the competition is an annual battle that becomes more challenging each year.
In addition to keeping an eye on the competition, marketers must deliver on ever-increasing consumer expectations to offer seamless multi-device, cross-channel shopping experiences, low prices and, of course, free shipping.
These competitive pressures and consumer demands can be overwhelming. How do you distinguish your brand? How will you be able to connect with your shoppers when the holiday season is in full swing? Will your season-long, site-wide discount and free shipping offer be enough to bring in your year-end sales?
Discounts and shipping offers may fully light the purchase path to a shiny, sparkling season. User-generated content (UGC), such as ratings, reviews, Q&A and product photos may be key to engage the holiday shopper and get the sale.
According to TurnTo's Hearing the Voice of the Consumer, a study of US shoppers, 81% of consumers would pay more for a product that is paired with UGC vs. the same product that does not have any UGC. The same percentage (81%) said they would wait longer to receive items that are coupled with UGC.
Additionally, 90% of shoppers reported UGC being influential in their purchase decisions. This outranked other marketing tools such as search engines (87%), emails (79%) and display ads (76%).
With a few months before the holidays kick off, you still have time to boost your UGC resources and build a foundation for engaging the overwhelmed and demanding holiday shopper.
As you meet with your team to build your holiday strategy, discuss your current UGC efforts and how you can expand the role of UGC into each step of the customer journey. Find ways to combat the top five reasons shoppers give for not leaving UGC. This will help you to increase the amount of UGC available to you for your holiday site strategy and messaging plans.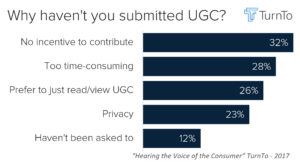 No Incentive
This doesn't have to mean a discount. Reward customers who contribute UGC by letting them know when other shoppers find their photos, reviews or answers helpful. Give shoppers loyalty program points if they actively participate in your UGC community.
Too Time-Consuming
New tools such as review submission forms in email messages can help to decrease the friction between your shopper and a UGC submission. Tappable links that directly open a phone's camera can give customers a quick way to share projects and product photos.
Prefer to Just Read or View UGC
Increase visibility of UGC throughout your site and add easy-to-find calls to action for folks to participate. If your customer content community is active and the options to participate are easily accessible, you may find that these observers will convert to active UGC participants.
Privacy
Set clear expectations about how UGC will be used. Let your shoppers know whether their account name will be displayed. Give shoppers a way to preview UGC submissions before they go live and offer ways to edit or delete the submission. All of these options can help to show your customers and shoppers that you are committed to privacy and security.
Haven't Been Asked to Contribute
You may have to make the first move! Look at the timing for post-purchase ratings and review requests. Certain products may need to be timed differently after a purchase has been made. For example, products requiring assembly may need to be built and then used before a thoughtful review can be written. Beyond timing, review the calls to action on your site for UGC submissions. Ensure they are clear, functional and prominent.
All marketers want to wrap up the year by exceeding sales goals. Discounts and shipping offers may simply not be enough to beat your forecasts. Listen to your customers by taking the time to incorporate a customer content strategy into your holiday planning.
Jim Davidson is Director of Research for TurnTo Networks