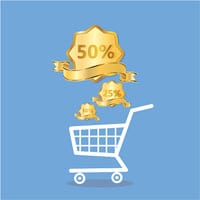 Every etailer and ecommerce site is quick to point out the major difference between what the consumer is going to pay now versus the "official" list price. This means it's become almost impossible to pay the list price for anything on the Internet.
Our systems, which monitor 130,000 brands in 1,100 categories daily, have shown that no more than 45% of items are sold at list price. This figure falls to 10% in categories like precious stones and gems, camera accessories, bakery products, baking ware and staples like sauces, marinades and dressings.
This discounting culture has caught the eye of legal eagles and has some asking hard questions about the principles of ecommerce. All etailers attract buyers with list prices or "official" prices and claim slash-type discounts to win the sale. Online shoppers go away happy because they've bagged a bargain, and merchants are desperate to satisfy their appetite for the best deals.
This has triggered a number of lawsuits alleging deceptive pricing practices, such as claiming markdowns from an arbitrary price list. The issue was highlighted in 2014 when some California prosecutors brought a false advertising suit against Overstock.com, accusing it of overestimating the amount of consumer savings. And Michael Kors had to pay $5 million to settle a class action suit challenging prices offered at its outlet stores.
With the U.S. Federal Trade Commission investigating these strategies, the fabled standard price could soon disappear online for good. The incidence of this type of lawsuit is only likely to increase.
Playing the pricing game
Pricing is one of the most difficult issues in online retail because it is a major challenge to keep up with such a fast-moving and dynamic marketplace. If the price is set too high, online shoppers simply jump to another site. Set it too low, and you eat into profits and risk creating a customer base that expects a discount every time.
Online shoppers like nothing more than comparing prices. Keeping them on par with the competition is therefore extremely important. Real time, continual pricing adjustment based on market factors is the only solution that can satisfy shoppers' continuous quest for a bargain.
Big data analytics can enable online retailers to get a full view of their pricing landscape. This includes monitoring new and returning customers to optimize for demands, trends, products and pricing, and regional differences. With thousands upon thousands of available SKU choices in a category across multiple channels, and a range of competitive dynamics and promotional strategies in play, using the right technology is essential.
The epicenter of any ecommerce pricing technology should be its ability to drive revenue, margins and profits with better real-time insights into pricing levels and shopper behavior at a granular level. Dynamic pricing should enable rapid adjustments to market changes and consumer trends, and the ability to focus solely on relevant products and competitors.
The goal is to know how the markets are working and price accordingly. The ability to hit volume, pricing and revenue goals by continually running automated price adjustments in the background will allow you to stay ahead of the game in the "list price" free zone that is cyberspace.
Sanjeev Sularia is CEO and co-founder of Intelligence Node