Every day is a juggling act for multichannel retailers who need to quickly fulfill customer orders for items purchased online, in-store, via supplier warehouses and through other channels. Today's shoppers expect to know whether the item they want is available, and the answer better be in stock and ready to ship.
Unfortunately for some high-profile chains such as Aéropostale, the once-popular destination for tweens and teens, they didn't have the right answer and ended up as a Chapter 11 casualty. With outdated inventories adorning store shelves, it appears management lacked access to inventory levels and couldn't react quickly enough to fluid sales data and trends.
One could surmise that siloed inventory and a lack of cross-channel integration capable of servicing a highly dynamic customer set likely impacted Aéropostale's demise. Following in the footsteps of Barnes & Noble, this is another example of how challenging inventory management is in a homogenous corporate store environment.
Franchise retailers require an open, distributed network 
Franchise organizations face even more complexities and unique challenges:
How can franchisees fulfill a variety of unpredictable customer requests with inventory housed in a limited number of stores?
How can franchisors ensure a consistent, positive customer experience that drives loyalty?
How can they strengthen their brand to attract investors and grow their franchise store network?
The overriding answer is: An omnichannel brand driven by the unified customer experience model that delivers what customers want, when and where they want it, and enables them to return merchandise to any store. An inventory management system – an open, distributed network model – that includes all stores, distribution centers, warehouses and vendor inventories is critical for providing a single, global view of brand inventory.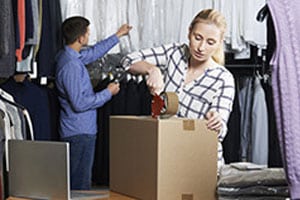 Nothing erodes the online shopper's experience more than finding out at checkout that the item isn't available. Real-time inventory information is critical for providing a delivery date based on proximity of the nearest fulfillment source that the system identifies. A franchisor (brand owner) can allocate online orders to a specific franchise store or adopt an Uber-type process that offers franchisees within a customer's geographic perimeter an opportunity to fulfill the buy-online/pickup in store order.
In effect, the system enables a trading platform that allows franchisees to play in the omnichannel arena. The owner of only one store can act like a much larger operator with virtually unlimited access to brand inventory and without sacrificing profitability. A configurable, rules-based automated inventory management system can reconcile variables such as product cost and sales price, commission, etc. Every player understands the rules and results in advance.
Automation and agility provide many benefits 
The open inventory management model delivers a plethora of benefits to the entire ecosystem — franchisee and corporate stores, the brand and most importantly, shoppers. Store personnel no longer have to track inventories manually, thanks to a system that automates low-inventory alerts and store-level orders. Imagine a system that allows items on layaway to be resold until close to being paid off, at which time it automatically issues an alert if replenishment of the item is needed.
Visibility into franchisee and corporate stores' inventory levels enables monitoring the impact of promotions and sales, and analysis of returns data to drive product allocation to outlets or to the manufacturer if defective. Merchandise planners can test in-store product performance by monitoring replenishment orders. They can gain valuable insight into SKU data for readjusting product mix, ultimately making better buying decisions and strengthening their vendor bargaining position. When shared with franchisees, this product performance information provides a leg up in boosting store sales.
The open inventory management model also gives franchisees access to a larger inventory base and the ability to exchange inventory, which optimizes revenue capacity and minimizes markdowns. For instance, instead of heavily discounting warm-weather clothing at the end of summer, apparel stores in the north can send unsold items to their southern counterparts where they can be sold at a minimal, if any, discount.
Keep up or risk getting left behind
To succeed in the long term, franchise and blended retail ecosystems must aggressively embrace the omnichannel revolution. We've seen how social media — a Pinterest share, Instagram photo, Tweet or Facebook post — can propel a product (and similar items) into popularity and create unanticipated retail demand, or plummet a product into the depths of obsolescence. Savvy marketers can also showcase items via social media.
Despite their challenges, franchise and blended retail ecosystems need an inventory management system that enables them to stealthily seize opportunities and avoid missteps in order to survive.
Linda Palanza is Chief Operating Officer of OneView Commerce