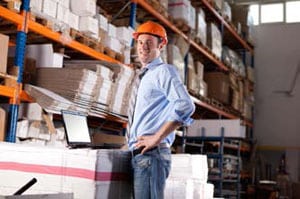 For national retail chains that are growing ecommerce as omnichannel businesses, there are three elephants in the room. The first is of course the behemoth of Amazon, with its far-reaching tentacles and effects on customer shopping behavior. Next is the customer's ability – and predilection – to shop anytime, anywhere and from any device of their choosing.
While both are truly big challenges, the biggest elephant of all is the retailer's own supply chain and infrastructure. More specifically, it's their order management system and inventory reservation against all distribution points (i.e. stores, warehouses, drop ship vendors, 3PLs, etc.) to provide inventory availability to the customer.
I'm not chiding big retail. Make no mistake – my bet is on big retail.  To accommodate this sea change, these infrastructure changes are requiring major investment and process changes for omnichannel orders to be efficient and provide customer service.
Here's why Inventory Systems and Inventory Availability is the biggest elephant of all:
Inventory has become a customer-facing application vs. a back-office function

Traditionally, brick-and-mortar stores are primarily self-service. If the store has the item, you make the sale. Inventory systems were labeled back office and they were often updated after store closing.
However, omnichannel put the customer in charge and made inventory a customer facing function:
Through the device of their choosing, the customer accesses the inventory availability through the order management (OMS or ERP). In essence behind the scenes, OMS reserves the SKU online from all distribution points (stores, warehouses, drop ship vendors, 3PLs, etc.);
The customer makes decisions about personalization and other value-added services;
Customers accept or abandon the order based on shipping/handling charges, total transaction price, item availability and if the retailer can get it to them when they need it via shipping or in-store pickup.
This is no small feat. In Walmart's 2014 report, the company said it had 10,900 distribution points globally. Kohl's 2014 annual report mentioned inventory being used in stores, DCs, 3PL partners and drop ship vendors. From our experience with implementing systems and processes in stores and DCs, for smaller retailers these changes take several years to complete.
Communicating item availability by location and SKU
A small footprint specialty store doesn't generally have large SKU quantities by color-size.  And it's not uncommon for retailers to have inventory system inaccuracies when on-hand gets down to the remaining "ones and twos" by SKU by store. 

Also, historically merchants have not religiously maintained well the expected receipt dates on purchase orders. Senior management is enforcing this disciple to get the customer experience up.
New store responsibilities and costs

Pick up in store, order fulfillment from store to customer or transfer to another distribution point has created new store-level responsibilities as well as system needs (e.g. shipping systems, OMS access, etc.).  Most retailers now have store associates filling orders within a couple hours.
Returns logistics and costs

Return rates have always been higher for direct commerce than at retail stores, where a customer can see, feel and try on the product. Before ecommerce, a retail store might have a return rate below 5%. In today's omnichannel world that can easily double depending on the product. Fashion apparel and shoes can have a 20% to 30% return rate.
Other drivers of higher return rates for omnichannel companies include "no hassle" return policies which are necessary to maintain shopper trust.  While a high percent of returned products are re-salable, some need to be refurbished or repackaged. Omnichannel companies like Cabela's and L.L. Bean have set up centers to process returns; refurbish product, potentially repackage the item; and redistribute to stores or return to stock in DCs. Other companies use reverse logistics 3PLs such as GENCO or Newgistics to pick up returns and process them.
Understanding omnichannel fulfillment costs

The inherent costs of dealing with small customer orders – infrastructure and systems, store responsibilities, transportation – are new and not clearly identified in retail companies. For example, in direct businesses we work with, the fully loaded cost to fill a customer order can range from $3 to $4.50 per order of three items or less for efficient companies, not including shipping costs. This includes management, direct and indirect labor, DC occupancy and packing costs.
Transportation costs can range from $4.50 to $10 and up per order depending on weight and carrier rates. "Free" shipping is a major expense, and new to most retail operations.
We live in exciting times! Omnichannel AND brick-and-mortar are here to stay. Now we need to become efficient as we offer high levels of customer service. Item availability managed throughout the supply chain is at the heart of making or breaking the sale.

Curt Barry is president of F. Curtis Barry & Company