What is promotional planning and why is it so important to get it right? In part 2 of this promotional excellence series, Shikha Jain shares the six questions companies need to answer to plan the perfect promotional campaign.

Promotions can be one of the most effective methods for a company to boost sales, acquire new customers, and increase customer satisfaction and brand loyalty. Not only do shoppers love a good chance to grab a bargain, companies can also use promotions as a strategic tool for achieving wider business goals. Get promotions right and you'll create a situation where everyone wins.
But promotions can also backfire. Without the right planning, they can kill your profits and attract segments that damage your brand image. The worst promotions are those that are constantly running or follow a one-size-fits-all approach. Think about Bed Bath & Beyond – they've become so used to promotions that they probably run them on autopilot. If they ever want to change their strategy, they will have an impossible time convincing promotion-addicted customers that full price is actually the best price.
Even the "best" companies can flop if they fail to plan their promotions properly. Remember Build-a-Bear's "pay your age" campaign? It could have played out well, but failed dramatically. They promoted a product that was already driving sales to the store, heavily underestimated the promotion's popularity, and left behind a trail of angry customers when the promotion quickly reached its capacity limit. An interesting idea, but the company completely failed in executing it.
Planning each individual promotional element is essential to ensure that your promotions go off without a hitch. It seems so obvious in practice, but many companies do not incorporate this across all of their different promotional events. Here are six basic questions you need to ask in order to plan a solid campaign: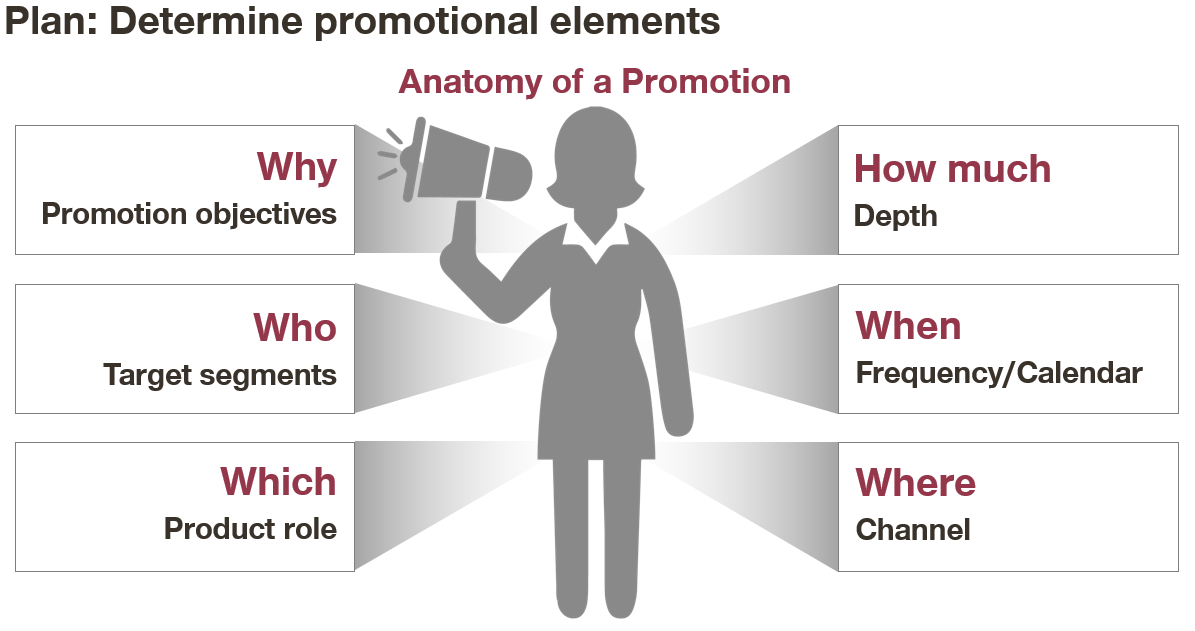 Why should you run a promotion in the first place?
Promotion incentives should reflect your objectives. Is your aim to attract new customers, or engage those you haven't heard from in a while? Big gestures like creative promotions or heavy discounts can be good at getting people through your doors, whereas customized promotions add a personal touch and are a useful tool for regaining the attention of existing customers. Price discounts tend to drive traffic, while value-added promotions drive basket size. You should know what you want to achieve before putting a product on promotion. And only by knowing the desired outcome can you later measure your promotion's success.
Who should target with your promotions?
Make sure your promotion appeals to the right audience. Different messages and deals will resonate with different target segments. The most successful promotions increase traffic or conversion by tailoring the offers and discounts to a segment's preferences, budget, shopping habits, price sensitivity, and purchase history. Poorly targeted promotions on the other hand can even drive a wedge between you and target customers, and eat away at your budget for all the wrong reasons. Do you know which segments you want to acquire and where you want to increase your share of wallet? This requires a clear and robust segmentation strategy.
Which products should you promote?
One common mistake is that although companies have checked off the first two sets of answers, it stops there. They plan their promotions with their objectives and target customers in clear sight, but repeatedly put only their signature product on offer. Instead, the product selected to be featured in a promotion should be based on its role in the overall portfolio, and tie back to the objective and target segment. Don't be afraid to explore cross-selling and bundling opportunities, such as pairing EDLP items with specialty items, or traffic drivers with basket fillers, etc.
How much should you give away?
If you're planning on running percentage discount offers, consider the depth that's really needed to trigger a purchase. Don't just start slashing prices in half. Make sure you have a clearly defined margin range that guides your discount percentage. The sale price still needs to earn you a profit − you don't want to give too much away, or even end up losing money with your discounts. And don't forget, there are many other ways to run a promotion. Giving away freebies or special in-store product or service perks can be just as effective and allow you to still charge full price.
When should you run your promotions?
Of course, holiday promotions have become staples. Most companies are going to run events around Black Friday and the Fourth of July. But what about the rest of your promotional activity? What should marketing look like when you don't have any promotions running at all? You may be able to tie promotions to important dates and milestones that are specifically relevant to your target segment, or use short deadlines to create a sense of urgency. Plus, if you plan to run customized promotions, insights into past shopping behavior can help you predict what the customer will be most interested in next and when is a good time to trigger that purchase.
Where should you run your promotions?
Identifying the right promotion vehicle or channel ties back to all of the previous questions. How you reach out to customers will depend on the type of promotion and who you are aiming to reach. If your goal is to increase basket size with a combination of signature and secondary items, simply displaying the promotions in store might do the trick. If you are targeting your existing customer base, then most likely you will already have a direct connection to them social media channels, whereas mass campaigns make sense for acquiring new customers.
Planning requires an evidence-based approach
In isolation, all of these things make perfect sense, right? The trick is putting all of these elements together using an evidence-based approach:
Start with a historical-based view. Use your team's experience combined with analytics to develop a long list of promotions that have been offered in the past. Who did they target, where did they run, what was on offer, etc.? Most importantly, did they meet the pursued objectives?
Then, test the different promotions to see which resonate with your target segment. You might not necessarily have a lot of historical evidence from which to work, especially if you're trying out a whole set of new promotions. In this situation, market research or A/B testing can give you a clearer indication as to which promotions will most likely be well received before you actually put them out there in the market.
Planning the perfect campaign
Customers love promotions, and you can love them too: With the right promotion strategy, successful retailers have attained a bottom line improvement of up to five percentage points! The key is using historical information and customer research to bring all of these six key elements in line, from the initial reason behind your promotion to the place where it eventually reaches the customer. Through detailed and evidence-based planning, it definitely is possible to design campaigns where everyone gets to win!
Shikha Jain is a Senior Director at Simon-Kucher & Partners