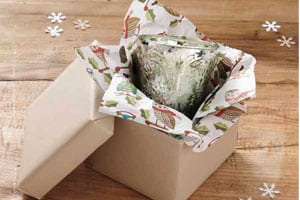 In the age of Instagram, appearances are everything and brand packaging is no exception. A brand looking to grow, reach new shoppers and retain a loyal customer base needs to go above and beyond with memorable packaging. This encourages consumers to purchase from the brand again and motivates them to share their experiences with others.
One of the best ways for an emerging brand to reach new shoppers is by encouraging current shoppers to share their brand experience with their networks. Unboxing videos (footage of a consumer opening a new product) and images posted by consumers serve as excellent word-of-mouth marketing. In fact, the 2015 Dotcom Packaging Report found that almost 40% of online shoppers say branded packaging makes them more likely to recommend a product to friends.
Emerging brands need to consider the customer's unboxing experience when determining packaging. What do you want your customer to see first? How do you want them to remember the experience? By offering more than the traditional brown box, the most successful brands will ensure that consumers enjoy the unboxing experience and share it with others.
The excitement of premium packaging
Premium packaging is defined as packaging for an ecommerce order that is more upscale than a traditional brown box and usually involves better quality material, colors, custom inserts or unique designs. This type of packaging exceeds customer expectations because most think they'll receive a traditional brown box when they make a purchase online.
Premium packaging that goes above and beyond the norm makes consumers remember the brand and think highly of it. According to the our report, more than a third of online shoppers say the use of branded packaging for online orders improves their perception of a brand or retailer, with more than 60% of that group saying premium boxes and wrapping materials make the brand seem more upscale.
When consumers are more excited about a brand experience, they're more likely to share with peers. And when they share videos or images, their network friends and family are paying attention. More than half of consumers have used social media to find a photo or video of something they're thinking about buying, and 55% of consumers who have watched an unboxing video say it motivated them to purchase the product. Premium packaging plays a major role in a consumer's decision to purchase with a brand, making it even more important for emerging retailers to ditch the brown boxes.
Aside from the box itself, retailers should pay attention to additional details that can have a significant impact on the customer's unboxing experience, leading to repeat purchases, social sharing and word-of-mouth marketing.
Personalized notes: A personalized message or sticker will make customers feel special and help them remember the unboxing experience. This can also help guide the customer experience by ensuring that the brand's voice and messaging is front and center as they unbox their package.
Impressive Packing: The inside of a package makes a difference when it comes to social sharing. If the product's placement within the box lends itself well to a photo, a customer is more likely to share it on social media. Products should be artfully arranged inside the box rather than randomly thrown in. Ribbons or colorful tissue are always a plus.
Giveaways: Brands should aim to excite customers and exceed expectations by offering something unusual inside the package. Include stickers, trading cards, temporary tattoos, samples or other branded items that can remind your customers of the product and experience during their everyday lives.
The more memorable an emerging brand is able to make the unboxing experience, the better. In an age when the competition is offering fast shipping and expanded product assortment, it can be hard for emerging retailers to compete. These brands need to create a memorable experience that stands out, retaining happy customers who share their loyalty with friends and family on social media.
Maria Haggerty is CEO of Dotcom Distribution