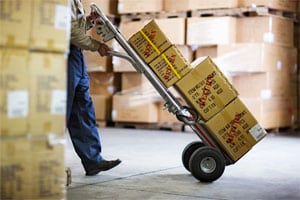 From November to December, retail stores and websites were flooded with shoppers looking to buy the perfect items for everyone on their holiday shopping list. Long lines at checkout, slow websites and delivery moguls like UPS and FedEx struggling to keep up with shipments reflected the strain involved in helping everyone have a successful holiday.
But now comes a different kind of retail mayhem: Returns season. From the day after Christmas and throughout January, retailers can anticipate that about 1 in 3 holiday gift recipients will return an item, either due to wrong size, wrong color, wrong style, damaged or simply unwanted. This year we've seen particularly high return rates on clothing, consumer electronics, health and fitness products and baby items.
On average, the holiday returns process accounts for roughly 24% of returns for the entire year, according to the National Retail Federation. That amounts to more than $60 billion worth of merchandise. With the rise of online shopping and free returns, that number is expected to increase significantly.
But while these challenges get a spotlight during the holidays, the reality is that returns are a pressing, under-the-radar problem for retailers all year long.
The Underworld of Retail: Returns and Excess Inventory
There are two sides of the retail supply chain. The first is top-of-mind for retailers and customers alike: Forward logistics. The goal is to get merchandise to customers as fast as possible, which means heavy investments in technology to streamline this process. Customers are increasingly demanding next-day shipping, so retailers have been partnering with same-day delivery services like UberRUSH and Postmates to get goods to shoppers more quickly than ever. Amazon has pioneered speed and efficiency in the forward supply chain, and its increasingly sophisticated drone technology portends an even faster delivery process in the future.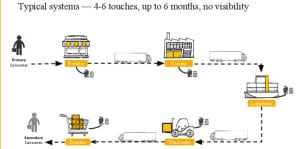 However, this leaves reverse logistics de-prioritized. Reverse logistics is how companies manage the flow of returned and excess merchandise moving through the supply chain. Despite a demand for fair returns policies, the reverse logistics process isn't necessarily a consumer concern. But for retailers, it's a $1.75 trillion headache.
The reason is simple. Every year, 15% of goods sold are returned or deemed excess, and many retailers do not have adequate systems in place to manage this flood of items. The traditional reverse supply chain is long and complicated, with goods traveling from consumer to retailer to vendor to liquidator to wholesaler to reseller and finally, to a secondary buyer. Many of these items lose their value along the way, and 30 % of them don't even make it into the hands of another consumer, ending up in landfills.
Technology Has the Answer
Technology can be the answer for saving time and increasing the efficiency in the reverse logistics process. Take Shyp, for example. This tech start-up's app leverages carrier data to enable customers to compare options and determine the easiest, most affordable way to return their purchases.
Some companies are even building their entire businesses around the growing consumer habit of buying online and returning unwanted items. StitchFix feeds inventory data into an algorithm to send customers five personalized items each month. They are then encouraged to keep what they like and return what they don't. Rent the Runway's software algorithms keep track of over 65,000 dresses and 25,000 accessories. Its reverse logistics process is so efficient that it can send out 60% of returned dresses the same day they arrive at the warehouse.
While the flurry of frenzied holiday shopping has settled, the question of how to more profitably manage excess and returned inventory won't disappear. In 2014, returns after Christmas were up 15% and projected to continue rapidly growing as consumer habits shift. According to the NRF, nearly 40% of consumers returned a holiday gift last season. Changing buyer habits are also causing increases in excess inventory. A recent survey by Cowen and Co. warned that inventory was above sales growth for many retailers in 2015, meaning another slice of revenue lost for retailers. Most overstock goods return only a fraction of their original selling price.
The technology is available, and success stories exist for replication and innovation. It's time for the broader industry to take notice and add efficient reverse logistics to their New Year's resolutions in 2016.
Tobin Moore is the co-founder and CEO of Optoro