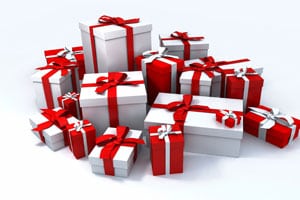 As the holiday season approaches, you may be wondering how to maximize the annual sales lift this time of year offers. And you may be worried that your global marketing plans aren't fully baked, leaving opportunity on the well-dressed holiday table.
Looking at Borderfree data from holiday seasons past, we've identified common oversights retailers make when putting together holiday plans, as well as the winning tactics globally savvy retailers are using to seize the full sales potential of the months ahead.
Typically, annual international sales trend data mimics that of domestic sales, especially for retailers in the early stages of globalization. However, for many retailers, that trend diverges in early December. Why? As retailers focus on helping domestic shoppers get in their last-minute holiday orders, they often leave international shoppers to figure it out for themselves.
Fortunately, retailers can easily close this gap with well-timed, country-specific outreach efforts and promotions designed to drive international sales throughout the holiday period. According to Borderfree data from 2013, retailers that focused some of their holiday budget on marketing to international shoppers saw up to 300% lift in global ecommerce sales, including in countries facing unfriendly foreign exchange rate climates. Even minimal marketing efforts made a significant difference compared to those who made no international holiday marketing push at all.
So what should your holiday promotion plan include?
Pick Your Promotions

For international shoppers, free or flat-rate shipping can often close a sale – in fact, our data show free or flat-rate shipping as the single most effective type of holiday promotion. Shipping offers can piggyback on your existing holiday discount offers, and partnerships with service providers can help reduce subsidy costs and leverage surcharges.
Another tack for shipping is to automatically upgrade a customer's shipping options, offering to cover the cost differential between standard and express shipping to provide more shopping time. We've seen average daily sales increase up to 95% for retailers that chose to offer this service to international consumers – at a cost of just $8 per order.
Other options include offering duty-free promotions – a unique tactic for international marketers – and product discounts, which are the simplest to message. Historically, international customers respond favorably to merchandise discounts, and they allow retailers to maintain margin control with a percent or currency threshold.
Managing Messaging

It's easy for country-specific local messaging to fall to the bottom of your long list of holiday priorities – but this is an item you'll want to check twice. Now is the time to make sure that what you communicate to your captive holiday audience is properly targeted and true to your brand.
First, take every opportunity to tailor your messaging to meet the specific needs of your international customers: geo-target international customers with a welcome message in their language, highlight promotions relevant to their specific country, and make sure shipping cutoff dates for specific countries are clear.
Also, don't miss opportunities to cross-market and reinforce promotions at checkout. Your in-cart messaging can do double duty by upselling customers or highlighting promotions they might have missed, based on their buying preferences.
Email Marketing Musts
Despite all the competing signals today from online advertising, social media and more, email marketing remains the best way to reach international ecommerce customers. Seventy-nine percent of international consumers learned about Black Friday and Cyber Monday sales through email marketing efforts by retailers, according to Borderfree survey data following the 2012 holiday season.
What can you do to make sure your email makes it to the top of the holiday heap? First, increase your holiday IQ. Become familiar with the international holidays taking place in your key markets – from Diwali to Boxing Day – to understand when your target customers are likely to pay attention. Segment your international database accordingly, and time your emails with the all-important shipping cut-offs to maximize lead-time for each market.
Second, make sure your content is creative and original. Often, an editorial slant like a gift-guide format can win attention – and ultimately earn sales – from busy holiday shoppers. Partnerships with other fitting merchants, or alliances with payment partners, can create additional content opportunities.
Finally, don't miss opportunities for cross promotion. Your order and shipping confirmation emails should remind customers to revisit your site for special promotions like Cyber Monday sales.
As the blur of the holidays closes in, a solid international marketing plan can help make the difference between a holiday lift and a seasonal flop. Take the time now to craft internationally appealing promotions like free shipping; create eye-catching, on-brand messaging that suits your markets; and develop email marketing strategies for the full spectrum of international holidays. With some careful planning, your international marketing strategy can help ensure this selling season is indeed the most wonderful time of the year.
Michael DeSimone is CEO of Borderfree