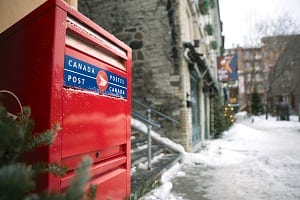 Canada Post announced on Feb. 20 that 11 communities across the country will start receiving their mail through community mailboxes beginning this fall. This move is the first part of a five-year national initiative that could potentially save Canada Post $400 to $500 million a year.
Canada Post, just like the United States Postal Service, is experiencing a loss not only in revenue but also in letter mail volume thanks in part to digital communication. While Canada is setting plans into motion in order to make sure it's financial future looks bright, the future of the USPS is still being debated in Washington.
While the USPS delivery service is still up in the air, Oversight and Government Reform Committee Chairman Darrell Issa, R-Calif., commended Canada Post for phasing out the door-to-door delivery service. In a release issued on the committee's website, Issa said back in December, "As technology advances, the Canadian people are changing the way they use paper mail. Canada Post has recognized this reality and responded to it."
Issa also said since the "cash-strapped" USPS is also experiencing a decline in letter mail, "Congress and the Administration need to grant USPS the flexibility to modernize its mail delivery and eliminate unnecessary costs."
But fixing the USPS is not just about modernizing the delivery system; it's also about adapting to the ways in which Americans are choosing to communicate and shop. Let's face it, physical mail is deteriorating, according to CBS News, the Postal Service has said that mail volume has fallen from 213.1 billion pieces in 2006 to 160 billion in 2013.
With the U.S. population now jumping to their computers or mobile devices to shop or communicate with a friend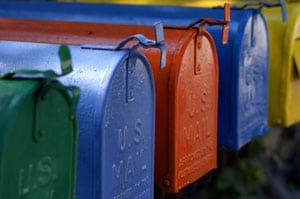 or loved one, the USPS needs to look at ways to cut costs in order for it to survive and community mailboxes and cutting delivery days appears to be one of the best answers out there.
According to a recent focus group from the Office of the Inspector General, the USPS decided to test "how strongly Americans felt about continuing to receive mail where it is currently delivered and how open they would be to changes to that delivery locations."
The USPS found that moving the delivery location "was a polarizing topic" and that security played a major role in those who lived in more rural areas of the country. Those who lived in more suburban areas seem to prefer the convenience of door-to-door delivery, while other Americans viewed these community mailboxes, also known as cluster boxes, as appealing since it could potentially avoid mail theft.
If the USPS folded within the next five years, 95% of respondents said they would be affected in one way or another. However, according to the research, "People seemed to sense that the Postal Service disappearing would be a bad thing, but they had trouble articulating more specifically how this would affect them personally."
The American people understand that it is time for a change in the way the USPS delivers in order to keep up with the ever changing communication needs.  In the report the USPS states, "we witnessed a shift in mindset from a demand for services to remain the same to a willingness to adapt and compromise to preserve the Postal Service for the future."
"Our research indicates that Americans are more comfortable with a focused Postal Service that offers reduced service levels in areas such as number of delivery days and curbside/door slot delivery than adopting new products and services to generate additional revenue," according to the report.
The USPS needs to watch very closely how these community mailboxes are received and what money it saves in Canada. If it works for them, it could very well work for us.
Erin Lynch is the senior content producer at Multichannel Merchant. Erin can be reached (203) 899-8461 or connect with her socially on Twitter, Google+, and LinkedIn.