Williams Sonoma's reported strong sales (+7.1 %) and earnings (+9.2%) in its recent 2014 earnings call while its stock is hitting $80, up by over +15% for one year and +185% for 5 years. While I always have been an admirer of their product I am as amazed by their great omnichannel abilities and results. As reported, ecommerce exceeded 50% of total sales for the first time in 2014. Hitting this major milestone makes it worthwhile to look at Williams Sonoma's journey a little closer.
We all know that the future of retail is an omnichannel world in which offline stores are challenged by online retailers. Or better, as Williams Sonoma shows, a brand's own online channel might challenge the growth opportunity for stores, maybe even the viability of many locations. Faced with this dilemma many retailers tried to improve the store business and didn't invest as much in the web and direct opportunity as they probably should have.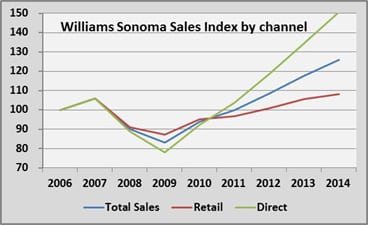 Williams Sonoma is a perfect example showing how great omnichannel execution can result in strong sales and profitability growth, just not the way traditional retailers have been trying to achieve.
The graph to the right is showing Williams Sonoma's sales by channel from 2006 to 2014 as an index. 2007 was a positive year for the Retail and Direct (about 95% represented by ecommerce, 5% by catalog) channel, growing each by almost 6%. The recession in 2008 hit both channels hard, reaching bottom in 2009. Retail sales dropped by 18% compared to the peak in 2007 and an even more staggering 26% for Direct. It seems as when Williams Sonoma became a different business model emerging out of the recession. While Retail was able to bounce back in 2010 and continued to grow slightly year after year, Direct took off in 2010 showing a strong, steady growth trajectory since then, clearly outpacing Retail.
When looking at the operating income the picture turns out to be even more pronounced in favor of the Direct channel. At the starting point in 2006, operating income for Retail and Direct was materially the same, each channel achieving between $250 and $270 million annually. The entire company suffered an 87% reduction of operating income in 2008 compared to 2007 and the Retail channel lost income at a similar rate (-84%). Direct, with the ability to adjust spending into online and catalog advertising quickly, performed substantially better, losing only 32% of operating income in 2008. Over the next years both channels grew profits, but Retail was not able to achieve the pre-recession profitability levels. Conversely Direct was able to double profits compared to 2006.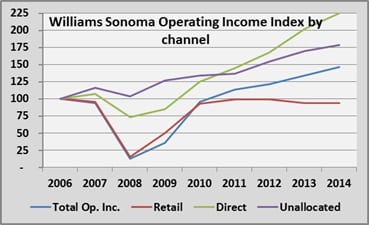 In other words: The majority of Williams Sonoma's sales growth since 2006 and all profit improvement is coming from the direct channel. We have every reason to believe that the relative weak performance of the retail channel is not a function of a weak management performance or a stale merchandise offer but more the result of customers changing their behavior and Williams Sonoma making every effort to cater to them.
Why is Williams Sonoma able to achieve these results and many other traditional retailers are not? One of the possible explanations is the fact that Williams Sonoma, as an Omnichannel merchant with a long catalog history is using catalogs to maintain a loyal customer file. When looking at the reported sales numbers for the last 9 years catalog sales are about to disappear. In 2014 about 95% of all direct orders are coming through the Internet, only little over $100 million in sales are traditional catalog orders.
This might indicate to some the end of the useful life of catalogs. Even worse, we are estimating that Williams Sonoma's cost of catalogs will substantially exceed the recorded sales catalogs are currently generating. While many retailers used metrics like these to stop using catalogs as part of the marketing mix, mailing targeted catalogs is probably one of the main reasons why Williams Sonoma is so successful. Catalogs today are used to activate customers, who will instead of calling to order will go to the website or retail store and buy. Without the reminder through the catalog they might have purchased somewhere else.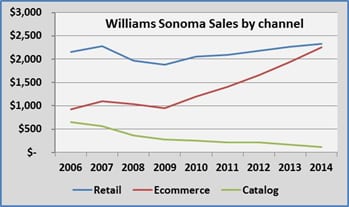 JCPenney is a good example for a company that stopped mailing catalogs because they were expensive and emails driving sales on the web was so much more effective (JCP reversed this decision recently). In reality exactly the opposite happened. Today JCP generates about 10% of total sales on the web and Williams Sonoma 50%. If JCP would have achieved the same 50% as Williams Sonoma, JCP's sales would be 80% or almost $10 billion higher than the current $12 billion.
Retail in general reminds me of "The Innovator's Dilemma" by Clayton Christensen, which describes the inability of well managed companies to survive disruptive innovations. Retailers have to understand that survival will require full adoption of an omnichannel strategy. Winning online means more than being "there", it means to be a leader. Attempting to become a leader requires a lot more attention than what the vast majority of retailers are prepared to do. It requires reallocating resources, including people and capital towards omnichannel, away from stores. It also requires a unified strategy across all channels with focus on customers demand. Just remember: If you can't win online, you will lose offline as well!
Christian Feuer is President & CEO of IRAG.