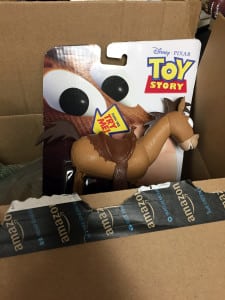 My wife texted yesterday to let me know there was a package, for me, delivered to our home. Which I thought was interesting, since I wasn't expecting a package of any kind to arrive.
And when I got home from work, there was an Amazon box sitting on my desk. Immediately, I knew what happened, but I couldn't wait to see what was inside the box.
For a few years now, I'd been reluctant to load gift cards to my Amazon account because I knew this day would come.
To keep our 5-year-old son, William, entertained, my wife will let him search Google, Walmart.com or Amazon.com on her smartphone, tablet or laptop for his favorite cartoon characters and superheroes. And once the search results come up, William will click and show us what he wants to buy.
We never worried about William actually making a purchase, since navigating checkouts could be a daunting task for a 5-year-old and he also doesn't have access to our credit card numbers or PayPal account.
But since Amazon introduced 1-click ordering, William managed to order himself a Toy Story Deluxe Bullseye Figure, sold by Matty's Toy Stop.
So I guess this is a parenting lesson, one we wouldn't have needed to know if it wasn't for 1-click ordering. And it has nothing to do with my past fear of loading gift cards to my Amazon account.
The lesson is even simpler.
When you're done making a purchase, always remember to log off.
Heck, for that matter, activate alerts on your app! And don't connect your store accounts with email addresses you rarely check.
And there's a lesson for the merchants: You need to simplify the user experience. Instead of thinking about what bells and whistles you think are cool, think about making the UX so simple that a 5-year-old boy can buy from your site with no fuss, no muss.
William made the purchase Sunday morning, while we were out having breakfast with my sister-in-law at a local restaurant. He bought Bullseye while he sat across the booth from us.
Had I been receiving alerts via the Amazon app, I'd received a pop-up notification that the item had been ordered. Had I checked my ancient Yahoo email account, I'd known a package was on its way.
As for Bullseye, my wife and I haven't decided yet if we'll let William keep it, or teach him a lesson in responsibility (that he has to ask before he buys something online), especially since we weren't very responsible by not logging out of Amazon, or monitoring what he was doing on the internet.
And after all, Amazon made shopping so simple even a 5-year-old can do it.
Plus, William's 6th birthday is just 12 days away…
Tim Parry is Multichannel Merchant's Managing Editor.