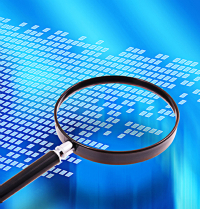 If the extent of your search engine optimization toolkit is the Google search box, with which you periodically check your search rankings, you're in real trouble.
An SEO practitioner is only as good as his or her tools. Before you spend another dime blindly trying to increase search traffic, make sure you have the proper tools at your disposal.
The tools below are not meant to be a comprehensive set, but merely a sampling of tools that we recommend. Some are free, some are paid.
Before deciding on content, taxonomy, link architecture and the like, your first port-of-call is the keyword research tools that will help you identify the best keywords to target in your SEO initiatives. Keyword research tools fall primarily into one of two camps: qualitative and quantitative.
The qualitative tools are especially helpful on the front end of keyword research to help build out a broad seed list. During this brainstorming period, we aren't concerned about demand; we're just uncovering as many base terms and modifiers as possible from which our deeper research will spring.
We'll turn to our quantitative tools to help with selection later, as they report on keyword search volumes on one or multiple search engines. Even though the quantitative tools are not exact, they do bring a relative demand relationship to our keyword pool.
Don't forget to gauge how competitive the keyword is before targeting it. There's no point expending energy chasing an unattainable goal, like being number-one for the top trophy term.
That's not to say that you can't earn that spot, but be honest with yourself about what is attainable today. It may be better to rank at the top of page-1 results for the secondary phrases than on the bottom of page 2 for the top phrases.
Remember that a good keyword list needs to start broad. Then it actually gets broader and deeper at the same time. Only then does the process of filtering and narrowing come into play.
QUINTURA
(http://www.quintura.com) Quintura provides a fun, interactive tag cloud interface, which makes for an excellent place to start your keyword research.
Alongside the tag cloud sits a traditional search results page. Results are powered by Yahoo — and that's okay, because we aren't focused on the search results themselves but on the interactive tag cloud.
We can use this visual tag cloud to see word relationships that we may otherwise have overlooked. We can also negate words or phrases from our search query.
During this process, just let the tag cloud continue to reshape and reveal word connections. You may want to open up a spreadsheet or notepad and continue to add terms to build your seed list.
GOOGLE (SUGGEST)
(http://www.google.com) Here's a way to use our old friend Google that might be new for you. Start with the basic search input box, but instead of searching, look for what Google reveals as you type.
This was formerly known as Google Suggest and was a somewhat hidden tool that's been brought front and center to the default Google search. Google has removed the "number of results" information for each of the phrases, but then people often mistook that number as searches (demand), not results (competing pages).
YAHOO! ASSIST
(http://search.yahoo.com) Yahoo has enriched its basic search box as well, with Yahoo Assist. The information here is based solely on Yahoo's search demand, but that's fine — we're just trying to build out the strongest seed list for our research.
Yahoo's tool has a unique feature for this stage of the process. Unlike Google, which makes suggestions by "predictive continuation" of our search phrase, Yahoo Assist includes search phrases that may start with other words and include what we have typed anywhere within the search phrase.
SOOVLE
(http://www.soovle.com) Want to kick your seed list creation up a notch — or seven? Soovle shows you real-time search terms as you type them, ordered by popularity, just like Google Suggest and Yahoo Assist.
In fact, Soovle is a one-stop-shop that taps into those features of those top search engines — and much more. It also polls YouTube, Amazon.com, Bing, Wikipedia and Answers.com for top related search terms, refreshing dynamically each time you pause during your typing. You have to like a tool that lets you tap into seven top resources at once.
GOOGLE INSIGHTS FOR SEARCH
(http://www.google.com/insights/search/) Google offers some great free tools for identifying good keywords to go after. Another relatively hidden gem, Google Insights for Search allows you to graph out keyword popularity for one or more search terms.
Like Google Trends, Insights for Search graphs historical trends of various Google searches, showing you what is popular right now, and what has traditionally been popular during certain times of the year and in certain geographic areas. Best of all, Google recently began including forecasting on the phrases.
Besides filtering by geography and date range, you can also filter by type of search (Web search, image search, product search) and industry/category. Our favorite feature is the keyword suggestions that are rising rapidly in popularity, so you can capitalize on breaking trends.
As you can see, this tool begins the transition from qualitative to quantitative, and from seed list generation to keyword phrase selection. In fact, this tool is especially useful during optimization for comparing similar phrases when you are trying to narrow selection.
KEYWORD DISCOVERY AND WORDTRACKER
(http://www.keyworddiscovery.com and http://www.wordtracker.com) Both Keyword Discovery and Wordtracker started out as and remain primarily paid tools. But both quickly offered limited, free, open-access interfaces when the old Overture Keyword Suggestion Tool quit working.
While the free versions are limited and don't provide the heavy hitting features that the paid toolsets offer, they return results based on their full databases used for the paid versions. The free interfaces are great for quick, on-the-fly checks or to get a feel for the data they provide.
They both also offer free trials of their paid versions. Keyword Discovery pulls data that includes searches on many different search engines and goes back 12 months, while Wordtracker pulls data that includes searches made on Dogpile and Metacrawler over the last 140 days or so (Wordtracker continues to expand the timeframe).
Next Page: GOOGLE ADWORDS KEYWORD TOOL
GOOGLE ADWORDS KEYWORD TOOL
(https://adwords.google.com/select/KeywordTool-External) The AdWords Keyword Tool data is limited to just Google, unlike Keyword Discovery and Wordtracker, and it includes Google's content network, so it's not solely based on search. But it provides accessibility to rich data, freely, via a clean and simple interface.
Be sure to experiment with some of the hidden columns of data, such as showing the search volume trends or the month the highest volume occurred. There are differing opinions on match type, though for natural search, we generally recommend selecting exact match because the data is often being used to select the primary phrase for page optimization, or what we call the "declared search term."
Good link building requires some level of human effort, no matter how powerful the tools employed. That said, tapping into a set of tools to assist in the process goes a long way.
Fortunately, the keyword list you built during your keyword research will also serve as a foundation for much of your link building and will be something to turn to as you work with many of the link building tools.
Tools for link building are nearly endless and a bit overwhelming. The list below is truly just a sampling to help get you started.
Before settling on your subset of link building tools for your toolbox, experiment with as many tools as you can, and chat with others about their experiences to determine which tools aren't merely "the best," but are the best ones for you.
YAHOO! SITE EXPLORER
(http://siteexplorer.search.yahoo.com/) This is the starting point for many link builders. The price is right (free) for this search engine supplied utility that reports on who is linking to you. It provides only the first 1,000 links, but they can also be exported to a TSV file for working with as you wish (e.g., load the list right into Excel). You can continue to refine your lists by "exploring" individual pages of your (or your competitors') site is to see the links coming into specific sections or pages.
Site Explorer is also excellent for your ongoing benchmark tracking, and for comparing the number of links coming into the home page, the entire site, and including and excluding the links from the domain itself. Tracking and comparing these different metrics over time will help you to gauge the relative health and change of your site's link profile.
LINK DIAGNOSIS
(http://www.linkdiagnosis.com) As free tools go, Link Diagnosis is pretty impressive given the amount of information it provides, though analysis is limited to the home page and top-100 pages of a site. To get the most out of the tool, you should install the Firefox extension; and to save reports and ongoing tracking, create an account.
In addition to quickly seeing basic metrics such as total backlinks and total unique anchor texts, you can view the individual URLs of the linking pages and get specific details about each link. The detailed link information includes the page's PageRank, the anchor text used if it's a text link, and the number of other outbound links on that page, as well as a calculation they make on the strength of that link.
You can also view a link report from the other direction, getting analysis of the 101 pages of your site that measures the total number of links coming into each page and a strength measurement for the page. Or you can view a report that just details the most popular anchor text for the links analyzed.
RAVEN
(http://www.raven-seo-tools.com/) Raven is a toolset for the serious link builder, especially agency and inhouse teams. Among other things, it includes a Firefox toolbar that allows you to access some of the features directly from your browser while viewing other sites, such as the "Add Link" tool, which records and collects information about sites from which you want to seek links.
Raven's Link Manager will also alert you if a link you've secured has changed in some way, such as a "nofollow" attribute being added, the anchor text being changed or, most important, the link being removed. You can even tie the Raven data into Google Analytics data for more robust engagement and conversion tracking.
SEOMOZ LINKSCAPE
(http://www.seomoz.org/linkscape) Linkscape is the crown jewel of SEOmoz's tools. It provides basic reports for free, but the real meat is the detailed data you get as part of the SEOmoz PRO membership. SEOmoz reverse-engineered Google's PageRank algorithm metric and in the process created its own approximation of PageRank — called mozRank — which provides qualitative authority metrics on pages and domains.
Linkscape provides insight into a Website's 3,000 most important links, including insight into anchor text, redirects and whether links are nofollowed. In addition to all the slicing and dicing of data you can do for a domain, you can also run competitive reports that will compare your site to your competitor's sites.
(http://www.linkresearchtools.com/) Developed by link-building firm Cemper.com, Link Research Tools could quite possibly turn you into an SEO superhero. The suite of tools includes the Common Back Links Tool (for identifying common sites from where your top competitors got great links), the Common Outbound Links Tool (for finding well-cited sites that get commonly linked by authority sites), the Back Link and Anchor Text Tool (for discovering where your competition has links and which are the real gems), and the Link Juice Tool (for ascertaining the link authority of the pages on a Website).
ADVANCED LINK MANAGER
(http://www.advancedlinkmanager.com) Unlike the other tools we've looked at, Advanced Link Manager doesn't run online from the provider through your browser. Rather, it's software that you download and run from your own computer.
Because of this, it comes in various flavors, from standard to enterprise level, so review the different levels to make sure that the features that are most important to you are available in the version you want.
Keep in mind that a software version like this still isn't a one-time purchase, but will require ongoing maintenance plans. Depending on the version chosen, it may be used primarily as an analysis and monitoring tool, or be used to help find sites from which to seek links.
Remember that the greatest SEO tool is not a software program or a Website; it's the gifted SEO practitioner who either works for your company as an employee or with your company as a vendor. Invest in these folks, give them the tools they need to do their job well. Then watch your profits soar!
Brian R. Brown is lead consultant/natural search marketing strategist and Stephan Spencer is founder/president of SEO agency Netconcepts (www.netconcepts.com).