Ecommerce continues to grow annually, with total online sales for 2017 projected to reach $2.29 trillion, according to eMarketer. However, conversion rates on ecommerce sites still leave much to be desired.
The conversion rate is the percentage of websites visitors who take a desired action, which for ecommerce sites means completing a purchase on the site. Conversion rates differ between industries and below you can see the rates for a few leading industries, according to Yotpo: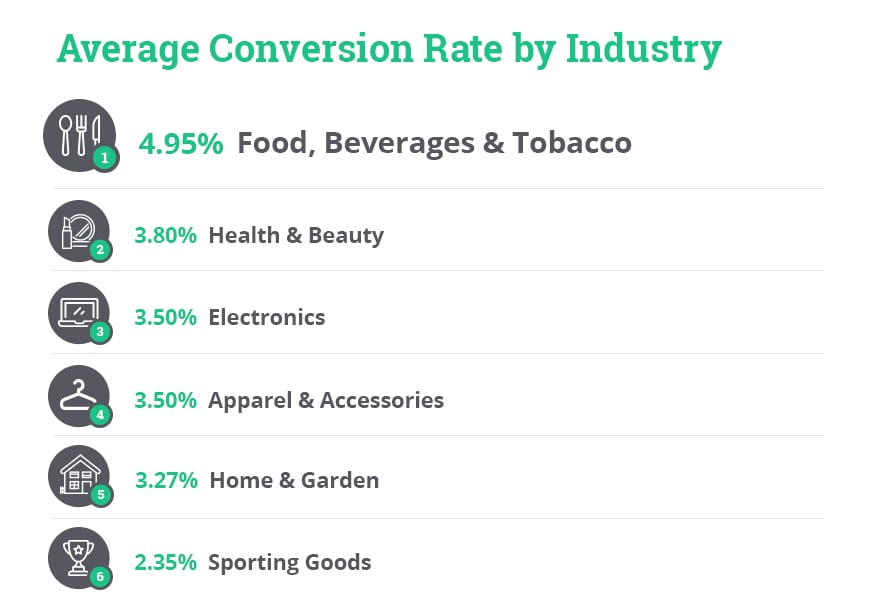 The global shopping cart abandonment rate for 2016 was 77.24%, meaning more than ¾ of shoppers abandoned their cart before making a payment, adding to the challenges ecommerce sites face. With the above statistics in mind, it is clear that the majority of internet retailers need to find ways to decrease their shopping cart abandonment rates and improve their conversion rates.
Here are a few easy-to-implement methods you can use to increase your conversion rates:
Ensure a simple and seamless payment process
According to Business Insider, lengthy or complicated checkout processes account for close to 39% of US shopping cart abandonments. In order to increase conversions, it is important to offer a simple payment process. The easier the payment process, the higher the conversion rates.
In order to do so, it is recommended to:
Implement one-click payments
Industry giants, such as Amazon, have moved towards one-click payments. Customers need only to enter their payment details once. Sensitive data is securely stored with the PCI certified Payment Service Provider (PSP) and tokenized for use on the site. The customer enjoys secure, yet hassle-free, one-click payments.
A/B test your payment page
A/B testing will help determine which elements are most effective. It helps to ascertain where you are losing customers and which sections of the payment process are either effective or detrimental to conversion. By presenting different versions of the same webpage to different customers, you will be able to identify the elements which require changing, or those which are effective and should be integrated across the board.
Optimize security to better identify fraudulent transactions
Security in payment systems is of the utmost importance. However, tight security can result in legitimate payments being declined, effecting conversion rates and profits.
In order to optimize fraud identification and avoid declining valid transactions, it is recommended to:
Use a PCI DSS secure payment service provider
PSP's that implement PCI DSS standards offer online retailers the highest level of security against fraudulent transactions while simultaneously decreasing the volume of false positives. For instance, these providers implement advanced authentication technologies, decreasing fraudulent activity and false positive transaction declines.
These PSPs also integrate advanced security systems which implement big data based transactions analysis for fraud combat. These systems analyze historical data and trends in order to increase their predictive capabilities for optimized fraudulent activity identification.
Implement an omnichannel payment solution
Omnichannel retail refers to shopping experiences where the online and brick-and-mortar shops complement each other. For instance, a shopper may browse an online shop and see a dress they like. The shopper may add the dress to their online shopping cart, but decide to go to the brick-and-mortar shop closest to them, as listed on the site, to try it on or feel the fabric. Depending on the outcome of this visit, the customer will likely purchase the dress, either at the brick-and-mortar location, if there are no lines, online, or even via mobile device, while in the shop itself.
Harvard Business Review has found that omni-channel customers have higher conversion rates, as they spend an average of 4% more in brick-and-mortar shops and 10% more at online shops than single-channel shoppers.
In order to offer a full omni-channel experience, it is important to ensure that you allow simple and secure shopping via any of a number of payment channels, whether at the store, online, or mobile device. These channels should accept all of the many different payment methods currently available from credit card to mobile payments and ewallets. A single payment service provider can offer all the above, as well as provide additional advantages which improve customer satisfaction and retention, and ultimately conversions. These advantages include:
Seamless customer experience
Customers can switch between channels, whether to try out a product prior to purchase, or to quickly pay for an item after seeing it in a store. This flexibility and ease will improve the customer experience and ultimately increase purchases and customer satisfaction.
Reduce workload and optimize resources
Omnichannel retailing requires centralized inventory and workforce management, allocated across channels by supply and demand factors. A single PSP enables data collection and analysis of the resource requirements for each channel and optimal resource allocation. This optimization will enable improved customer care, whether by shortening delivery times, or increasing customer service reps as required, both online and in-store.
Provide valuable data from both in-store and online transactions
As data from a single PSP can be analyzed at the customer level, retailers can gain important information on customer trends in order to improve and personalize marketing strategies that will increase conversion rates.
Retailers can improve conversion rates and decrease shopping cart abandonment by offering a secure and seamless payment process to their customers. PSPs offer these crucial capabilities, as well as the option for creating an omnichannel payment process, which has been shown to increase customer expenditure across single brands.
Eran Feinstein is CEO of Direct Pay Online