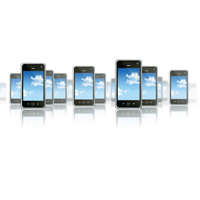 Mobile commerce, or m-commerce, has experienced blindingly rapid adoption in the past year or two in the multichannel marketplace. Along with the rise of social media platforms like Facebook, Twitter and YouTube, m-commerce has contributed to the widely held perception that sales and marketing "channels" don't really make sense anymore, and that customers and prospects engage with merchants through various "touchpoints" instead.
The smartphone is, without question, one of the primary touchpoints in this brave new sales and marketing world. Just how important it is depends on whose survey you look at, but the trend is unmistakable.
According to ForeSee Results, online shoppers making a purchase from their phones increased 11% from 2009 to 2010. A third of the 1,200 respondents used their smartphones to access a retailer's website to compare prices or products.
Auction site eBay reported a 300% increase in m-commerce sales during the same period. Web Spiders predicts that by 2014, half of all mobile phone subscribers worldwide will be buying physical or digital goods on their cell phones, accounting for $630 billion in sales.
As noted, though, consumers are using their phones for more than just sales. Half of them are using them to help make shopping decisions, even on old-style "feature phones," according to a new survey by Arc Worldwide.
The results of Arc's study, which surveyed 1,800 U.S. mobile phone users, supplemented with an in-depth study of 30 mobile shoppers, suggest that as many as 80% of feature phone users are consulting their phones for the purpose of making or getting ready to make a purchase.
HEAVY AND LIGHT MOBILE USERS
Some shoppers, of course, are heavy phone users who love to experiment with new apps. Lighter users tend to see their cell phones as a stripped-down version of a computer. While many marketers are focusing on the former, Molly Garris, digital strategist at Arc, says that light users will remain the majority for some time.
There's no way around catering to both groups. Garris offers Sephora as a good example of a marketer that manages that balance effectively.
The cosmetics retailer has in-store displays directing shoppers to m.sephora.com, which can be accessed with a feature phone (and certainly with a smartphone). But Sephora also has a barcode-reading app for shoppers in the store with smartphones. (ScanBuy, a mobile barcode solution provider, estimates that 30% to 40% of all smartphone users have downloaded a barcode-scanning app.)
Scanning isn't limited to just the old "one-dimensional" barcode anymore. Two-dimensional barcodes like quick response (QR) codes or high-capacity color barcodes (HCCB) can encapsulate a lot more data, such as a URL or web address, in a compact space. And when scanned with a smartphone, these codes can then automatically display the encoded website — and even dial your phone to connect you to the merchant's call center.
Arc's report also finds that what used to be a casual purchase is now more of a considered activity, "and what was a considered purchase is now more casual."
For instance, shoppers are finding that having a phone with them when shopping helps them research big purchases such as cars on-the-spot. But the same phone can make buying a cup of coffee more complicated if the merchant wants you to use your phone to broadcast your location (by logging in or tweeting about the purchase) and pay for the coffee.
The ForeSee Results survey also found the following:
456% used their smartphones to look up prices
446% used them to compare products
445% reviewed product specifications
427% read product reviews on their phones
And of course smartphones can be used to send coupons (redeemable by having the checkout clerk scan a barcode displayed on the phone at checkout); manage loyalty rewards, promotional rewards and contest rewards; or to support general marketing initiatives such as special offers on selected items — even those generated on-the-spot based on in-store behavior.
Shopkick does all that and more. This iPhone application pays consumers "kickbucks" — reward coupons — just for checking in when they enter a Best Buy, American Eagle, Macy's or other participating retailer. Additional kickbucks are available for performing particular actions, such as scanning a poster on a store's dressing room wall with the iPhone camera.
Kickbucks can be redeemed for gift cards and donations to charitable causes. Moreover, when shoppers at Best Buy show their iPhones running Shopkick to the cashier, they receive instant discounts.
Mvouchers, introduced in March by First Data, store a prepaid value, funded by merchants, that can be delivered to customers' phones as coupons; loyalty, promotional or contest rewards; or for other promotional purposes. Users can redeem them online or in a store via a mobile device displaying a text message, a 2-D barcode for scanning at the cash register, and ultimately through contactless exchange using Near Field Communication technology. (This was popularized by the "Bump" app on the iPhone for exchanging personal profiles.)
COMMITTING TO THE PLATFORM
Merchants have two main ways to approach m-commerce; they are not mutually exclusive, so some merchants are pursuing both.
One is to create specialized apps (like Shopkick) that run independently on a smartphone and can display all or some of the marketer's merchandise as well as support a shopping basket.
The other method is to create an entirely different version of the ecommerce website that has been optimized for the smartphone interface. Which one is better? A survey by Adobe Systems found that two-thirds of shoppers who used their phones preferred shopping via a mobile-optimized website compared to using an "app."
But Han-Shen Yuan, director of platform business solutions and mobile engineering for eBay, notes that, "we've actively diverted millions of users from our mobile website m.ebay.com to our iPhone, Android and BlackBerry apps. However, mobile web revenue growth is increasing at the same pace as our mobile app business. Therefore, it is important to have a mobile strategy that includes both mobile sites and apps."
Yet according to a report from Brand Anywhere and Luth Research last fall, while 51% of shoppers are more likely to buy from retailers with mobile-specific websites, only 4.8% of retailers had implemented one at that point.
But that percentage is rising almost daily. The adoption rate in m-commerce, on the part of both consumers and merchants, as noted at the outset, is truly remarkable.
MOBILE SECURITY ISSUES
The downside to this is that security issues have not had a chance to be thoroughly identified — let alone resolved. PCI compliance, for example, is in the dark regarding mobile commerce solutions.
There has been an effort to "grandfather" the currently approved platforms, but to put a halt to further approvals until the Data Security Standards organization has had a chance to sort out all the issues. But the issues keep evolving faster than any committee is going to be able to keep up with them.
For the moment, consumers don't need to worry. There is nothing inherently insecure about how the telecommunications industry handles cell phone data and transmissions. This is for the network providers' own peace of mind, let alone that of their customers.
But there is no consensus on how secure an m-commerce application really is from the merchant's point of view. There could be ways for a cyber thief to hack into a merchant's central databases via the m-commerce route directly, or through some cyber side door.
So for the moment, it is buyer beware, and a topic that merchants definitely need to address directly with whichever solution provider they use to manage their m-commerce site.
Ernie Schell (ernie@schell.com) is director of the consultancy Marketing Systems Analysis in Ventnor, NJ.