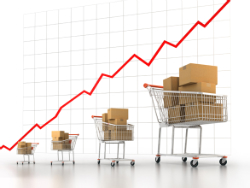 In the multichannel world, we like to measure things. Every marketing dollar spent is, ideally, associated with a return on investment, though it is getting harder to track and measure.
There is one metric that does not lie that you don't have to chase: your average order value. And it's an important one.
If you've ever played with a financial P&L, you know how a shift in the AOV will have a huge impact on your bottom line. Even a shift of 1% can make a substantial difference.
The good news is you are effecting a measurement that already exists. Customers are already engaged and you have their purchase consideration. The hard part is done, and chances are that someone who is already going to spend money with you will spend more, given the opportunity.
The process is a bit more straightforward with phone orders, since you can develop scripts and prompts that direct your call center reps to spot opportunities to upsell the customer. In other channels, such as your catalog and Website, you don't have the benefit of a live voice interacting with customers.
But you can still encourage customers to spend more when they're ordering in print and online. These tactics can help you upsell and bolster your average order.
Manage the metrics
Before looking for ways to increase the average order value, you must first identify the overall AOV of every campaign (total demand dollars divided by total number of orders). By tracking AOV over time, you should be able to analyze how and why AOV shifts from season to season or from year to year.
Always consider what you have done differently in your overall merchandise mix that may have affected a shift, and be aware of what happens from one season to the next.
Even more important, look at the AOV by customer segment. You will see a distinct change relevant to how loyal customers are — your better customers typically have a higher AOV, whereas first-time buyers or "tryers" generally have a lower AOV. Monitoring different customer segments and how they spend will help you identify opportunities.
Another metric is measuring your average price offered (APO) vs. the average price sold (APS) by category of products. With every campaign, your customers will tell you what price points they're comfortable with. A discrepancy of more than 20% between the APO and APS is cause for alarm.
For example, if your analysis shows that your most popular products within a category fall within the $20 to $30 price range, but the majority of your product offering consists of items that sell for $50 to $60, this gap will have a negative impact on your response rate, the number of units sold and, without a doubt, your AOV.
Establish the offer
Special offers and promotions can help you increase your AOV. Free shipping, discounts and free product are all common, popular and effective direct marketing offers.
By testing offers, you will learn what it takes to achieve a healthy AOV. Tying your offers with a qualifier — in this case, a level of spending — may do the trick.
If your AOV is $88, try promoting an offer with a spending threshold of $99. Be careful not to set the amount too high, though: Setting the spending goal more than 15% over average spending levels could have a negative effect on response.
You can also build an offer encouraging first- and second-time buyers to spend at a higher level. Getting new customers to spend a little more (often buying more units per order) will increase AOV and create longer lifetime value — provided it's coupled with a positive customer experience.
No matter the offer, be careful to watch your margins. Determine how much you can afford to give up without flatlining. If you're trading an increased AOV for a margin or discount loss, then the exercise is moot.
You definitely have to give a little, but don't throw your profits out for the sake of an increased AOV. Find the balance that will have a positive effect on the bottom line.
Push additional products
Beyond offers, you can increase the AOV by recommending additional, relevant products for customers to add to their orders. Put yourself in the customer's shoes and ask yourself, "If I were buying this, what else might I need?"
You can suggest a plethora of other products from your merchandise mix — just make sure they're relevant to what the customer is already purchasing. If you offer other products that make sense, you give a customer extra incentive to make that additional purchase.
To identify those logical pairings, start by running a product affinity report. Look at your top 20 to 50 products sold. Notice any patterns? See anything that belongs together?
Take the findings from this affinity report to create starter kits for first-time buyers and maybe develop a "bundle." If the product is a reusable commodity, offer a "two-for" volume pricing.
Always look for products that tell a broader story. For example, Gardener's Edge offers a transitional seed kit that comes in a biodegradable planter; when the plant outgrows that pot, the merchant offers a larger-size planter that could be transferred outside.
The catalog shows these products together on the same page, promoting them essentially as steps. "Buy this product first, but you'll also need this." Two products, one solution, better AOV!
Does your product mix include low-priced, "add-on" products that customers may not want to spend the time or shipping expense to add to the cart? These items usually work well in an upsell situation.
Examples of this might be a side dish to a main course or a pill dispenser along with a bottle of vitamins. Customers appreciate recommendations and suggested upsells, and they work well when presented properly.
Just as important: Avoid irrelevant upsells. One catalog offered a "Buy one wallet and get the second at half price!" Huh? Not many people purchase wallets in pairs!
Does your company sell good-better-best scenarios (three similar products with varying features at three tiered price thresholds)? Are you providing a good reason for customers to purchase the more expensive product? Do you tell them or show them why it's better?
Your creative presentation should explain how and why each product is better, ideally pushing customers to the higher-priced "best" option. Clearly show customers why the product costs more and what value they will receive for the more expensive product.
Upsell in print and online
Multichannel merchants today often lack the luxury of the live, personal interaction of a telephone customer service rep. That's why catalogs and Websites have to work even harder to push the upsell and elevate the AOV.
In your catalog, shout out upsell offers on both covers where they'll get noticed first. Inside, help customers easily process what solutions your products solve, and indicate if they need any other products. Include page references for relevant add-ons, or sell them on the same page.
Develop themed spreads that tell a story and offer a solution, presenting easy-to-follow steps. For example, one apparel catalog featured a spread that shows how to build a cozy winter wardrobe, starting with an outfit, then adding warmer layers from sweaters to coats to hats and gloves.
Suggest buying more than one product for more than one use. Do your products make great gifts? Suggest specific gift recipients. All of these messages need to stand out in order for the recommendation to get noticed.
The same techniques mentioned above work on your Website, too. Plus, your online channel presents additional opportunities to upsell.
Present your offer on every page of the site as a reminder. When your offer includes a price threshold, create prompts to remind them "If you spend $X more, you're eligible for this offer," at every step from the shopping cart to the checkout process
While site visitors are shopping, a "May we recommend" or "Other customers also bought" feature can have a dramatic impact on AOV.
If you make a concerted effort, you can increase your AOV. It's all about being armed with the right data and engaging your merchandise and marketing teams to look for those customer solutions that can add items to the order and dollars to the bottom line.
Lois Brayfield (loisb@jschmid.com) is president of J. Schmid & Associates, a catalog consultancy based in Mission, KS.