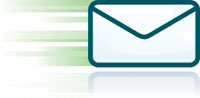 Sir Isaac Newton's third law of motion asserts that for every action, there is a reaction. Who knew that the laws of classical mechanics Newton discovered nearly 400 years ago could apply to multichannel marketing?
Had Newton been referring to modern marketing, he might have reworded the law as "For every customer action, there should be a company reaction," such as a bounce-back.
A bounce-back is traditionally a printed promotion (catalog, sale flier, special offer) placed in a customer order box shipment to create a second buying opportunity. But why limit this to such a narrow definition? With a bit of new thinking, the concept can supply endless opportunities to add incremental dollars.
Let's take the view that a bounce-back is any company-driven marketing activity that's triggered as the result of an action taken by a consumer. The consumer action can be positive — for example, making a purchase — or negative, such as returning a product for a refund.
These types of activities mean a customer is actively engaged in your brand, and every time a customer engages your brand, you have the opportunity to trigger additional sales. This activity deserves your attention, and if strategically planned, could mean newfound profits.
Below are just a few ideas to consider
Even if you already have a bounce-back program in place, it's worth re-examining it strategically by asking yourself the following three questions:
Have I clearly established what I want the customer to do?
Is what I'm asking of the customer truly relevant to the activity?
How can I deliver my message in an "on brand," genuine and authentic way?
Traditional "inbox" bounce-backs
How can you offer a specific message, with a strategic goal in mind, in every product shipment? While the following ideas could be applied to nearly any order fulfillment system, they do require an understanding of your customer database to identify relevant opportunities.
Offer for first-time buyers: Give them an offer to incentivize them to quickly make a second purchase.
Special event online: Drive them online with a special event or offer.
Channel-specific offer/invitation: If the customer ordered online, encouraging him or her to engage in an online activity, or email a retail customer a special offer that can only be redeemed in-store.
Product-specific invitation: Invite the customer to view an online demo video of a product he or she just purchased. Use the video to showcase appropriate add-on products or companion products.
For example, one men's apparel merchant uses an instructional video on how to tie a necktie. This drives website traffic, provides useful and relevant information to the merchant's customers, and enhances its brand message.
Invitation to your social media efforts: Encourage customers to friend you on Facebook or follow you on Twitter to get the most up-to-date product information and offers. It's possible to include an offer just for signing on.
Thank-you note: Send a special thank-you to customers with orders above a certain threshold or to long-time customers offering additional benefits.
Triggered emails
Triggered emails are an inexpensive and easy-to-manage tactic for adding incremental sales. A triggered email is a marketing event that automatically occurs when customers perform a specific activity.
Many brands already incorporate triggered pop-ups into their websites, but only a handful use triggered emails to the full advantage. With careful strategic planning at the outset, the program can run fairly independently, requiring few resources after the initial launch. Of course, you'll need to analyze the results of the campaigns on the back-end to discover what's working and what's not.
The most common use of trigger email as a welcome message, prompted by a customer registering on your website or requesting a catalog. Buyers automatically receive (within a strategic timeframe) a special welcome message and offer incentive.
There are hundreds of possible iterations of this technique, but investing in five to six specific activities has been proven to be worth the development time.
A few ideas to test:
Interest-based response
If a customer registers on your website, use that information to send him the most relevant welcome email. For example, use his zip code to include retail locations nearest them.
Also look for ways to be relevant to your specific customer. For example, let's say a customer requests a catalog from your gardening website, providing his home address and email address. The address indicates that the customer lives in growing zone 7, so you send him an email featuring the most popular plants for his zone, or gardening tips that are relevant not only to his zone, but also to the season.
Abandoned cart
If registered users leave items in their carts without making a purchase, send them notification emails to remind them of their orders. For a stronger call-to-action, send a notice with a special offer on the items left in the cart.
Out-of-stock follow-up
If a customer has viewed an out-of-stock item, why not tell her when the product is back in stock and offer a small discount, thanking her for her patience? Now you've converted a potentially negative experience into a positive one.
Staged offers
This technique can be used for a multitude of activities. For example, we know that if we can get a new customer to re-order within the first few months, lifetime value increases dramatically.
So once a customer places a first-time order, you might stage a series of three email events: the first sent immediately thanking her; the second sent a week later with an offer; and then a third deployed three weeks later, reminding her of the offer and deadline. Test varying timeframes to determine what's most effective for your customer.
Continue on Page 2
Phone opportunities
Most brands take advantage of a phone order to upsell, but have you considered using this opportunity to convert a single-channel buyer into a multichannel buyer? If the conversation permits, you can introduce the customer to useful and relevant tools on your website.
Or, when a customer contacts your call center for information, or even with a complaint, no matter where the activity occurred you have the potential of offering additional resolution, support, or even an apology — with or without an offer. Again, any additional message or offer must be robed in your brand's voice and be relevant, never pushy.
Consider the following ideas in addition to your current customer service rep's repertoire and you may find that the returns are well worth the added "talk time."
Remind customers to check out daily specials online if you have them, or direct them to your clearance page.
Let them know it's possible to track orders online, providing another opportunity for exposure to your Website as a selling tool.
Make customers aware of related product videos found online as a value-added bonus.
Invite them to your social efforts (Facebook, Twitter, etc.), explaining the value they will enjoy by signing up.
If customers are calling with any type of question or complaint, consider sending a follow-up email offering a relevant message or offer. For instance, if they complained about a product, send an apology email with a special offer.
Store purchase
Multichannel shoppers will always outperform a single channel shopper. The opportunities to convert a shopper purchasing a product at a retail location from a retail-only purchaser to a multichannel purchaser are endless.
Some brands will train sales associates to point out an offer printed on the back of a sales receipt. Typically these include an online offer, a survey with an offer or a discount on future store purchases.
Consider this a rare opportunity to engage customers and strategically move them up the retention ladder. Think outside the box and test several additional ideas, always including a benefit-driven message.
Here are a few ideas:
Discount off your next online order
Check out more sales online
Invitation to a special online event
Invitation to receive special email offers
Product demonstration videos online
Social media
It requires much time and effort to manage a successful and relevant social media campaign, and yet so few marketers include a strong call-to-action. How-to guides, contests, videos, demonstrations — all are great techniques. But also consider additional ways to prolong and enhance their engagement activity.
Always provide a path back to your website with a special offer directed to your social media friends. Think of social media as an opportunity to move them from point A to point B. When an offer is activated, always follow up with another tap on the shoulder.
Returns
Returns and exchanges can be occasions to engage consumers and create goodwill. In these cases, a measure of dissatisfaction has occurred and a response is warranted, and often welcomed.
For exchanges, take the opportunity to leverage the return package to offset the negative experience and solidify the relationship by including a special message or offer. For a return, you may want to consider a follow-up email. Just make sure you are authentic in both of these cases.
Customer reviews
What a huge opportunity to further engage customers! A customer who takes the time to write a review (good or bad) is knee-deep in your brand.
If users are required to register in order to post a review, as in most online blogs and forums, take the opportunity to express your gratitude to them for engaging your brand by thanking them with or without an offer.
Small incremental sales will ultimately make a big difference on your bottom line. Customers who are already engaged in your brand provide the best opportunity to add those important extra dollars.
In most cases, customers will welcome the additional engagement if it is presented on-brand in a relevant and authentic message. Whether online, in the store or on the phone, there is always an opportunity to include a strategic message or incentive engaging customers while prompting incremental sales.
Lois Brayfield (loisb@jschmid.com) is president of J. Schmid & Associates, a catalog consultancy based in Mission, KS.