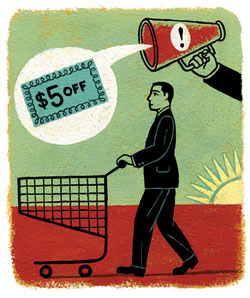 As with most financials these days, sales for holiday 2010 were pretty good if you compare them with 2009, and great if compared to 2008.
According to the National Retail Federation's, preliminary stats for 2010 holiday sales, November and December sales rose 5.7%, to $462 billion, surpassing NRF's forecast of 3.3%. That's the best holiday sales gain since 2004 when sales rose 5.9%.
While consumers were a tad more motivated to buy than they had been in recent years, several factors no doubt suppressed holiday spending — namely the unemployment rate still hovering near 10% and the lingering housing market woes.
The reality is, this recession has changed shopping attitudes and habits considerably. Even though some consumers felt a little more confident about spending in 2010, they didn't. The climate of austerity has made people realize they don't need or want all that stuff they were acquiring, so they're just not that interested in buying.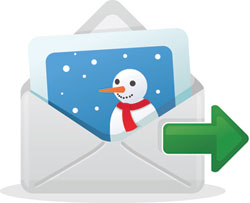 And the folks who are shopping want a bargain — and they expect to get one: They've been trained to wait for sales, discounts and special offers. Thanks to technology, consumers can seek out deals quickly. The mobile channel, for instance, makes it easy to compare prices and look for offers and coupons — why ever pay full price?
So retail will never be the same as it was pre-recession, and merchants will have to learn to accommodate today's consumers. How can you get them to part with their hard-earned cash? Here's a look at some of the lessons learned from holiday 2010.
Website improvements do translate to higher sales.

Ecommerce is now the dominant channel for most multichannel marketers, so anything you can do to improve usability and the general user experience will, typically, boost your business.

Dreams, a sports memorabilia and licensed products company, enjoyed a phenomenal holiday season, thanks to upgrades to its website. Sales in the Dreams Internet division, led by its flagship brand, FansEdge.com, rose 41%. Ecommerce revenue reached about $84 million, compared to $59.7 million in 2009. How did Dreams know what to address on its site?

The company conducted several multivariant tests on its ecommerce platform in 2010 to improve user experience and increase conversion rates, says Alex Dean, vice president of marketing for Dreams Retail. Some of the notable changes Dreams made in 2010 include widening the web interface, implementing grid filtering control redesign and expanding product detail images, he says.

Bedding and apparel cataloger Cuddledown cut down its cart abandonment this holiday season by tweaking its site so discounted prices were reflected in the shopping cart, rather than not appearing until checkout.

Cuddledown's ecommerce manager Laura Hnatow says customers were put off by waiting until checkout to see discounts applied, or they felt the discount would not be applied and simply abandoned their carts.

"Even the smallest changes helped with conversions," Hnatow says. "We made the offers clean and clear so we could provide a better customer experience." While she would not provide specific figures, Hnatow says Cuddledown's fourth-quarter direct sales rose 22% over the same period in 2009.

Don't count out the print channel.

With the heavy emphasis on all things ecommerce, some merchants may be tempted to ignore catalog creative or old-school circulation planning. But paying attention to print can yield big results.

Kino Lorber sells classic and foreign language arts films to both businesses and consumers. The company's holiday sales in the wholesale channel jumped 41% due to increased existing customer outreach and expansion into new retail markets, says marketing director Reid Rossman. Sales for the direct-to-consumer catalog and website business rose 13%.

Creatively, Rossman says, "this was one of our best catalogs yet, great titles with clear information and compelling artwork." Kino switched from a slim-jim catalog to a full-size, 72-page book, which created a showcase for "a variety of compelling new films, classic, contemporary, and documentary that we added to our collection," he notes. Kino also began working with a second cooperative database, and focused on top-tier prospects, customers and reactivation. The company's circ increased only slightly, Rossman says.

Specialty foods mailer Nueske's Applewood Smoked Meats saw its holiday sales increase 13%, in part due to catalog creative and circulation strategies, says chief operating office and executive vice president Glenn Gazzolo.

On the creative front, he says "we were more selective in our choice of subject matter; the products we chose for the cover shots in 2010 were some of our newest items or items we really wanted to grow."

Gazzolo says the company worked with brokers for better modeling and names, and also tested more segments of its house file. Nueske's holiday circulation was up 7% to 8%.

Videos can boost traffic to your site — and to your stores.

Golf products merchant Golfsmith had a record fourth quarter and record December, according to senior vice president-direct to consumer Steve Larkin. He would not reveal specific financials, but Larkin says promoting sales and distributing coupons through its Facebook and Twitter channels in early December helped increase sales. Another major factor was adding videos on its website.

Golfsmith in 2009 began working with Invodo, an online video production company. Invodo creates the video content and, using its proprietary technology, streams the video coding to the retailers and syndicates it to other points of distribution like YouTube, Twitter and Facebook. The merchant inputs a code on the product page, and if Invodo creates a video for that product, the video will appear on the product page.

Golfsmith's online general manager Eric Mahlstadt said during a session at the NRF's Big Show last month that using video on its product pages helped drive conversion rates, since consumers who could not get out to stores could see complete product demonstrations. But Mahlstadt said the videos also drove many viewers into Golfsmith stores to get a better look and feel of the products featured in the clips.

If the customer is going to spend a few hundred dollars on a set of irons, Mahlstadt said, "We want to give him the most information possible. Video helps the customer make that decision."

With email campaigns, sometimes more is more.

Cuddledown's Black Friday through Cyber Monday site visits were up 49%, conversions were up 54%, and online sales were up 121% over the same four-day period in 2009.

Hnatow attributes the jump to an aggressive yet streamlined email strategy that began that weekend. Cuddledown also emailed through the entire Thanksgiving weekend, and not just on Black Friday and Cyber Monday.

"In the past, we'd have a big Black Friday sale and then let the weekend slide," Hnatow says. "We extended our Black Friday sale to Saturday, and that went over very well. We also had a separate offer for that Sunday."

And it wasn't just one email each day, but one with a daily offer in the morning, then one in the afternoon that created a sense of urgency that the time to take advantage of the offer was running out.

And the merchant made the offers less confusing. Instead of offering a discount on select items on Black Friday, for example, Hnatow says the merchant extended 25% off the entire purchase for the email recipient.

Nature Hills Nursery saw record sales — up 32% in December vs. 2009 and up 25% for the season, thanks in part to targeted email efforts, says president/CEO Jeff Dinslage. The horticultural product merchant had strong Thanksgiving and Cyber Monday promotions and developed a "12-Days of Christmas" email program that engaged customers for most of the month, he says.

What's more, the company's email circulation was highly segmented for the season based on prior sales history and on "customer engagement" levels Nature Hills had built, particularly supporting its 12-Days promotion. "We also increased PPC and our social marketing programs," Dinslage says.

It pays to provide telephone support.

Some merchants thought — or hoped — that ecommerce would eventually eliminate the need for call centers. While telephone orders continue to shift to the Web, there is no substitute for enabling customers to call to order if they prefer that channel, or call for customer service questions.

Kino credits adding a call center in early 2010 with "helping us to capture business we may have otherwise lost," Rossman says. Previously, when Kino's office was closed, customers would reach its corporate voicemail system and be prompted to leave a message or call back during office hours." An analysis of its phone bills — counting off-hour calls then multiplying by the average order value — demonstrated the potential Kino was missing.

"We also noticed that the average phone order was nearly $20 higher than the average web order," Rossman says. "The assumption that the customer would just call back in the morning didn't make sense any longer."

Nueske's Applewood Smoked Meats takes its call center service a step further with its "Touch A Customer" program launched last year. Every week Nueske's reps call a group of customers who have ordered from the company within the past 30 days, "to thank them sincerely for purchasing from Nueske's, and to ensure their experience was top shelf," Gazzolo says.

"We have resisted the urge to sell or provide an offer — we just say in a Central Wisconsin way, thanks, we appreciate the confidence you have in us," he says. "We have seen the performance of these customers increase after the fact." But this is a long-term strategy, Gazzolo notes. "I think as we start to get out two years with this program the results will take off."