There's been a wave of recent press coverage about brands such as Nordstrom and Gamestop closing their Facebook stores – ecommerce applications that allow followers to make purchases without leaving the social environment – due to lackluster results. The headlines have left the ecommerce community wondering whether Facebook can ever be a viable selling tool.
But the hype has missed a crucial point: selling on Facebook isn't merely a matter of displaying your ecommerce site within a Facebook app. Rather, merchants who elect to open a Facebook store need to adapt fully to the social medium with a custom experience. And that's especially the case when it comes to privacy.
Earning shoppers' trust is hard enough on the ecommerce site, where as of 2010 more than 10% of consumers reported abandoning purchases because of privacy concerns, according to industry researcher Forrester. And on Facebook, which often draws fire for abruptly changing the way information is shared, there's a whole new level of privacy hurdles to overcome.
Luckily, merchants can go a long way toward earning that trust with a few simple changes that don't require rebuilding their shopping apps. To earn Facebook followers' trust:
Use tried-and-true ecommerce trust builders
Just because Facebook is a social network doesn't mean merchants should abandon all their ecommerce best practices. When it comes to earning trust, there are a number of proven methods that help shoppers complete purchases online — and they should be implemented in the Facebook environment. Your Facebook store should include:
Privacy and security badges
Third-party certification badges from entites such as VeriSign or BBB Online convey credibility; include them on cart and checkout pages in Facebook.
Quick access to customer service
Give shoppers the ability to connect with customer service from every page of the Facebook store by including an 800 customer service number and/or a chat link in the global header.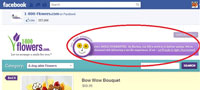 Product guarantees
Let Facebook followers know that their purchases are supported by a satisfaction guarantee, and display a link to information about returns for further reassurance. 1-800-Flowers includes its "Smile Guarantee" in the global header of its Facebook store to reassure shoppers that their order will be flawlessly delivered, and make special allowances for the unique Facebook environment.
In addition to using these widely-adopted ecommerce techniques, it's crucial to address concerns unique to the Facebook environment. In particular, merchants should: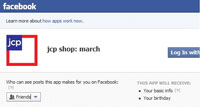 Give shoppers control over how they share
Social shopping enables sharing information about products, but that doesn't mean everyone wants to have products they browse or purchase show up as Wall posts. Merchants should retool their apps to allow followers to control how much information is automatically shared – and message that flexibility prominently, as J.C. Penney does when inviting followers to download its app.
Followers can use a drop-down menu to select who sees app activity, with the option of "Only Me" available if they don't want to share the information at all.
Disclose up-front how information will be used
Just as merchants should stress that they don't sell or share email addresses when asking shoppers to subscribe for updates, so should the Facebook store include a disclaimer reassuring shoppers that the information they submit won't be used indiscriminately.
Followers who click the link to buy a gift card via Bass Pro Shops' Facebook app first see a splash page that reassures them the "we will never use your private content" except to personalize their order. As extra incentive to continue with the purchase, the splash page also includes a header stressing the benefits of using the Facebook interface: "Easy, Instant, Personal."
Ken Burkeis founder and chairman of ecommerce software and solutions provider MarketLive.