Smart multichannel merchants are using all their core competencies across all selling channels — including stores, Websites, and catalogs — and they're finding that the more they do, the greater their results. Key research findings in the past few years have shown:
The greater the number of selling channels that customers purchase from, the greater their annual spending with the company.

The more channels that customers use to transact business with a company, the greater their long-term loyalty.
Given these findings, one doesn't have to be a genius to recognize where future is headed. Multichannel success will require bringing every effort to bear in applying all major marketing channels to getting and keeping customers.
The chart below identifies the core competencies that today drive multichannel selling. Most direct marketers have a keen understanding of the importance of these skills. They "own" these competencies, with the help of employees or partnerships with outside companies that are recognized as industry leaders in specific areas.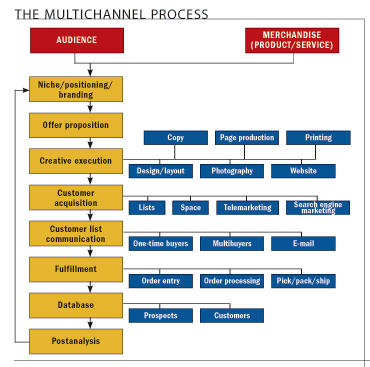 Even so, many multichannel merchants have seen only sporadic multichannel success, due in part to the sporadic nature of their attempts to integrate various skills across the channels. In my experience, traditional retail-driven companies have the most difficulty integrating their competencies.
Retailers seem to have blinders on when it comes to cross-channel marketing and are too consumed about year-over-year store sales. In fact, retail executives are often more interested in the store or stores for which they are directly responsible than they are in the overall results of the company. After all, their compensation is based on store results, not how many people bought online or from the company's catalog.
To succeed in a multichannel selling environment, you must integrate key competencies. Let's take a look at the primary competencies that demand integration and how successful multichannel merchants are doing it.
Creative

How can a merchant present a consistent brand to customers if it doesn't integrate its creative? Strong branding requires an agreed-upon "style manual" that incorporates some or all of the following in a company's creative execution:

a consistent logo and positioning line for store signage, retail advertising, catalog design, and every Internet marketing effort
a constant color palette for all selling channels
a copy voice or persona in all advertising that doesn't vary or confuse the consumer
photographs and illustrations that are uniform, down to the type of models and lifestyle orientation, across all channels
consistent style and size of typography for all promotional materials
consistent paper quality for catalogs and direct mail pieces.

Offers and promotions should also consistently reflect the brand and unique positioning of the merchant. The direct side of the business cannot present a value or discount orientation, for instance, while the retail division tries to be more elitist. Again, consistency is the goal if you are not to confuse customers.

Cross-promoting other channels is the final creative imperative. The direct side of the business must reference and promote store locations. Stores need to offer catalogs with every purchase or at their checkout counters; ideally they should also have Web connections or kiosks for customers. And the Website address should be included in all printed matter.

Merchandising

It is probably impractical to think that a company should have all its items/SKUs available in all its channels. Each of the three primary business-to-consumer selling channels operates differently from the others. Retailers must have the flexibility to mark down products based on their selling season. Print catalogs don't have unlimited space to offer every product that might be available via the Internet. Special sales that are unique to each selling channel will be quite common and shouldn't impair the selling effort.

The challenge is to use each marketing channel to its best advantage. Retail should offer the widest possible product assortment to store shoppers that selling space allows. Catalogs will typically have the most edited or refined assortment due to the restriction of number of pages. The Internet probably has the most flexibility and will carry the widest assortment of items.

The use of merchandise cross-selling is critical to maximizing sales. Retailers have been the most reluctant to promote alternative channels, but they must do so if a company is to gain wallet share from their customers.

There's no question that the catalog is key to promoting other channels — it's the primary driver of shoppers to the Web. It bears repeating that catalogs must show the Website URL on every spread as well as persuade buyers to go to the site for additional offerings. In addition, the catalog must be a strong force to encourage the "touch and feel" buyers into the stores.

Circulation and contact strategy

The integration of every marketing and promotional effort to customers and prospects should be the objective of multichannel merchants. Whether the medium is catalog, solo mailers, e-mails, store-traffic generators, or telephone calls, your organization must have a system in place to plan and coordinate customer communication. Smart multichannel companies have an annual contact plan that encompasses every customer communication to ensure that medium and offer are not sending conflicting messages. The worst-case scenario is having three channel marketing teams, each one planning separate, noncoordinated promotions with different offers with competing dates and deadlines. I recommend having a centralized customer contact team that plans promotion efforts across channels.

Database marketing

The ideal multichannel database includes transaction history from all marketing channels, not just one or two. And transaction history should be retrievable at each location, including the point of sale at retail and in the contact center. Regardless of the means by which customers communicate with your company (phone, fax, e-mail, snail mail), database and transaction history should be available and readable.
Effective, integrated service is about keeping customers and offering them alternative ways to shop with your company. It is helping to build customer loyalty by exceeding customer expectations in every fulfillment and service benchmark. The database, as one of the tools or drivers of information about customer transactions, is therefore key to building long-term satisfaction. Careful training for the representatives at each customer contact point is a must, in part so that by cross-referencing offers, opportunities, and specials from other selling channels they can let customers know that your company has other channels from which to shop.
The database also plays a role in post-campaign analysis, the final area of core-competency integration. It is critical not only to capture transactions from every source but to build effective match-back skills to give a true reading on results. As more customers come to the Web to place orders, marketers will have more challenges in allocating orders to the real driving source. Each selling channel needs to refocus its efforts on data capture and effective back-end analysis.
Multichannel efforts promise great things. But each channel must dedicate itself to coordination and integration of its skills and expertise for the greater good of the company.
---
Jack Schmid is founder of J. Schmid & Associates, a consultancy in Mission, KS.
Most-outsourced skills
It's hard to do everything well, which is why many merchants outsource some of their functions. Small and midsize companies are particularly likely to need to outsource skills as their business is growing. Here's a list of the skill areas that multichannel merchants most commonly hire outside expertise to help with:
Fulfillment services — operating systems including contact center and warehouse (pick, pack, ship)

Catalog creative execution — design, photography, copywriting, and page production

Website design

Push e-mail campaigns

Various online skills — search engine optimization, viral marketing efforts, banner advertising, etc.

Data warehousing and database management

Loyalty concepts

Circulation/mail planning

Merchandise sourcing or assortment planning
— JS