Welcome back, past MCM Awards entrants!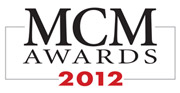 We want to let you know you didn't miss the 27th Annual MCM Awards, the industry's top honor for cross-channel direct-to-customer marketers. In fact, the call for entries has begun, and ends on August 24.
Why so late this year? We wanted to revamp the MCM Awards to better reflect the way direct-to-customer merchants do business in 2012. The awards are no longer based solely on your catalog or your ecommerce site.
Instead we are honoring those merchants who excel as cross-channel marketing. If you sell merchandise through at least two channels like ecommerce, catalog, store, field sales, Facebook and Twitter, you are eligible to enter the 2012 MCM Awards.
And at the same time, we wanted to make the MCM Awards even more valuable for those who enter.
Finalists will receive a badge that will show their customers they are excellent cross-channel merchants. Finalists' campaigns are highlighted across industry authority Multichannel Merchant's communications channels, including the magazine and website.
And your vendor partners will bask in the glory, too: They will be able to brag about how they help you drive your cross-channel excellence.
Winners will be honored at the National Etailing and Mailing Organization of America (NEMOA) Fall directXchange Conference on September 19-20, in Mystic, CT.
We hope to see your entries this year. And if you have any questions that cannot be answered on our MCM Awards website, please do not hesitate to give me a call or write me an email.
Sincerely,
Erin Lynch,
Director
MCM Awards
[email protected]
(203) 358-4755