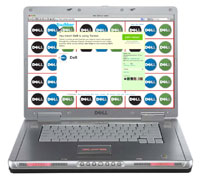 Baltimore – Computer seller Dell did $3 million in sales last year through its Twitter accounts, Dell director of communities and conversions Liana Frey said Wednesday during a keynote session at eTail 2009.
Dell, which ranked No. 1 in the 2009 Multichannel Merchant 100 list, did not intend to sell via Twitter when it first set out to engage customers in the social media channel two years ago.
But Dell now has 700,000 people following the 35 "official" Dell Twitter accounts – including 360,000 following @DellOutlet. That doesn't include the unaffiliated brand evangelists who tweet about Dell on a regular basis.
So what's the secret?
"Staff the accounts with someone who will be less of a corporate figure and just let them be themselves," Frey said. "People feel they're dealing with real people instead of someone from the corporate office."
For example, @DellOutlet is managed by an employee named Stefanie Nelson. While she doesn't push the refurbished computers sold by Dell Outlet U.S., Nelson does talk about specials and gives out coupon codes.
Her Twittering brought in $1 million of the $3 million Dell made off Twitter.
"We found we're better off using Twitter to communicate with fans, not to relay corporate news," Frey said. "We have people Twittering about what they find interesting."