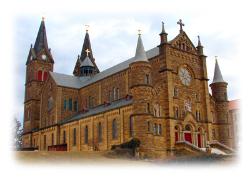 After struggling with declining sales over the past five years, the Benedictine monks of Saint Meinrad Archabbey that own and operate religious gifts marketer Abbey Press have closed its catalog and Website.
John Wilson, Archabbey's business manager and also interim general manager of Abbey Press, says the Abbey Press consumer catalog division mailed its final catalog in December and the Website shut down in March. "The products that were previously offered in both of these venues have been liquidated," Wilson says.
Abbey Press laid off 34 staff members, though the trade marketing division continues operations. The catalog division had been in business since the early 1960s and last year mailed 6.5 million catalogs.
St. Meinrad, IN-based Abbey Press has four other divisions: printing, One Caring Place Publications, trade marketing, and an on-campus gift shop, which employs 194 full-time, part-time and seasonal workers.
All businesses have a lifecycle, and the monks felt that the catalog business "was past its peak as a dominant business model," Wilson says. "The monks are now focusing on the development of a new business, Snail's Pace, that they feel aligns more closely with their historical roots in printing, while at the same time addressing new demands of the market place."
Snail's Pace includes specialty paper products such as cards, wrapping paper, journals, Wilson says. "The items will be produced on site in our print shop, which has been in existence since 1867."
What's more, the products will be made with paper certified by the Forest Stewardship Council and printed with soy-based inks. The Forest Stewardship Council, Wilson says, "provides us with what we believe is the highest socially and environmentally responsible certification available in the printing industry."
After extensive research, Wilson says the monks expect Snail's Pace to grow into a business that will help support their monastery. They plan to sell the Snail's Pace line via a Website, and eventually selected retail outlets. "We are hoping to launch in early fall, and there will be some form of abbreviated marketing piece for the fund-raising portion of the business," he notes.
Wilson says Snail's Pace will reflect changing marketing paradigms: "You'll see less money spent on advertising, catalogs, direct mail and the like, and more effort put into reaching exactly the right customer prospects through social media channels, the Internet, and through media that they are currently consuming."
In fact, "we are already connecting with future customers through Facebook, Twitter, YouTube and our blog," Wilson adds. "As we bring the products to market, this customer interaction and input will help us deliver exactly the products they need and want."