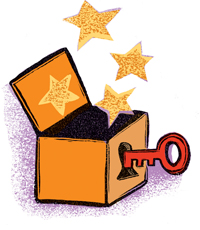 How do you survive these extraordinary times? You have to think in extraordinary terms and escape the shackles of the ordinary, everyday promises of quality, value and service. Customers have come to expect these three factors.
You can't merely deliver — you must overdeliver and create an experience that will resonate with customers. How? All it takes is a little magic.
But keep in mind that we can't fool customers today with cheap parlor tricks and simple sleight of hand. Consumers today have too much information at their disposal. They're just too savvy.
We need to give them an experience they cannot, must not miss. This experience must be brand relevant. If we manufacture an unconnected, ill-conceived event that doesn't reflect the company or the brand experience, customers will see through the illusion.
What tricks can you use? Capitalize on the multichannel experience. Marketers are spending so much time and money getting customers in the door that many times they don't put enough effort into managing the back-end experience.
Focusing on customer acquisition through search methods, social media and direct campaigns is indeed crucial. But once connected, we need to make sure the experience will captivate the customer.
And you don't have to invest a significant amount of money to create an "out-of-the-box" experience. You can start by building a cross-functional, customer-experience team that includes representatives from all the key channels: Internet, print, advertising and retail, if applicable.
The team should also include folks who represent marketing, merchandising, customer service and fulfillment operations. Each person needs to understand at least one level of the customer experience, and be willing to explore other opportunities without boundaries.
With all this brainpower, assign the team the task of creating a unique experience for customers. Beyond merely selling a product or service, what else can you do to entice customers not only to purchase, but to come back for the next purchase, and the next, and the next?
Get creative — don't rely on the same old tired tricks other marketers use. Challenge the team to find innovative ways to give customers an experience like no other.
Brainstorm — create new ideas, large and small. Have the team explore and understand the experience. How do customers find you? How do they order? How are they treated? How do you deliver on that brand promise?
Your team must uncover the answers to these questions to put together a dazzling experience. Once the experience is completely understood, simple solutions can sometimes have the biggest impact.
As with every "wow" experience, be sure to rehearse any strategy operationally and train people to execute it without flaw. A half-baked effort will not work.
But don't stop there. Once your show is ready for the stage, have the team reconvene periodically (two to three times a year) and revisit the efforts.
What's working? What isn't? What other ideas can you incorporate?
Here are a few examples that demonstrate how a few clever techniques applied across different channels can create a stellar customer experience with little to no monetary investment.
A FITTING SERVICE EFFORT
A customer of a well-known multichannel men's apparel retailer needed some new attire. After shopping the print catalog, the customer went to the retailer's Website and ordered several pairs of pants.
When he received the order, the customer realized that one of the pants was significantly larger than the others. The pants were labeled with the size he ordered, but the fit was nowhere close.
He called customer service, and the rep happily agreed to help replace the pants. But the service rep pointed out that the pants the customer wanted to replace tended to fit differently than others.
The rep then encouraged him to take the pants he ordered online to one of the company's local stores. Once at the store, the customer found that he was able to get sized appropriately, but the exact size and color he wanted were not available in the store. That's when the store manager intervened.
The manager assisted the customer at the in-store Internet kiosk. The manager helped place the order online and even called customer service to ensure that the order was placed properly, that the pants were in stock, and that the replacement pants would be sent to the customer at no cost. Problem solved. Result: customer for life.
With just a little effort and attention, the Internet and retail channels worked together to deliver service that addressed a customer's needs. That kind of service isn't available everywhere. By including the kiosk in the store and providing shoppers with a direct line to customer service, this retailer delivered an experience this customer will always remember.
PRESIDENTIAL TREATMENT
This established cataloger has been around for more than 50 years and serves a customer base of women even older than that. These customers are not computer savvy; a large percentage of them still mail checks when ordering from the catalog.
Building a multichannel experience for these women could be seen as a challenge, as its customers are more comfortable using the phone or mail, and they are very particular. If something isn't right, these customers are quick to say so.
Knowing this, the company's customer service representatives are trained to address the customers' unique needs. The merchant understands that its customers want to feel taken care of and listened to.
If a phone rep hears a dissatisfied customer or identifies a customer who would benefit from extra attention, the rep flags the customer record for review by the company's president. The president will then personally call this customer.
Those who receive the call are typically stunned that the president of a company would take the time out of the day to call an individual customer. And rather than use these personal touchpoints only for damage control, the president also will call customers just to thank them.
By coordinating the call center with a relevant plan of action for the president, this merchant fulfills its brand promise to accommodate the customers' needs in surprising new ways.
How can you create a little magic for your customers? As the above examples show, it doesn't necessarily take a significant budget increase or a reinvention of your brand to captivate customers. You just need a flash of ingenuity and deliberate, meaningful training.
And the payoff is big: By crafting a unique, unexpected experience, you will realize increased customer loyalty.
So think big, stay on brand, and give your customers a reason to applaud!
Lois Brayfield (loisb@jschmid.com) is president of J. Schmid & Associates, a catalog consultancy based in Mission, KS.
REDEEMING SERVICE STANDARDS
What can multichannel merchants learn about service from the restaurant industry? You might be surprised. Here's an example of how one restaurant chain aims to turn bargain hunters into repeat customers.
A prospect found a restaurant by visiting a Website offering printable coupons. The prospect really cared only about getting a deal on a good place to entertain a few guests. She made a reservation, brought a party in for a meal, and presented her coupon when the bill came.
Many service industries aren't interested in catering to bargain-hunting coupon redeemers. But when the manager of this restaurant found out that the customer was redeeming this coupon, he ventured to the table and took the time to talk and get to know the customer and her guests. He asked them about their meal, thanked them for coming in, and even thanked them for using the coupon!
Did he have to do this? No. The manger could have treated this as simply another person looking for a discount, but instead he turned it into an opportunity to enhance the diners' experience and potentially build repeat business and loyalty.
The manager's efforts went one step further, asking the new patron to sign up for informative e-mails. A week later, the customer received another thank you in the form of an e-mail — directly from the store manager — along with a coupon for a free appetizer. Subsequent e-mails (still coming from the manager) announced special events, restaurant menu changes and promotional offers.
Not only did the manager give the customer a memorable meal, he also captured a valuable e-mail address — and all by simply putting a process in place to identify coupon shoppers from an outside site, and giving some extra attention and interaction.
— LB