Can retailers get people to pay what's actually on the price tag and avoid the downward discount spiral? Or are promotions in fact a necessary evil? In part one of this promotional excellence series, it all depends on your brand strategy.

A major challenge companies are facing with their promotions today is that it is hard to break up with them. Just think about Bed Bath & Beyond – shopping there without a "20% off" coupon is almost unheard of nowadays. Customers have come to rely on promotions and don't want to let them go. In fact, this is the biggest promotion pain point for more than 36% of companies, as revealed in a recent poll conducted by Simon-Kucher and Partners.
To make sure promotions are a good deal for both the retailer and customer, companies need to start thinking more about "SPAM." I'm not talking the unwanted mail in your junk folder or the canned food product at the back of the shelf. The acronym SPAM, Strategize, Plan, Apply, Monitor, describes four clear steps within a best-in-class promotional framework.
While spam usually has a negative connotation, especially in the context of promotions, it's time to reclaim it and turn SPAM into something positive. Part one of this promotional excellence series explains how companies should "strategize" by identifying consumer segments and aligning promotions with their brand personality.
Promotional Excellence: It All Starts with Strategy
Knowing where to play and finding the right balance between everyday low price (EDLP) and high-low can be challenging. We've already seen retailers make major mistakes across the spectrum with promotional objectives and activities that were not in line with their brand image or consumer segment. And it's no secret what happened to JC Penney when they went from a high-low strategy to EDLP. The drastic change of a brand switching from one end of the spectrum to the other alienates the core base, confuses customers, and ultimately results in lost traffic and awareness.
Whether you should be EDLP, high-low, or in-between depends on many factors surrounding brand personality and target consumer segments. There is no one right answer. It's really about taking all of these different things into consideration. That's why your overarching brand personality is the starting point for determining your promotion strategy. Whether you're a consumer goods retailer or manufacturer, you've likely invested a decent amount in your brand. So which category does your brand fall into?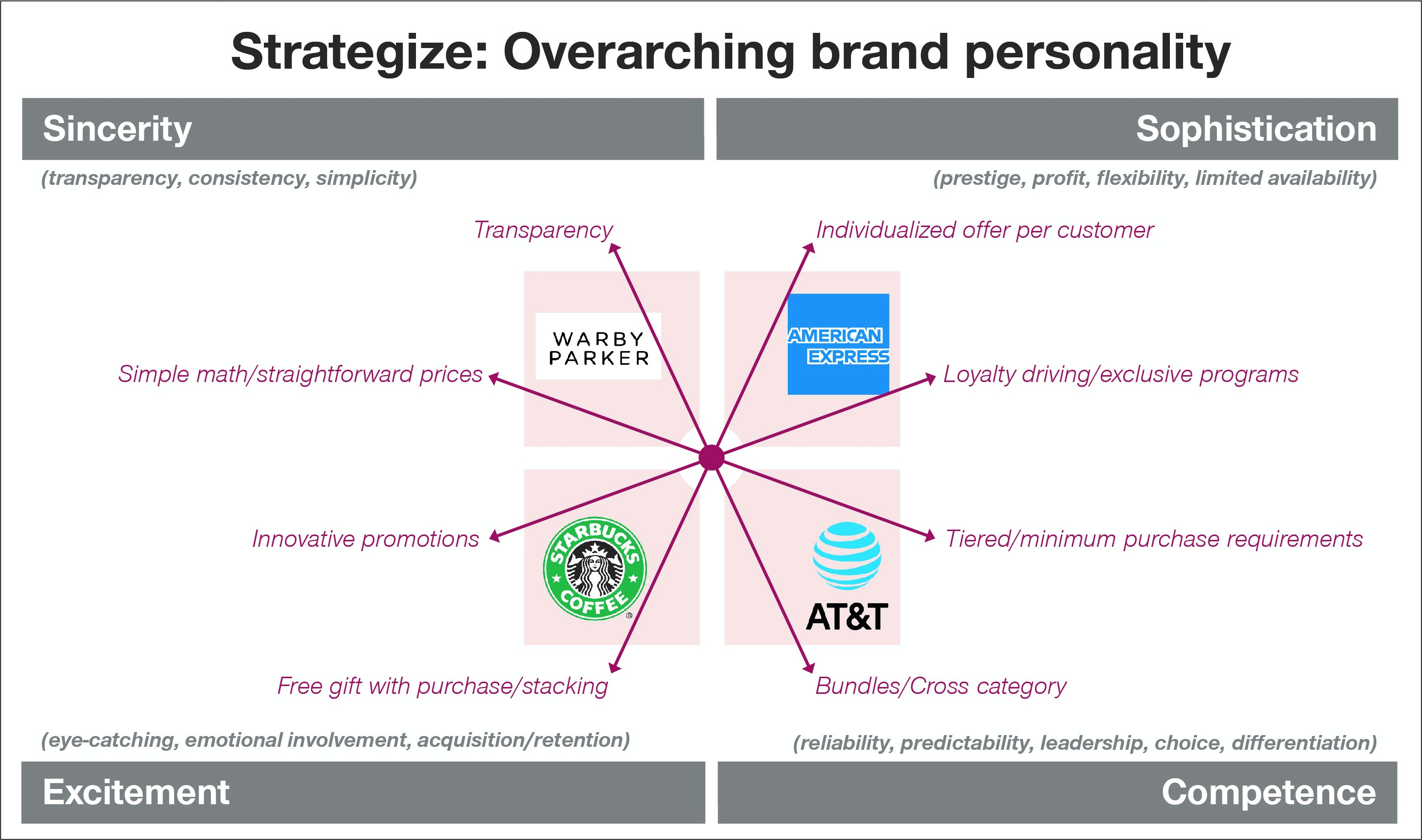 Being sure of your brand identity and strategy seems like straightforward first step. But it is an incredibly important one that can make the difference between failure and success. To appeal to price conscious customers, GAP was constantly running promotions – and with devastating effects. It became very hard to establish everyday value because they trained customers to only purchase on promotion. This led to continued dilution of their margins while leaving money on the table for brand loyalists. When you establish promotions as table stakes across the entire assortment, there's no tool for driving incremental traffic. The results for a Gap in the recent months to follow were evident in their stock prices.
In contrast and despite some recent hiccups, Ulta Beauty have been delivering solid results with continued market share gains across all major categories. They've managed to accelerate traffic and experienced some impressive and robust ecommerce growth. They did this in 2013 with only a slight uptick in promotions, using them very strategically to build their loyalty program to nearly 30 million members, and with more room to grow. As it becomes increasingly difficult to trigger a purchase at full price, this just shows how crucial it is for retailers to identify where they fit on the spectrum of brand personalities and tie brand in with their promotions!
Differentiate Promotions by Customer Segment
When it's time to run a promotion based on a certain objective, you should know exactly what to pull from your tool kit. Instead of a one-size-fits-all approach, target promotions by consumer segment to maximize efficiency and promotion ROI. For example, customers who rely on a promotion to trigger a purchase usually have a lower spend per unit and transaction. The goal here should be to increase their number of items, e.g. with "get a third free" or "buy 5 and get a discount". In contrast, customers who are not so price sensitive have a higher willingness to pay and a higher average spend per unit. Here promotions should offer customers a lower discount percentage.
Know Your Products' Roles
The final "strategize" element is picking the right products to promote depending on the level of pricing freedom. Most retailers classify their schemes into different roles, e.g. traffic drivers, basket fillers, specialty items, etc. EDLP items drive your desired price image as well as traffic to the store. But they can also become low-low items on promotion, bringing in even more incremental foot traffic.
Specialty items don't necessarily require promotions since shoppers have low price awareness for these items. Instead, because they help you extract margin, these are products to use for value-added promotions. For example, bundle them with your EDLP items as a way to fill basket and drive margin. Then there are other items where no one really knows the price. They are promoted only with exception and are treated as everyday high price.
Shikha Jain is Senior Director at Simon-Kucher & Partners