Social media is hot, for both consumers and businesses. Just about everybody seems to be on Facebook, twittering and blogging, or following blogs.
Is anybody generating more sales as a result of social media activity? Not really. But several merchants are finding that social communities can be a decent customer-acquisition vehicle — particularly for niche marketers.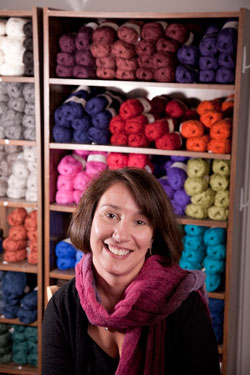 For instance, Kathy Elkins, owner/vice president of marketing of yarn merchant WEBS, which operates Yarn.com, joined knitting and crocheting community Ravelry.com about two years ago. She was able to launch a WEBS group within the site while it was still in beta.
Ravelry.com now has more than 346,000 registered users, with several different groups based on interests, such as Yarn Sales and Needlework on the Net. So Elkins can reach out to members based on their preferences.
Ravelry — like Facebook, MySpace and other social networking sites — does not give its subscribers' data to its users (unless you're paying to play). But Elkins can post in Ravelry groups, and interact with people who may not be customers or even know about Yarn.com.
"For us, it was a natural audience," and a way to join the conversation and listen to what people in the knitting community had to say, she says. "In our group, we can put information up on new products and in-store events, and engage users to sign up to receive our catalog."
But Elkins says the blogosphere is still the main tool for customer acquisition. The company even put its blog on a separate WordPress platform rather than using the same platform as Yarn.com. So if someone Googles "yarn," there's a chance Yarn.com will show up in both the general search and the search for blogs.
Ravelry.com and the blog have helped generate new names, Elkins says. "If you look at our analytics, the Yarn.com blog is one of the top sites for both customer conversions and driving traffic to our site."
Ravelry is driving about 3.5% of customer acquisition, but only 2% of revenue. The blog is driving about 2.5% of customers, but 3% of revenue. Why the discrepancy? "My average order from the blog is significantly higher than orders I receive from customers on Ravelry," Elkins says.
As for getting those customers acquired from social media to be multibuyers, "We are very aggressive with e-mail marketing, and we mail our knitting catalog four times a year," Elkins says.
Great expectations
Social media can be a handy acquisition tool for marketers that sell goods for special events, such as maternity or wedding apparel. Going social was crucial to the growth of maternity fashion merchant Due Maternity, which sells online and through five boutiques.
"Our shopper cycle is 12 weeks," says Albert DiPadova, who cofounded Due Maternity with his wife, Shannon Raffetto DiPadova, in 2003. "The first trimester, there's denial; the second trimester the bump is noticeable and there's a need for a maternity wardrobe; and by the third trimester, it's all about buying for the baby."
So the window of opportunity for prospecting for mothers-to-be is extremely tight. "And there aren't many good resources for finding lists of expecting mothers," DiPadova says. "You have to have a real-time list."
Due Maternity has a Facebook and Twitter presence, but it brought social networking home to capitalize on the niche. For instance, a dedicated team of four bloggers helps populate its inhouse blogs; the blog content is half keyword-driven, half content-driven, DiPadova says. Posts from its blogs automatically populate to Facebook and Twitter through a service provided by SEOwhat.com.
The Due Maternity Website also hosts message boards and gift registries — or wish lists — within its community section of the site. What's more, expectant mothers can also launch a personal page to show their families and friends their pregnancy progress.
Due Maternity is using a widget created by PopularMedia called Social Notes, DiPadova says. This lets users e-mail the product page to a friend, post the page to their Facebook or MySpace user profiles, or post it to a blog.
While traditional e-mails have delivered a 1% response rate for Due Maternity, Social Notes generates a response rate of 2%, DiPadova says.
Here come the brides
David's Bridal has been able to generate traffic and qualified leads through Facebook advertising. Working with interactive agency Brickfish, David's Bridal placed ad units on Facebook pages of users who fit the specified target, based on user profile information. David's Bridal also placed ads on MySpace.
The wedding apparel retailer held a Dress Your Wedding contest this past winter to promote its online customization tool of the same name, says Carol Steinberg, vice president of Internet for David's Bridal.
Participants used the Dress Your Wedding Tool to create a custom wedding ensemble, Steinberg says. And David's Bridal encouraged contest entrants to use social media to spread the word. The campaign, which ran from Jan. 11 through Feb. 24, generated 4,200 entries.
The contest brought in new registrations from those entering via a direct click from the contest page set up by Brickfish, as well as through word-of-mouth mentions that came in from viral networking sites such as Facebook.
"We are able to track all new registrations by source, in addition to monitoring updates to existing vs. new entries," Steinberg says.
David's Bridal would not reveal exact numbers, but Steinberg says, "we found that new registrations from Brickfish, Facebook and MySpace increased by 120% as a result of the campaign."
This was David's Bridal's second big social project in the past year. The company's One Love campaign, which ran for six weeks on Davidsbridal.com this past fall, had people submit their stories about finding their one love.
Steinberg says Davidsbridal.com saw a 112% increase in social networking traffic, primarily from Facebook and MySpace, during the One Love campaign.
Next Page: The power of YouTube
Previous Page: Great expectations
The power of YouTube
Carolina Rustica has made some attempts on Facebook and MySpace, says Richard Sexton, president/CEO of the furniture and home decor merchant. "But we really need to improve these and make the content more relevant and valuable to visitors."
The fact is, Sexton says, "it is really time consuming keeping those pages current when we also devote time to our more visible blog." But some social media networks "have really blossomed as a viable driver of traffic, both paid and nonpaid," he notes.
For example, Sexton says Carolina Rustica gets solid Web traffic — about 500 visits alone for a showcase of fine art lamps — from its YouTube posts that tell the story of its product line.
Customers often comment that they like dealing with a small, family-owned company that has a real face behind it, he says. "YouTube allows us to take a more personal approach, and I think has a broader demographic."
Blogging provides a serious opportunity to highlight products, trends, customer feedback and occasional promotions, Sexton says. Carolina Rustica's blog, The Daily Designer, is about 80% informational and 20% promotional. Sexton says with the blog, as with Twitter or any other social medium, the approach has to be soft-sell.
The blog has not proven to be a big driver of traffic: Sexton says right now it accounts for only 2% to 3% of traffic. "But as we add content and build up our followers, I think it will become more significant," he says.
Don't be a gate crasher
But merchants need to understand one thing about social media, says Chris Baggott, CEO/founder of software provider Compendium Blogware. Just because your customers are on a social network does not mean that your brand is valued or even welcome there.
"The social phenomenon is all about people," Baggott says. "We don't care about your brand, we don't trust your institution, and — as the collapse of the advertising industry is showing us — we are tired of businesses trying to sell us stuff through interruption."
Erik Hauser, vice president/executive creative director of targeted marketing firm Euro RSCG Impact, agrees. "Just because people are there doesn't mean they will be receptive to your message," says Hauser, who helped usher in Wells Fargo's Stagecoach Island social network as an educational tool for teens in 2004.
"People just don't understand that if our goal as marketers is to create compelling experiences to drive acquisition, we have to be somewhere where we're welcome, and have a message that fits the media," he notes.
And the social network penetration is still rather low: Twitter has 5 million users and Facebook has 175 million users, but there are 7.5 billion online searches every month just for people's names, Baggott says.
"There are 3 million searches a month for toasters and 20 million searches a month for laptops," he notes.
When considering any marketing strategy, social or otherwise, start with ROI, Baggott says. "Where can you get the biggest bang for your buck? Online, that's search."
Indeed, says David Wertheimer, director of strategy for e-commerce agency Alexander Interactive, "some marketing managers say that unless it's making us money, we shouldn't be diving in." But social media is cost effective, "and it's great for engaging in a two-way conversation."
Blog takes off like a prom dress
One Alexander Interactive client, women's apparel merchant Caché, is using Facebook, Twitter and blogs to reach out to a younger audience: high school girls getting ready for the prom, Wertheimer says.
Caché's Dream Prom Blog is written by five high school girls who — with full editorial freedom — dispense advice on shopping, dating and planning.
The Dream Prom Blog lives on Cache.com and is cross-published to Facebook, reaching teenagers in a popular destination. The Facebook page encouraged use with a prom-season giveaway; Cache.com awarded $500 to one of the fans of the Facebook page.
Fans who registered for the Caché Dream Prom Giveaway were driven to an off-Facebook registration page so their data could be used for future e-mails and mailings. By the time the four-week contest concluded on April 20, Caché's Facebook page had more than 1,200 fans.
"It was a brand-awareness item," Wertheimer says. "We wanted to be in places where teenagers are being social, and speak directly to them."
But you need a proper marketing plan for social media before jumping in. "You can't just stick an application up there and have everyone go to it," Wertheimer says. "Ask yourself how you're going to speak to your audience and be relevant."
Done correctly, social media can be used as a key acquisition tool for the right type of brand, says Hauser. "But if it is done incorrectly, it can send loyal customers into the arms of your chief competitors."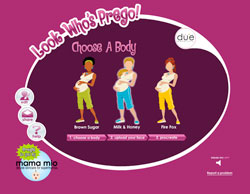 Birth of a notion Due Maternity in November launched its LookWhosPrego.com microsite. Expectant moms log on to LookWhosPrego.com and build an announcement — using their headshot superimposed on an animated body — to send to family and friends, says Due Maternity cofounder Albert DiPadova. The company offered users a chance to win a prize from U.K.-based skincare brand Mama Mio.
More than 60,000 people sent announcements over a six-month period, DiPadova says, adding that the company built the microsite inhouse. Due Maternity saw a 2% conversion rate through LookWhosPrego.com.
The merchant plans to launch a sequel — LetsMakeABaby.com — that will allow expectant parents to morph a baby out of each other's photos.
"It's not about generating a humongous number of names, but about generating qualified niche traffic," DiPadova says. "They're playing with us because they are pregnant."
— TP