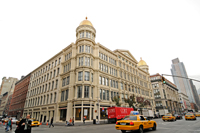 A Lifelong New Yorker, I often admired the large, cast-iron building on Sixth Ave. and 20th St. But I never had a clue as to its origin, or to what the name on top stood for — Hugh O'Neill.
But I found out when visiting a flea market one day. There, on the cover of an 1886 catalog, was the building and the name H. O'Neill & Co. The single surviving page, so brittle it was wrapped in plastic, showed that H. O'Neill was a store that sold "Fine Millinery, Fancy Goods, Lace & Gloves, Etc."
Now I understood. Sixth Ave. was in those days known as Ladies' Mile. I turned the piece over and looked at the second page. It featured women's apparel like the Calico Skirt and Waist. The price: $1.75.
I bought the "catalogue" for $25 or so and filed it away. Then I stumbled on an 1896 article in Printers' Ink magazine, and it was there I learned that H. O'Neill was a multichannel merchant — and that it relied on the same principles we do today.
O'Neill sent 250,000 catalogs a year, 125,000 in September and 125,000 in April. Most went to buyers and inquirers who had been pulled in with ads in Youth's Companion and other magazines.
"We get the largest number of direct replies from ads which specify a single article; we find a cut and short description, with the price, is the best immediate result-bringer," manager W.E. McLoud told the reporter. "Our ads always contain a request to send for our mail order catalogue."
How did the company handle these prospects? It registered the name and address of the applicant and mailed them a catalog at once, McLoud said. "If an order, however small, is the response, we send a catalogue the following season. The applicant is then considered a customer of the house, and we do all in our power to retain his trade."
Founder Hugh O'Neill died in 1902; the company closed in 1907. The building is now a condominium.
For more articles on direct marketing history, go to http://directmag.com/history/
LET'S HEAR FROM YOU!
Let us know how we're doing.
Send us any comments on recent articles or issues, or perhaps a multichannel shopping tale you'd like to share.
HOW TO CONTACT US:
E-mail: melissa.dowling@penton.com
Phone: 203-358-9900
Fax: 203-358-5823
Letter: 11 River Bend Drive South, Stamford, CT 06907
HERE ARE SOME OTHER GEMS OF MAIL ORDER WISDOM FROM MCLOUD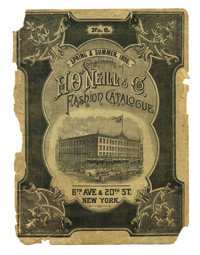 "We use good cuts — no color printing — and a paper that is simply good enough not to be objectionable," McLoud said. "A catalogue should be a serious publication, creating a desire to purchase by the evident honesty of every detail."
"We don't believe in small ads — generally at least five inches single column, with a cut of the building invariably."
"It is not necessary to say that no mail order department can be successful unless the greatest care in the selection of the goods in filling the order is exercised."
"(Mail order) is a matter of close attention to detail inside and of careful and judicious advertising on the outside."