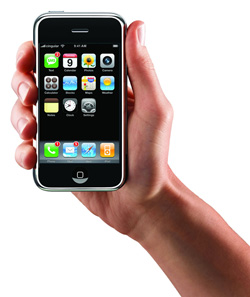 What makes a good widget? Like the creations from the 1980s TV series hero MacGyver, the best widgets are compelling inventions strung together ingeniously from existing parts, like product data, customer wish lists or online coupons.
For online retailers, this invention process frequently means leveraging data that's already part of the core site experience, contextualizing it for the customer, and wrapping it in a useful, appealing package that your customer wants to download or share with others.
Widgets are brand ambassadors that live outside your core Website domain and promote your merchandise to a larger audience. They can be delivered as rich Internet applications served up in traditional ad banner spots.
Or, widgets might be badges that broadcast the wish list of a customer and brand advocate from her blog, in the hope that her friends and family will remember her on her birthday.
The retailer contracts with an ad network in the first example, and may pay only an affiliate revenue share in the latter — or nothing at all — depending upon how the badge is offered and marketed.
Also known as gadgets, badges and distributed content, widgets come in three primary flavors: Web, mobile and desktop. At their core, the three types of widgets share the same intent: to deliver actionable information into the hands of your customer in a timely fashion. But the context of their delivery changes everything.
Desktop widgets bear many similarities to desktop applications: They are downloaded and installed by the customer to his workstation or laptop. Desktop widgets rely on local resources to run, and they excel at delivering time-sensitive information to a single user whose preferences are implied or explicitly known.
The Staples Easy Button desktop widget makes it easy to reorder frequently purchased items and perform other essential tasks. The application fosters loyalty with the office supplies merchant's regular users by notifying them of in-store specials and delivering relevant coupons.
The Easy Button also makes it easy to order ink and toner specific to their printer profile, place a larger order from the catalog and browse the local Staples store's weekly ad circular. As an application, it focuses on delivering personalized information directly to the customer and connecting her to the transaction.
Apparel and home goods merchant Anthropologie's Spotlight widget is an exercise in restraint: It delivers one fresh clothing item to the customer's desktop every day. It's expected that this is just enough to pique the interest of the shopper and compel her to periodically click through to discover more.
Desktop vs. mobile
A desktop widget offers a stronger connection to the user than a bookmark in a Web browser, as long as the retailer frequently delivers fresh content that remains relevant — and validates the presence of the widget in the computer workspace.
Whereas desktop widgets anchor into the contained space of the customer's operating system, mobile widgets provide a raft in the vast and as yet difficult-to-navigate sea of mobile sites and offerings. Generally easy to install and use, they provide direct access to information that might otherwise be difficult to find in the mobile landscape.
Apple's iPhone and attendant App Store have accelerated mobile-widget adoption: More than 1 billion iPhone applications were downloaded from the App Store in its first nine months of operation.
Once downloaded to the iPhone, the application offers one-click access to the user's desired destination. Retailers have yet to truly leverage the iPhone app opportunity: Of the 35,000 iPhone apps available for download, currently fewer than 1% are retail related.
Godiva, 1-800-Flowers.com, Sears (with its Sears2Go iPhone App) and Amazon are four retailers that have launched consolidated storefronts through their iPhone mobile applications. These make it easy for customers to shop top-selling merchandise, find stores and coupons, and place an order or e-mail links so that information can be easily retrieved and acted upon.
Target shakes it up
During the holiday season, general merchant Target tapped into the playfulness of the mobile app space, creating a memorable gift finder that took advantage of the iPhone's accelerometer — the component that senses and responds to motion in the iPhone.
It delivered recommendations in the form of a snow globe that shoppers could shake to set off snow flurries. Once the snowflakes settled, the gift recommendation was revealed and shoppers could click on the item to link directly via the mobile widget to Target.com and complete the purchase.
Target also took advantage of automated App Store updates with the change of the season: Users who had downloaded the application were notified, post-holiday, that an update was available.
Those customers who downloaded the update found that their snow globe was replaced with a new gift finder that relied on a fresh touch screen interaction to drive recommendations.
Web widgets share many of the real-estate constraints of mobile and desktop widgets. They can be even more constricted, given the likelihood that they will live in the sidebar of a blog or profile page. Like desktop and mobile widgets, Web widgets also address a consolidation of interface tasks. Midwest supercenter retailer Meijer enables shoppers to plan meals for the week, save recipes, shop the online circular, and receive contextual coupons through its Meijer Mealbox rich Internet application.
Next Page: Web widgets get social
Previous Page: Desktop vs. mobile
Web widgets get social
Given their reliance on user-generated content, Web widgets have a strong affinity for social-network sites like Facebook, Twitter and Flickr and the communities that thrive there. This lends them a quality and strength that is different from the widgets developed for the mobile and desktop spaces.
According to Forrester Research, 59% of adult social-networking-site members use Web widgets. The penetration is even higher in the youth demographic, at 64%.
The chief distributors of Web widgets are content creators themselves — bloggers and users of social networks like Facebook and MySpace — who publish widgets and badges to their online properties to promote their affiliation with sites with which they have an affinity.
"Affinity" in this instance generally means that the user has posted unique content to the parent site in an act of self-expression. The photo-sharing site Flickr makes it easy for photographers to share their photos on other Websites through a variety of interactive badges that can be customized to the user's preference.
This customized content links back to the parent domain in an act of colonization — badges act as conduits that provide an easy path back to the parent Website in an effort to attract and win new users.
Amazon lets customers publish and share widgets that promote their Amazon wish-list items. Its affiliates can publish badges; a click-through on the badge earns the affiliate marketer a revenue share from any immediately resulting purchase.
ITunes also taps into the social-network badge paradigm with its My iTunes widget offering that allows customers to publish widgets broadcasting their iTunes purchases, favorites or reviews.
Widgets serve as a broadcast platform that generates more links back to an item and elevates search-engine link equity. But researchers are beginning to understand that merchandising widgets published within the context of social-network neighborhoods have the potential to influence conversions at three to five times the rate of standard marketing messages within the same channels.
The strength of this social equity varies according to the influence of the content creator within his or her community. But the social space will be an important channel for retailers in the months and years ahead — especially given the volume of content being created daily. (Technorati reports that 1.5 million blog posts are created within an average seven-day period.)
Because they are frequently compact and often serve a single purpose, widgets can be cost-effective — an added advantage in this climate of constrained budgets. Just remember that the rules of solid Web design and usability still apply when designing and developing a widget. The compact footprint recalls the tight constraints of first-generation Web browsers, and mobile applications must be sensitive to download speeds that are reminiscent of ancient dial-up connections. As always, every click matters and any frustration can turn your users away.
Widgets are one of the first compact expressions of the changing nature of how information is found and shared online. We're stepping out of an era when single-site domains dominated content distribution and into a period when content will be more fragmented, dispersed and edited by many different hands and voices.
Widgets make it possible for online retailers to tightly control how their brand stories are told in this changing landscape — while still taking advantage of the rising tide of viral content distribution.
Dayna Bateman is a senior strategic analyst at Fry Inc., an e-business systems and services provider based in Ann Arbor, MI.