Over the past five years, the apparel industry has undergone a quiet revolution. A quick glance around your average city block should provide ample evidence. The Lululemon yoga pants. The trendy criss-cross tanks. Those aren't workout clothes—they are a lifestyle. That, and a multi-billion-dollar industry.
[Related:Fitness Brands Building Brand Loyalty by Becoming Part of the Lifestyle]
In a matter of years, activewear has evolved from baggy sweatpants and gym shorts into sleek, fashionable attire designed for everyday wear. Millennials are spending less on apparel overall, but are willing to drop more cash on "athleisure" brands like Lulelmon, Athleta or Lorna Jane. Activewear represented 17% of the apparel market last year according to NPD, with no signs of slowing.
The prospects for growth are extraordinary, which is perhaps why brands like Gap and Old Navy launched their own activewear lines to meet consumer demand. But as more apparel brands enter the activewear arms race, it begs the question: Who are these millennial activewear shoppers? What do they really care about? Are they more attracted to the comfort of yoga pants, or to the symbol of wealth signaled by sporting a Lululemon logo? And what are the best channels to reach this audience? Let's find out.
Breaking Down the Athleisure Audience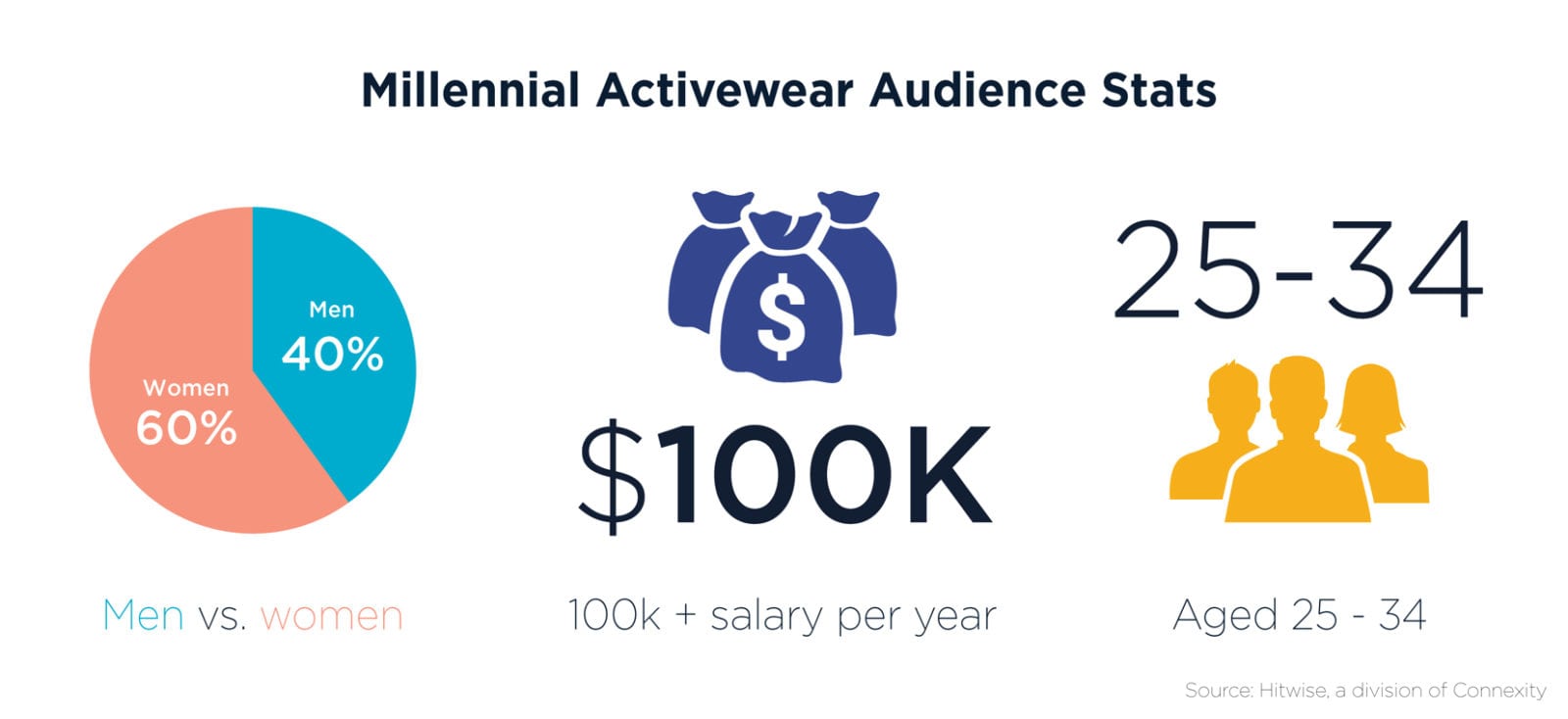 Digging into the demographics of Millennial activewear shoppers on Hitwise reveals several interesting findings:
Not just for ladies: Although athleisure brands are often associated with women, the activewear audience is only 60% female — which means a whopping 40% of this segment is actually male. In case you were wondering, this does not include traditional sports apparel brands such as Nike or Under Armour — these are men searching for brands like Lululemon, prAna, Lorna Jane and Fabletics. This suggests an untapped opportunity for activewear brands to better understand this bourgeoning male audience.
Favored by the wealthy (surprise, surprise): Perhaps you won't find this one shocking since the typical yoga pant can cost anywhere between $75 – 100: The largest and most over-indexed income group is consumers who make $100,000 a year or more.
Older Millennials reign supreme: Considering activewear's skew towards wealthy shoppers, it comes as no surprise that older millennials (aged 25 – 34) represent a much larger and more engaged segment than any other age group — particularly more so than those aged 18 – 24, perhaps because activewear remains out-of-budget for younger millennials.
Fashion-Forward — With a Focus on Perception
Perhaps one of the most insightful aspects of the activewear revolution is how it reflects shifting values in popular fashion. Rather than workout clothing existing as a scruffy divergence from a consumer's "true" personal style (and therefore being relegated exclusively to gyms and or the home), activewear has become a high-end statement of wealth that signals an active lifestyle. Activewear is particularly popular amongst fashion lovers who are willing to spend big bucks to keep up with the latest trends.

Along with a pervading interest in fashion, activewear audiences are deeply attuned to how they are perceived by others.
Beyond a strong desire to give a positive impression to those around them, activewear millennials also see themselves as fashion influencers, beacons of advice regarding the best products and clothing that others should buy. They are 31% more likely to say that people copy the clothes they wear and things they do, and 50% more likely to say that people come to them for advice on purchases.
How Millennials Shop
As with most millennial consumers, activewear shoppers are highly digital. They are 39% more likely to buy a product online than in person, and when they find something they want in-store they are 37% more likely to seek out a better deal online. They rely on their mobile devices to conduct product research, locate nearby stores and find the best deals.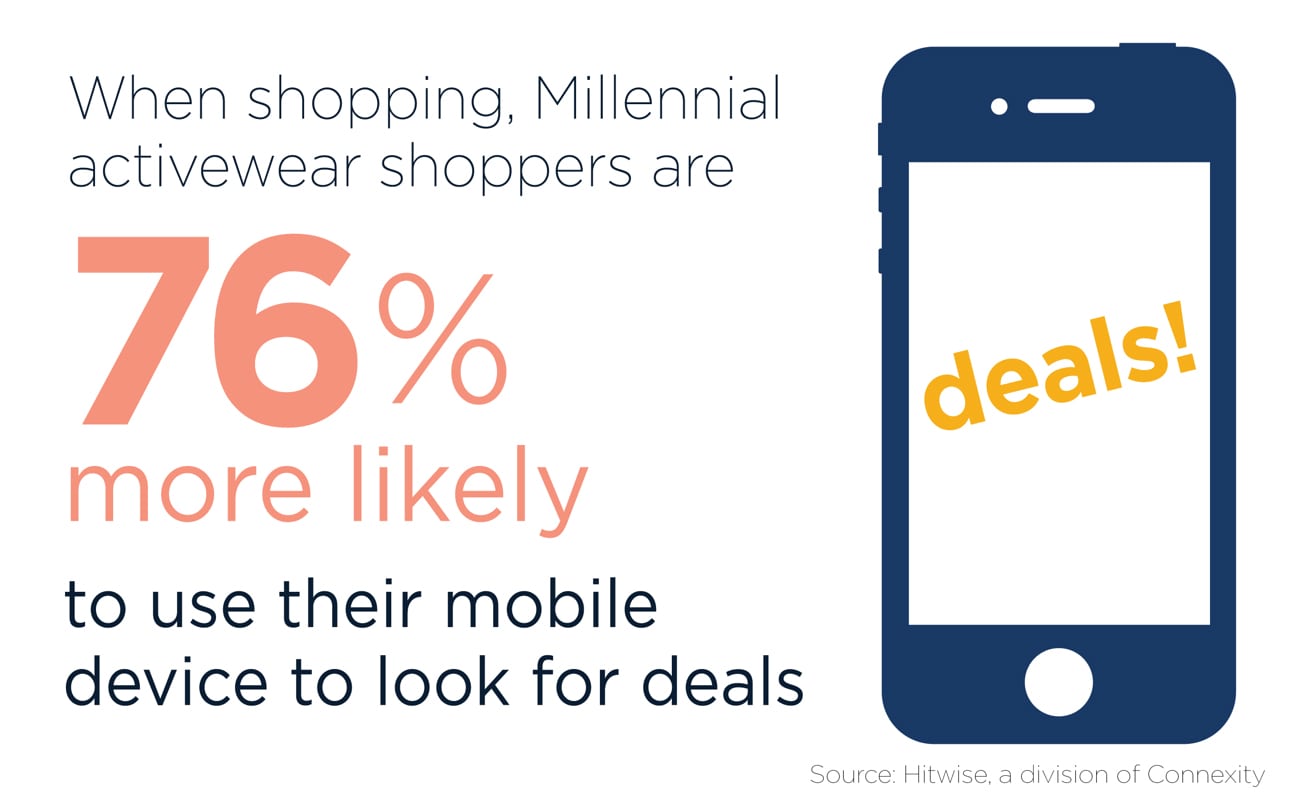 Although this generation is glued to their devices, don't underestimate the almost indulgent pleasure of shopping for athleisure in-store. Activewear shoppers are nearly 44% more likely to spend long periods of time in a store browsing, which suggests that they find fulfillment lingering, browsing and trying on athletic apparel in person.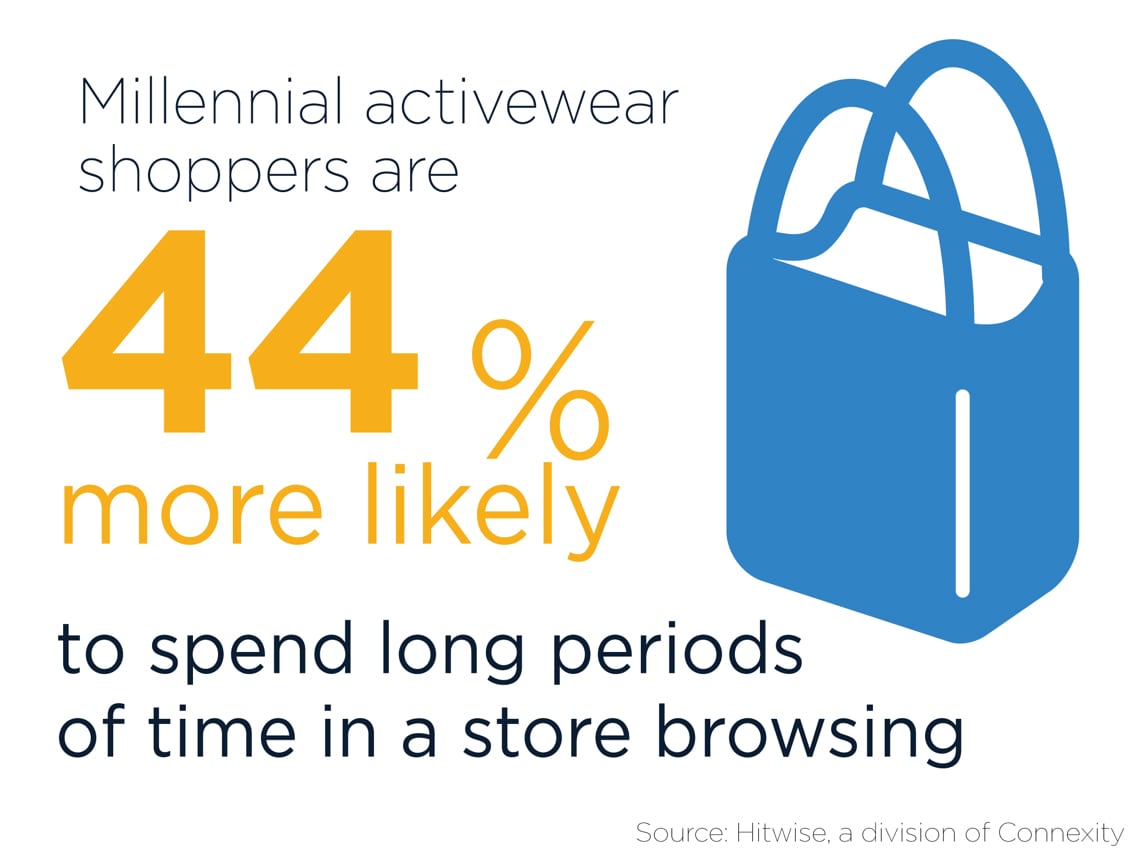 How to Reach Millennials

Activewear shoppers also rank highly for engagement with several key retail and department store sites, such as:
Nordstrom (+1481% over-indexed)
Etsy (+315% over-indexed)
Groupon (+278% over-indexed)
Target (+262% over-indexed)
For advertising purposes, it's also helpful to know where millennial activewear shoppers get their news. Here are the sites they over-index for: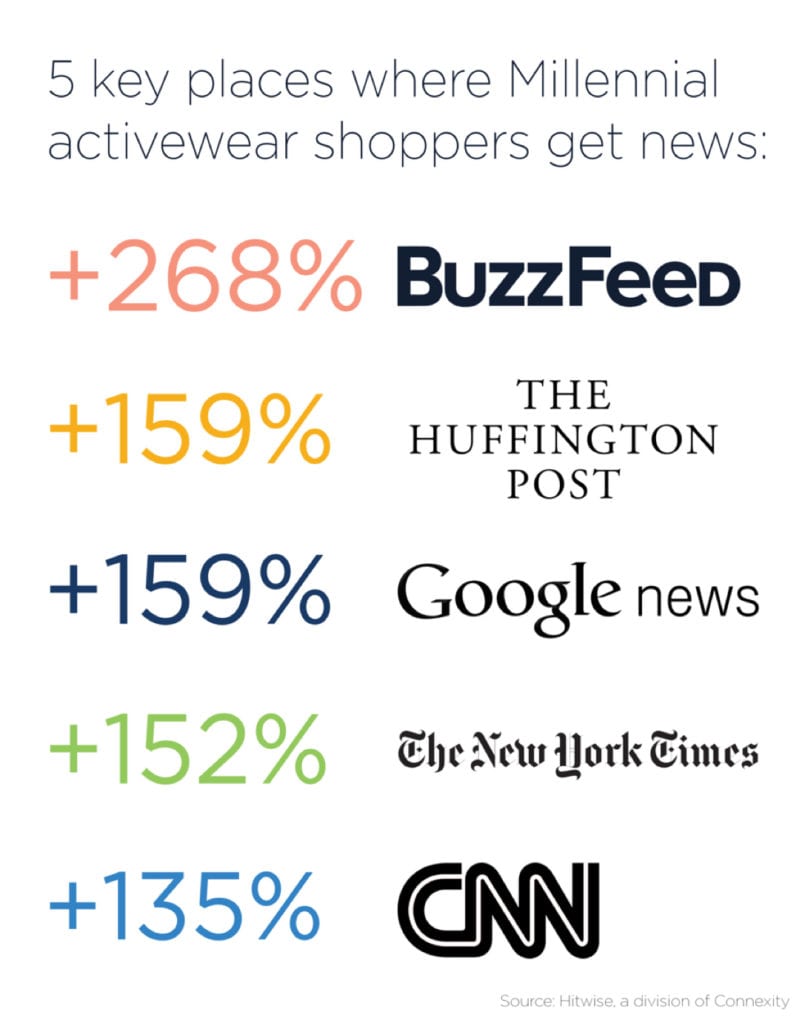 There is no doubt the activewear tidal wave will continue to swell in the coming years. As major athleisure brands continue to expand, new startups promising better fabric blends or competitive pricing will continue to crop up. Throughout this period of growth, one thing remains certain: the most successful brands will be those who understand their audiences on a deeper level. Apparel shoppers, particularly bootstrapped Millennials, don't spend $90 on yoga pants because they are practical or comfortable—they do it because it resonates with their identity.
Rochelle Bailis is Global Director of Content & Insights for Connexity