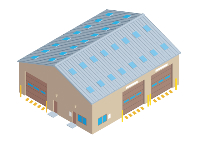 An efficient operation isn't a luxury; it's a necessity these days. In the fulfillment business, this means putting material handling processes under the microscope to identify areas of inefficiencies that need to be tweaked or even completely overhauled to improve operating costs.
Here's a quick overview of what you should be looking for when peering through that microscope.
Distribution center layout
The first thing to consider in material handling efficiency is where your material is needed. The goal is to determine where it is going before it moves, and how to get it there with the least amount of touches.
Analyze your picking scheme. Do you pick stock using first in, first out (FIFO, first in, last out (FILO), or lot/serial number sequence? Do you pick full cases of product or pick and pack several items per carton? Do you use automation in your movements or do you move product manually? Each of these scenarios will yield a different method of material handling.
FIFO: Product is shipped by date, in the order it is received
If you have a FIFO picking scheme, you will need to move your incoming product to an area that will allow earlier receipts to be used first. These moves usually go to a bulk or reserve location for future pulls.
The key here is to make sure that your older receipts are readily available to move to your picking area, and not encumbered by new receipts. Most warehousing systems will direct you to your next available product pull based on your set up methods. If this is not the case, you will have to group receipts by product and date, and be able to rotate this stock so newer product is behind older product.
FILO: Product is shipped in the reverse order, by date it is received
A method not used as prominently as FIFO, FILO will require you to move product as close, if not directly to, the picking area. This also allows you to cross-dock shipments, moving product directly from the receiving dock to outbound shipping docks. This process works well with full case/skid orders that have no restrictions on manufacture or expiration dates, or large bulk orders that require little or no additional handling.
Lot/serial number: Product is shipped by specific lot or serial number
This picking method requires you to have access to your entire inventory in a ready to pick status. The inventory must be available on demand by predetermined numerical sequence. This method can increase the number of touches on your product if you need to keep several items readily available in a small amount of space.
Full case vs. pick and pack – Shipping full and complete cartons/skids vs. packing several items per carton/skid
Another consideration is whether the product will be shipped as it has been received, in full case/skid quantities, or if the product will be shipped after being picked and packed according to specific orders and requirements.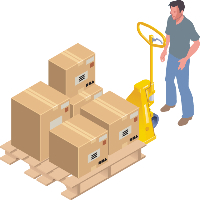 If the product is to be shipped in full case or full skid quantities, use cross-docking opportunities, if possible. This would require only one move from receiving to shipping instead of receiving the product, moving to a warehouse location, pulling the skid for the order, and moving to the shipping dock.
If your product is to be handled prior to shipping such as repacking, labeling, assembly, picking multiple items for an order, etc., you need to define the movements in advance.
Is the inbound product to be moved to a picking or production immediately, maybe to alleviate backorders or work on current orders? If so, can you move enough product in one move to alleviate the need and avoid additional moves or replenishment in the immediate future?
Is the product to be located for future orders or production work? Planning ahead so your next move is to the picking or production area, and not a second warehouse location to be stored, will reduce unnecessary handling and labor.
Manual and automated options
Some simple automation can help reduce both labor and handling of product. Gravity and powered conveyors can easily move your finished orders to a loading dock in the shipping department without utilizing any labor between order processor and shipping personnel.
Flexible conveyor is also an excellent way to increase the unloading time of product from a trailer or overseas container.
Pallet jacks, both manual and powered, can quickly move skids of product between departments within your warehouse. Having pallet jacks move your product can keep your forklifts out of your production areas, and moving product in your racking or loading and unloading trucks. This decreases the forklift travel time and increases the amount of product they can pull or put away in an hour.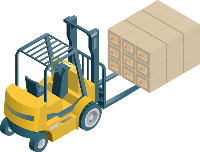 Narrow aisle racking and utilization of power jacks and cherry pickers, can increase picking speed for items that are pulled in full-case quantity, but not full-skid quantity. Whether it is product to replenish a forward picking location or to ship to a customer, being able to pick a carton without removing the entire skid from the rack is guaranteed to increase productivity.
Also, upon receipt the product can travel from receiving dock to a rack location that doubles as a forward pick location in one move.
Taking the time to analyze your warehouse layout, picking schemes, available automation and labor will afford you the ability to increase your material handling efficiencies before product arrives to your facility. Moving product through automation frees up your labor to concentrate on other tasks, reduces travel time, and can increase the production of each employee.
Knowing where your product needs to go, and how to get it there with the least amount of touches and labor, will increase your throughput ability while lowering your operating costs.
Thomas Kiesling ([email protected]) is operations manager at Christopher Morgan Fulfillment, a full-service fulfillment, distribution and marketing company based in New Berlin, WI.