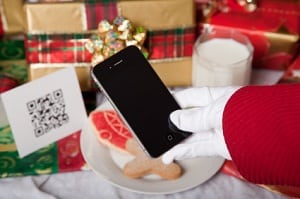 After a disappointing sales season this fall for Victoria's Secret, Costco, and American Apparel, among other merchants, the stakes are high for retailers heading into the crucial holiday shopping season. While it's difficult to predict which retailers will reign supreme during the most crucial selling time of the year, one thing is certain: mobile devices will play an even bigger role in supporting retail sales this holiday.
[CLICK HERE for Multichannel Merchant's Cyber Weekend 2013 coverage]
According to the National Retail Federation, more than half of smartphone users and 63.2% of tablet users will utilize their devices over the holidays to look up store hours, compare prices, and purchase products. To engage customers and cash in on the nearly $602.1 billion consumers are predicted to spend this year, smart retailers will use apps, optimized websites and other mobile tactics to complement their in-store and online strategies.
And while retailers have been prepping for months for the upcoming shopping season, there are still steps that can be taken now to ensure success on Black Friday and beyond. Specifically, there are several mobile strategies and initiatives that should be taken into consideration, including:
Make all customer deals – such as coupons and receipts – digital. Most of today's busy consumers won't remember to bring paper coupons to the store and similarly, they don't want to carry around a wad of receipts. A consumer's mobile phone is always with him or her and your brand can be too if your content is digital.
Recognize that a consumer's shopping experience doesn't start when he or she enters the store. Most shoppers think about what they want to buy before stepping foot in a store and, increasingly, they are using mobile devices to conduct that initial research. Retailers must acknowledge the pre-shopping research phase by making it easy to search for and view products via smartphone, tablet, and PC.
Ensure that your website is optimized for mobile devices and tablets, large and small. Run tests to confirm that all of your mobile designs work across all platforms. If your website or app is confusing or cumbersome, a consumer will soon find a competitor's app or website that is easier to use.
Utilize customer data to steer shoppers to relevant items and information. For example, if you're an outdoor sporting goods retailer and a customer has previously purchased hunting and fishing gear, inform the customer of an upcoming rifle deal or fishing show. By employing personalized messages and highlighting specialized sales, you will entice him or her with relevant content that is more likely to lead to a purchase.
Make the checkout process as quick and easy as possible. Increasingly, savvy brick-and-mortar retailers are arming store clerks and cashiers with mobile devices that can scan credit cards and check customers out right in the aisles.
Understand that shoppers are increasingly using their smartphones to scan and price check items in-store. The phenomenon – known as showrooming – has turned physical storefronts into product display areas for etailers, such as Amazon, that offer more competitive prices. To address this issue, Target has released an app that actually encourages shoppers to scan items. The app, Cartwheel, allows consumers to scan any item in the store to see if there are readily-available coupons. This barcoding technology also has a dual benefit for retailers: by tracking consumers throughout the store, retailers can gain valuable insights about store "hot spots" and guest activity.
Get rid of the plastic cards and link your loyalty programs to customers' smartphones. A great example is Best Buy, a company that allows loyalty program members to simply give their mobile number at the checkout to gain rewards and reap benefits. Lowes also runs an electronic MyLowes loyalty program, which saves customers' past purchases so that they know, for example, what color they purchased to paint their kitchen two years ago. Mobile loyalty programs also make it easy for consumers to track their points and rewards.
In short, to successfully integrate mobile strategies into your holiday plan of attack, you must first understand how your customers shop and then strive to make that process quicker, easier, and more efficient. Increasingly, shoppers are practicing device promiscuity, jumping from smartphone to tablet to laptop in the blink of an eye. The ability to recognize this activity and be available across all mediums will separate the mobile rookies from the mobile success stories this holiday shopping season.
Matthew David is chief digital strategist in the Mobile Solutions Group at Compuware Professional Services.