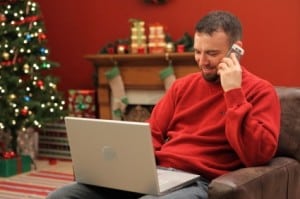 As consumers start to pick up the shopping pace this holiday season, more likely than not, your contact center has already become inundated with questions, comments, and yes even complaints from consumers.
[CLICK HERE for Multichannel Merchant's Cyber Weekend 2013 coverage]
The Cyber Weekend holiday was one for the record books for online merchants. In fact, the National Retail Federation said 59 million shoppers took to the web to go shopping over that 4-day stretch. Cyber Monday was also the biggest online shopping day in U.S. history with a 20.6% increase in online sales, according to IBM.
This record number of online shoppers means that ecommerce merchants need to step up its customer service game, especially when it comes to answering the phone. According to a recent blog post from StellaService, which placed calls to 60 online retailers over the holiday weekend to measure the amount of time it took a consumer to connect with a live chat agent, a very limited number of retailers were prepared to handle the influx of calls.
Over the past four days, StellaService contacted 60 of the most popular online retailers over the phone five times a day. Of the 1,146 calls placed, only 10 merchants were able to connect a live agent to a caller within 30 seconds or less.
According to StellaService, the highest performing contact centers that were reached during the entire holiday weekend were Net-A-Porter.com with a 19 second connection time, Coach.com with 23 seconds, MrPorter.com with 24 seconds, Modcloth.com with 27 seconds, and Jcrew.com with 28 seconds.
Of all the top performers, according to StellaService, each scored a 100% on issue resolution, which measures "whether a customer service agent solved the customer's questions in full."
Looking at the metrics per day, according to the report, the average time to reach a live agent on Black Friday was two minutes and 16 seconds; however, the top five performers for that day were Dillards.com, Net-A-Porter.com, UnderArmour.com, JCrew.com and Modcloth.com, each averaging a 23 second connection time.
On Cyber Monday, the average time to connect to a live agent was two minutes and 30 seconds, although the top five performing merchants fared considerably better. According to StellaService, Dillards.com, UnderArmour.com, Net-A-Porter.com and Overstock.com all answered phones in about 19 seconds.
As for the lowest performing merchants, according to StellaService, the bottom 10 performers averaged a 5 minutes, 39 seconds connection time. One merchant, who StellaService did not name, averaged over 11 minutes to connect a customer to a live agent.
StellaService CEO Jordy Leiser said in a statement to Multichannel Merchant that while consumers tend to be more patient during the holidays, they still expect quality customer service. "Retailers that take a long time to respond to customer inquiries run the risk of losing sales to competitors that offer a better overall experience. In today's era of price matching, service has emerged as the major determining factor guiding purchase decisions among consumers," Leiser said.
He added, "The retailers that are best at responding to customer questions and issues in a timely fashion will create loyalty that will lead to increased sales over the long term."
Erin Lynch is the senior content producer at Multichannel Merchant. Erin can be reached (203)899-8461 or connect with her socially on Twitter, Google+, and LinkedIn.