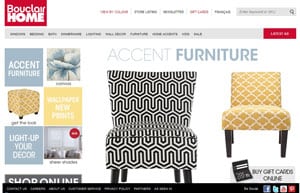 With the launch of its new ecommerce site, Canadian home décor and housewares retailer, Bouclair Home, has announced a new omnichannel initiative including buy online, pickup in-store, and buy online and return in-store.
Bouclair, which is using an on-demand commerce platform from OrderDynamics, said in a release that the launch of Bouclair.com "will provide improved levels of customer service and accelerate cross-channel sales growth through a new seamless omnichannel commerce strategy."
According to the press release, by partnering with OrderDynamics, Bouclair is able to leverage its 113 retail stores throughout Canada to support several omnichannel initiatives including buy online, pickup in-store, inventory visibility across all retail channels and systems, buy online and return in-store, single customer profile to include online and in-store purchase history, as well as cross-channel loyalty payment options.
"With 51% of retailers expected to roll out buy online pickup in-store fulfillment programs within the next two years, we are excited to provide Bouclair a competitive advantage in 2014," said Michael Turcsanyi, President at OrderDynamics in the release.
Erin Lynch is the senior content producer at Multichannel Merchant. Erin can be reached (203) 899-8461 or connect with her socially on Twitter, Google+, and LinkedIn.