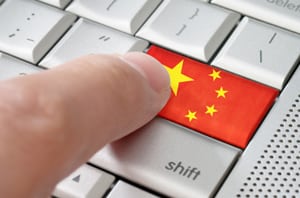 While the Chinese ecommerce market is growing wildly as consumers there love western brands, getting goods to them can prove tricky even with an in-country partner, attendees were told during a packed session at Multichannel Merchant's Growing Global conference last week in Long Beach, CA.
According to German research firm yStats, Chinese B2C ecommerce sales grew by more than 60% in 2013; it is generally considered the world's fastest growing ecommerce market. Social media has a much bigger impact on consumer behavior than in other markets – four times that of the U.S. – and online marketplaces reign supreme in China, panelists said.
One of the major issues is counterfeit goods, said panelist Craig Stevenson, executive director of retail for IBM. "On Tmall, consumers may be hesitant as to authenticity," said Stevenson. "If they go to JD.com or Suning (China's largest retailer), they feel more confident that it's the actual item. If you have your own product, make sure you use words like 'authentic' and 'genuine' to distinguish them."
Stevenson added that on Tmall, retailers may see a product purportedly from them right alongside theirs and selling for 30% less.
Parcel tracking, which consumers have come to expect in western countries, is largely absent in China, especially below the level of tier-one cities like Beijing and Guangzhou. In those cities, parcels can sometimes arrive in hours via a complicated system of bicycle delivery which amazes westerners. Consumers can get a text message saying a parcel will arrive in an hour, requiring them to use concierge services to receive them at home if office delivery isn't an option.
"The smart money in China is about owning the last mile," said panelist Craig Smith, principal of CD Smith Consulting. "JD.com is doing it, and Alibaba is trying to replicate it. JD.com has proprietary delivery throughout tier 1 and 2 cities. They have 43,000 direct employees handling the last mile from bikes and cycle-driven carts, it's very efficient and they're good at it. Amazon is trying to achieve this with density of warehouses; the Chinese have already done it."
Panelist Chris Boyle, CEO of Access Technology Solutions, said major carriers are starting to penetrate the larger cities, but problems exist in the rest of the country where infrastructure is questionable. He said DHL and the Chinese government-run carrier Sinotrans have entered a joint venture which is 55% owned by Sinotrans.
"The problem is, (Sinotrans) doesn't want DHL operating in some of the areas so they're trying to hobble them," Boyle said. "There's a lot of infighting there among carriers. In the major metro areas delivery is not a problem, but it is outside of them when you add in all of the regional carriers. Getting data back and tracking is very difficult."
Stevenson said standard delivery time in China is 4-6 days, and 5-7 days outside of them. "There are a lot of shipping restrictions," he said. "For instance, with any item over a certain weight, the seller has to provide a Chinese ID card in order to clear customs. That causes serious delays unless you've set up an in-country ecommerce site or have a Chinese broker partner."
He also said merchants looking to penetrate China should start in the tier 1 and 2 cities, where consumers are more familiar with western brands.
"In the tier 1 and 2 cities you can charge a premium because people there understand western brands, but it gets more complicated below that," Stevenson said. "There the Chinese are more apt to buy from physical retailers or JD.com. It depends on your strategy and approach. Tesco and Carrefour had opened hundreds of stores, but are now pulling back in the lower tier cities, where it's harder to do business."
Smith said suppliers of safety and health products are seeing a booming trade in China, as consumers there trust those products more than domestic ones. "A side benefit to what we see here as FDA over-regulation is that the rest of the world is confident as to authenticity," he said." Smith added his former employer, iHerb, has seen a complete flip in the split of its U.S. domestic/offshore business, going from 90/10 in 2010 to 10/90 currently, led by APAC, with triple-digit growth in China.
"One challenge we had in China (with iHerb) was a freight forwarder we used in one instance was trying to smuggle in high-end purses," Smith said. "So we were blackballed for six months and had to adjust our strategy quickly. While the demand is there for U.S. manufactured products, the lesson we learned was: probe and penetrate when looking at partners, knowing that you're going to stumble at times."
At the same time that western merchants are eager to crack into China, retailers there are setting their sights on western markets, especially with the IPO of JD.com and the pending IPO of Alibaba.
"So many peers talk about their fear of Amazon coming in and consuming their business," Smith said. "They need to be thinking about China and Korea coming this way every bit as strong as Amazon. There's an opportunity if you recognize and put together a strategy to partner with them or leverage what their intentions are."