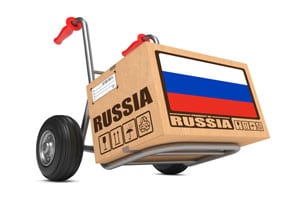 DHL's vice president of operations, Yury Shevchenko has announced plans to resume foreign package delivery in Russia after reaching an agreement with customs officials, according to an article in The Moscow News.
Russian express delivery shipments from DHL and FedEx to individual Russian customers had been suspended on Jan. 23, according to Reuters, because of stricter customs regulations and procedures. Those new regulations caused additional times and delays in deliveries and additional paperwork for employees.
All of these delays, prevented shippers from fulfilling deliveries within the timeframe promised to customers, according to The Moscow News. In response, DHL announced last week that they were canceling express consumer package deliveries to Russia from abroad.
However, The Moscow News reported that Shevchenko announced an agreement was reached with customs officials and DHL, "currently we are working toward the realization of these agreements, with the goal of rapidly renewing deliveries."
Erin Lynch is the senior content producer at Multichannel Merchant. Erin can be reached (203) 899-8461 or connect with her socially on Twitter, Google+, and LinkedIn.