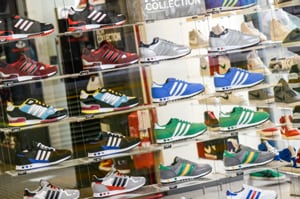 In a first in the athletic footwear and apparel space, Foot Locker has started a trial of same-day/next-day delivery at five stores in California, with plans to roll it out at its 1,300 locations across the U.S. and Canada should it prove a success. This includes all the company's brands: Foot Locker, Lady Foot Locker, Kids Foot Locker, Foot Action and Champs.
The service, an expansion of Foot Locker's in-store pickup option, is being provided by crowdsourced delivery company Deliv. Two Foot Locker stores in Los Angeles, two in San Jose and one in San Francisco are taking part in the trial.
Using the Deliv API which is integrated into the Foot Locker ecommerce site, shoppers can opt for same-day or next-day delivery from the California stores for $5. They also have the option of shopping in the Foot Locker store and having their items delivered to a local destination.
"We want our customers to experience speed in everything they do, from shooting hoops to on the track," said Foot Locker EVP of Operations Mike Owens. "That's why we've partnered with Deliv to pair our physical stores and online ecommerce sites to offer flexible, fast and affordable delivery for our customers whether they're shopping online or in person."
Deliv is able to make this happen because it has partnerships with four major mall ownership groups (Simon Property Group, General Growth Properties, Macherich and Westfield) representing nearly 800 malls nationwide. All of the Foot Locker locations participating in the trial are in malls owned by the partners.
When an order comes in, the Deliv optimization engine receives information about the destination, customer and requested delivery window. It then matches one of Deliv's crowdsourced drivers nearby to the order in real time and determines the most optimal delivery route. The item purchased is brought by a mall employee to a central collection point in the mall, usually a concierge desk.
The fact that multiple items are collected at each location and given to drivers en masse leads to economies of scale that allow retailers to charge $5 for the Deliv service.
Customers get confirmation by email or text that the delivery is on the way, including a picture of the driver. They can also click on a visual map to see where the driver is.
Customers can accept their delivery via digital signature on the Deliv app. They can also rate the driver and the experience and recommend it to a friend. "The ratings are important because they impact the opportunities that driver receives in the future," said Deliv founder and CEO Daphne Carmeli.
Carmeli said Deliv, which has 200 retail customers including Crate & Barrel, Banana Republic, Brookstone and Lens Crafter, is looking to "democratize the price of same-day, showing it can be the same or less than standard ground shipping."
"All of us have become accustomed to, the faster you get something, the more it costs," she said. "We say the fastest and most flexible option can be the lowest price. We're changing the mindset and price expectation." She said other Deliv retail customers will be coming online with the same-day delivery option.
Carmeli said a key differentiation point with Google Shopping Express, the internet giant's same-day delivery service, is that Deliv's retail clients maintain ownership of the customer data and the customer experience. Analysts and observers have said Google Shopping Express is as much or more about the power of consumer data collection, no different than its ubiquitous search engine.
"In the world of retail, one thing we learned quickly is that large omnichannel retailers don't want to be disintermediated," she said. "It's important for them to maintain the relationships with their customers and keep the customer data."