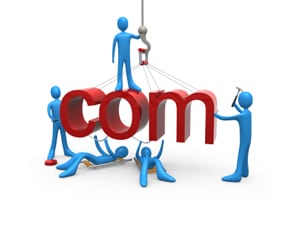 In the fourth quarter, the last thing an online retailer wants to think about is implementing new capabilities. The retailer's ecommerce and IT teams are usually immersed in the holiday rush.  Because of the influx of traffic and activity, it's safe to say they're usually facing one of two situations:
1) They have a year-end code freeze keeping the systems that power holiday sales in place and operating to spec.
2) Their systems are not prepared for the influx of online holiday traffic, and so they rush to get an urgent replatforming underway. This replatforming could be needed to enhance mobile capabilities, retire legacy systems, leverage a service provider's capabilities, or all of the above.
In both situations, no one will be allowed to make system changes that otherwise alter system performance or shift the focus from meeting shopper demands during prime selling season.
Because of this annual "code freeze," the fourth quarter is actually the perfect time to lay the groundwork for the next calendar year's projects, including an online testing program. By beginning preparations for new testing capabilities in Q4, you ensure that when you are ready to roll out next year's online marketing initiatives, you can test visitor behaviors in real-time, use those insights to make iterative site improvements, and provide a better (and more profitable for you) shopping experience.
And here's the good news: Those preparations won't require much of you, they won't disrupt your marketing and IT operations, and the benefits can be huge.
Lose the lag time. Any testing program requires a ramp-up period. Accounts need to be set up. The testing provider needs to conduct a situation analysis to learn about the company's business, online presence and marketing objectives. A project plan needs to be created and populated that details which tests will be run throughout the year. Website analytics need to be conducted to identify pages where problems exist, as well as any pain points in user and checkout flows. Then, comprehensive, leading best practice tests must be designed.
Delaying this preliminary work until after the first of the year can mean that a testing program won't commence until the end of the first quarter or the beginning of the second. This can be frustrating for company leaders eager to get a running start on business opportunities in the New Year.
But there's no reason to wait. Even if the fourth quarter is a busy time of year for your company, a capable testing partner can conduct this preliminary work with minimal intrusion or demands on your time. You can then hit the ground running in January with fully vetted, comprehensive testing campaigns that fit into your site's overall road map.
Get ready to get going
If jump starting testing programs for your 2014 online campaigns sounds like a good idea, here are some preliminary steps you can take to be ready when it's time to engage your testing provider:
Have marketing objectives in place. Fleshing out your objectives for the year ahead in as much detail as possible will facilitate mapping and establishing a cadence for the testing program.
Provide technical updates. Technical documentation on any platform updates or changes can help in determining their potential impact on tests and metric tracking.
Factor in dev-coding. A code freeze doesn't necessarily mean that all work comes to a stop. Any development coding being done during the year-end downtime can be factored into test planning.
Refine business objectives. As businesses determine their direction for the upcoming year, the objectives they establish will feed into a testing program. Opportunities may arise to tweak business objectives so they can be measured as part of the planned testing program. Knowing that analytics will be applied to validate business suppositions can serve to temper overambitious online plans.
Start the year right. A successful test program requires necessary preparatory work. But it's not all work that you have to do. Bringing in a testing partner to begin understanding your business objectives and technology requirements as the year draws to a close can provide a crucial advantage over your competition as business ramps up in 2014.