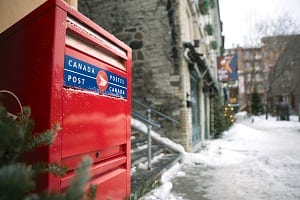 As the future of the United States Post Service and its delivery methods are still up in the air, Canada Post has outlined a five point plan for 2014 which includes removing door-to-door mail delivery within the next five years.
The new plan, according to a press release, "will form the foundation of a new postal system designed to serve busy Canadians and meet their changing needs for postal services. It will also open new opportunities to businesses that are redefining how they connect and serve customers in an increasingly digital world."
According to the new plan, the one-third of Canadian households that receive their mail at their doorstep will  instead receive their mail through a "community mailbox" within the next five years. The reason, according to Canada Post, is to save money.
Canada Post, just like the United State Postal Service, is experiencing a loss not only in revenue but also letter mail volume thanks in part to digital communication. According to Canada Post, if that decline is left unchecked "continued losses would soon jeopardize its financial self-sufficiency and become a significant burden on taxpayers and customers."
Earlier this spring, according to the release, the Conference Board of Canada projected a financial loss of close to $1 billion by 2020 unless Canada Post makes fundamental changes to its business. With this implementation of this plan, Canada Post could potentially see financial sustainability by 2019, according to the release. Most of these new initiatives, according to Canada Post, are expected to generate $700 to $900 million per year.
A similar delivery initiative is currently being discussed here in the U.S. In fact, a proposal to end the United States Postal Service's door-to-door delivery service was approved by the House Oversight and Government Reform Committee in a 22-17 vote in June 2013. The plan now heads to the House of Representatives.
House Oversight and Government Reform Committee Chairman Darrell Issa, R-Calif., commended Canada Post for phasing out the door-to-door delivery service. In a release issued on the committee's website, Issa said, "As technology advances, the Canadian people are changing the way they use paper mail. Canada Post has recognized this reality and responded to it."
Issa also said since the "cash-strapped" USPS is also experiencing a decline in letter mail, "Congress and the Administration need to grant USPS the flexibility to modernize its mail delivery and eliminate unnecessary costs."
Erin Lynch is the senior content producer at Multichannel Merchant. Erin can be reached (203) 899-8461 or connect with her socially on Twitter, Google+, and LinkedIn.