One of the hardest things to master when it comes to Facebook for retailers is successfully establishing an ecommerce presence on Facebook. Retailers have tried it throughout the globe but very few have seen standout results.
One of those retailers is Apricot Lane Dallas, which is owned and operated by Allison Young, and the first retailer within the franchise to run a Facebook storefront for the Apricot Lane brand.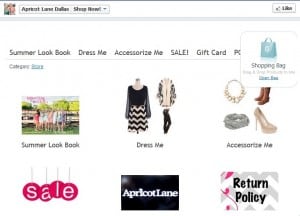 Young, who opened the Dallas brick-and-mortar store a little over two years ago, launched the storefront section on their Facebook site in 2012. In just 2012 alone, Young said, Apricot Lane Dallas saw a 25% increase in total sales (which included Facebook sales, ecommerce sales, and brick-and-mortar sales). By 2013, she said, there has already been an increase of 35% in total sales.
What is Apricot Lane Dallas doing that is so special? According to Young it all comes down to customer engagement. "You can't just use Facebook as a way to push your products to your customer, we use it as a tool to communicate with your customer," Young said, who also owns the Apricot Lane San Antonio franchise.
The Dallas Facebook page has 25,000 "Likes" on Facebook and Young equates it all to keeping their customers involved in almost everything that happens inside her store.
Since Young has 100% buying power of all the clothes and accessories, she travels to Los Angeles every few weeks on purchasing trips and takes snapshots for her Facebook fans. "This is probably our most popular section on the site, our customers like to be a part of the buying process," Young said. They also get a sneak peek at some of the fashions that will be making their way back to Texas.
The Apricot Lane Dallas store also uses all store employees as models for photo shoots, according to Young, which help create another connection to the brand.
The Apricot Lane Dallas Facebook storefront is powered by Ecwid and is activated when a fan of the store simply clicks on a "Shop Now" icon located on the top of the page. Once there, fans can purchases items such as clothing, accessories, gift cards, and even read through the company's returns policy.
The integration, Young said, is seamless and the fan shopping on Facebook can make the purchases without even leaving the Facebook page itself.
While Apricot Lane Dallas has seen a boost in sales since launching its Facebook storefront, one retailer, Natural Body Inc., isn't defining its fcommerce success by sales but instead by how much traffic it is driving to its traditional website.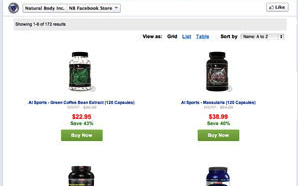 Tim Gritzman, director of marketing, said Natural Body Inc. looks at the Facebook store as "soft commerce" that allows fans to window shop before heading to the website to buy.
"We have a very high cart abandonment rate [on Facebook] but that is not necessarily a bad thing. I like to look at it as another way to provide the same store experience but on Facebook," Gritzman said.
Since opening the Facebook store, which also uses technology from Ecwid, Natural Body Inc. has seen their conversion rates on the ecommerce page increase "slightly," according to Gritzman, and a major increase in website traffic.
"I think the more outlets we have in social media, the more growth we are going to see on our site," Gritzman said.